Scholars advocate for new multilateralism
JIANG HONG
|
2022-05-19
|
Hits:
Chinese Social Sciences Today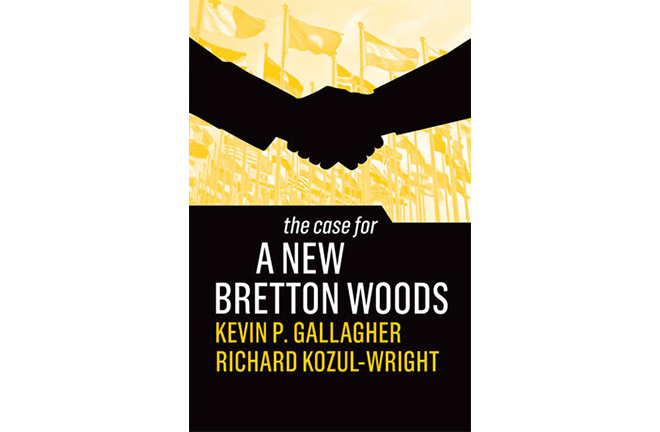 The book's cover Photo: COURTESY OF POLITY PRESS
---
Over seven decades after the 1944 Bretton Woods Conference, experts call for a new multilateral system.
The Case for a New Bretton Woods, co-authored by Kevin P. Gallagher, director of the Boston University Global Development Policy Center, and Richard Kozul-Wright, director of UNCTAD's Division on Globalization and Development Strategies, was published by Polity Press in March.
The book advocates for a new multilateralism and outlines principles of this new multilateralism. It also draws a blueprint for reform of global economic governance, recommending reforming the international monetary and financial system, adjusting the international trade and investment regime, and catalyzing development finance.
Dysfunctional current system
The 1944 Bretton Woods Conference announced the establishment of the International Bank for Reconstruction and Development (now the lending arm of the World Bank) and the International Monetary Fund (IMF), and established a new order for the international monetary system after World War II. In 1971, the Bretton Woods system was hit hard as US dollar convertibility to gold was terminated. Nevertheless, the three pillars of international economic governance under the Bretton Woods system—the IMF, the World Bank, and the General Agreement on Tariffs and Trade (succeeded by the World Trade Organization) still play an important role.
However, many experts have reflected on the global governance deficit and questioned the current multilateral system's ability to provide global public goods.
Xu Xiujun, a research fellow from the Institute of World Economics and Politics at the Chinese Academy of Social Sciences, said that after World War II, the multilateral system led by the United States and other developed countries has played an irreplaceable and historic role in maintaining world peace and promoting global development. However, the world today has changed dramatically from the global system more than 70 years ago. Given changes to the international balance of power, and the complexity and severity of various risks and challenges, there is an urgent need to continuously improve the existing multilateral system.
Gallagher told CSST that many researchers found that the system had become "inherently unstable, unequal, and unsustainable." This was manifest by the 2008 global financial crisis, and the lack of an adequate response to it.
"COVID-19 exposed deep flaws in the multilateral system," Gallagher said. Many countries of the world turned inward in terms of trade, cooperation, and investment rather than banding together to provide global public goods.
When the COVID-19 crisis hit and once again the multilateral system failed to respond to the financial, healthcare, and recovery challenges of developing countries, Gallagher and Kozul-Wright expanded on their early work for this book.
Xu elaborated on three major inherent flaws and drawbacks of the existing multilateral system. The first is a lack of legitimacy. At the beginning of its establishment, the existing multilateral system failed to fully reflect the interests and demands of developing countries. Although the governance structure and voting rights of some multilateral institutions have been adjusted, there is still the prominent problem: developing countries' power of discourse does not match their true strength in the existing multilateral system.
The second is a lack of inclusiveness, Xu continued. Many multilateral institutions still hold the American-style democratic model and liberal market economy as their standard, and promoting these concepts have become their mission. At the same time, they turn a blind eye to or even suppress other effective models of political and economic development, resulting in policies that have become increasingly narrow.
The third is insufficient effectiveness. Whether in traditional governance fields, such as trade, investment, currency, and finance, or emerging fields, such as climate change and cybersecurity, under the existing multilateral system, "collective action problems" still exist among major countries.
Developing countries underrepresented
Compared with the old system, what is "new" about the New Bretton Woods? Gallagher said that in terms of governance, the system was largely hegemonic, with the US and other Western powers at the helm. A New Bretton Woods, in contrast, has to have an expanded set of principles and goals as well as an expanded governance structure. The reformed institutions should be multi-polar rather than hegemonic. In addition, new actors, such as central banks and bond-markets, need to be brought into the system.
According to the book, a New Bretton Woods moment should be part of a global conversation—with voices from both developed and developing countries.
With the reform of multilateral organizations, the voice of emerging economies and developing countries has increased, but there is still a long way to go. To reflect the rising weight of emerging markets and developing countries in the global economy, the IMF's quota and voting power reform has taken an important step, but the reform still needs to continue.
"A new multilateralism has to question hegemonic quota systems to begin with," Gallagher said. IMF quotas must be "reformed in step with the new realities of the world economy, including granting China more say."
China's role to be strengthened
As an advocate and practitioner of multilateralism, China plays an important role in global climate governance, trade, economy, and finance. Gallagher said that China has built a financial system that serves industrial upgrades and rising living standards. China has been a strong voice for regulating financial flows and trying to move the IMF from austerity-based programs, and it also helped kickstart the global green bond market.
The Belt and Road initiative has made significant contributions to multilateralism, Gallagher noted. China has provided a great amount of infrastructure finance in a world plagued by infrastructure gaps. China's overseas investment has boosted growth and unlocked bottlenecks to development across the world.
The Belt and Road focuses on clean energy, and overseas coal finance is banned. "This is a major leadership move that the West should follow," Gallagher commented.
"China should be a more global and vocal voice for broader voices and representation in the multilateral system, as well as building alternatives that exhibit how such models can prevail," Gallagher mentioned that one example already is the New Development Bank where all countries have equal say.
Both Gallagher and Xu believe that global governance is not a zero-sum game. The key to achieving win-win results, Gallagher said, is to have a separate cooperative agenda on public goods alongside bilateral and sub-regional agendas to address grievance and conflicts that are not global in nature.
"We need a Bretton Woods moment to put the building blocks of a 21st-century architecture in place," Gallagher concluded.