Webinar delves into digital humanities tools
WU NAN
|
2022-04-15
|
Hits:
Chinese Social Sciences Today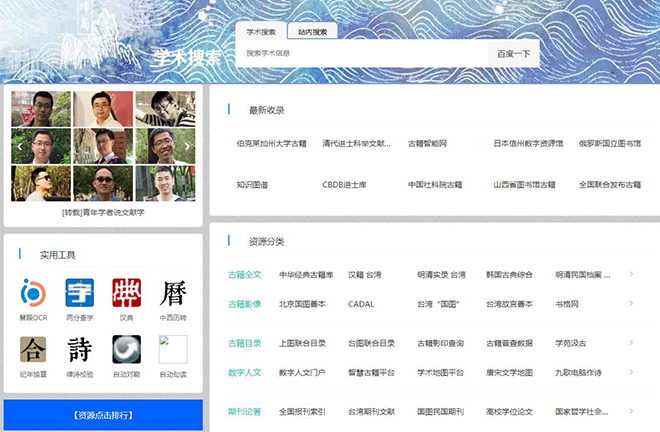 FILE PHOTO: Webpage of "Kuizhangge," a navigation system for Chinese classical literature resources launched in 2019
---
A webinar on digital humanities technology and humanities research was held by China University of Political Science and Law on March 27th. Scholars shared the usage of digital technology analysis tools and discussed the status quo and prospects of digital humanities.
Xu Yongming, a professor from the School of Humanities at Zhejiang University, enumerated digital technology analysis tools, including crowdsourcing technology, mapping technology, text processing technology, image technology, cloud technology, AI technology, data processing technology, and database technology. The application of the Python coding language in digital humanities has shown obvious practical value, such as sorting according to phonetic sequences and strokes, batch converting the traditional Chinese chronological systems to the Gregorian Calendar and verifying the conversion's accuracy, processing old and new character patterns and traditional and simplified Chinese characters, and displaying word clouds according to keywords.
Tang Chen, a lecturer from the College of Liberal Arts at Anhui University, referred to the function of image and full-text digitization in compiling scattered documents about Tang Gao, who was ranked first class in an imperial court examination in the Ming Dynasty (1368–1644). Tang Chen retrieved the widely dispersed Tang Gao-related literature from a database of basic ancient Chinese books, a treasury of traditional Chinese learning, and a comprehensive database of Korean classics. Combined with a traditional bibliography and the latest OCR technology, he accumulated Tao Gao's 70 articles and 200 poems.
New research tools brought by big data technology can expand research scopes and research horizons. Sun Guozhu, an associate professor from the School of Humanities at China University of Political Science and Law, said that in this process, research is no longer a completely individual existence, but an ecological interactive network.
Wang Guoqiang, a professor from the School of History and Culture at Luoyang Normal University, is engaged in the teaching and research of the history of sinology, the history of the Qing Dynasty (1644–1911), the history of China-foreign cultural exchanges, and network resources. In Wang's view, digital resources are conducive to understanding academic trends and history more quickly, and more convenient data collection and compilation, such as faster and more accurate textual research of sinologists' or scholars' lives, interpersonal relations, and terminological translation.
Better use of digital tools in the humanities and effective excavation of data from extensive digital literature has become a focus. Responding to this, Tang Chen mentioned the concept of "distant reading." As Italian literary theorist Franco Moretti pointed out, traditional "close reading" approaches very few texts with extreme seriousness; as such, numerous literary works are never read by researchers. To understand the whole system, "distant reading" is a must, which can focus on units much smaller or larger than the text, such as phrases and literary genre recognition, sentences and style, and quantitative analysis. Text markup and mining are important means of "distant reading" in digital humanities, enabling discoveries that cannot be found in traditional reading methods. In the field of classical literature and philology, related exploration is under way.
Liu Shi, a professor from the School of Humanities at Tsinghua University, and Yin Xiaolin, a research fellow from the Research Center of Chinese Poetry at Capital Normal University, drew interesting conclusions as they used the statistics of character frequency and phrase frequency to confirm the conceptual topics of "the division of articles into verse and prose" and "the distinctions between Tang (618–907) and Song (960–1279) poems." For example, "曰" [to speak or tell, a character belonging to classical writing styles], which appears frequently in Romance of the Three Kingdoms and Strange Stories from a Chinese Studio, is replaced by "道" in Journey to the West and The Water Margin. In Dream of the Red Chamber, function words such as "了" and "的" are frequently used. These reflect the decline of classical Chinese and the arrival of vernacular transformation.
Deep learning based on natural language processing has made great achievements. For example, Sun Maosong, a professor from the Department of Computer Science and Technology at Tsinghua University, and his team released "Jiuge," an artificial intelligence poetry writing system, which has channeled more attention to digital humanities.
Providing help to others and lowering the technology usage threshold are the intention of efforts by digital humanities scholars. Thus, academia is paying growing attention to the construction of digital humanities network infrastructure.
Xu presided over the founding of Zhejiang University's "innovation team of big data and academic maps" and the establishment of the "Academic Map Publishing Platform." Tang Chen and his team jointly developed Kuizhangge as a navigation system for Chinese classical literature resources and the Digital Humanities Portal.
The digitization and intelligentization of ancient books is an inevitable trend in the era of big data, Xu concluded. However, whether it is the digitization of paper documents, or the structuralization and intellectualization of text data, there is still a long way to go. To gain discourse power in the international digital humanities, the construction of digital infrastructure and big data is required to lay a solid disciplinary foundation.
Edited by YANG LANLAN