Coordinating development and security
ZHA JIANGUO and CHEN LIAN
|
2022-02-10
|
Hits:
Chinese Social Sciences Today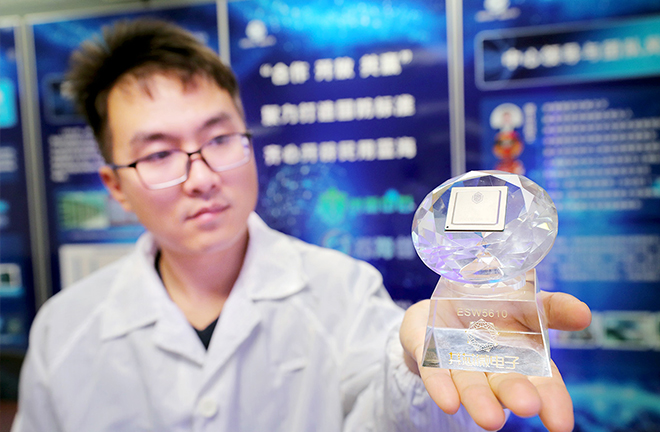 Xuanwu Chip ESW5610, the world's first endogenous safety switch chip independently developed by China, is officially released in Dec. 2021. Photo: CFP
---
China's economy has shifted from a stage of high-speed growth to a stage of high-quality development. On the new journey, it is necessary to implement an overall national security outlook and coordinate development and security.
"To study and implement the overall national security outlook, we must pay attention to both external security and internal security," said Zhou Li, former vice minister of the International Department of the CPC Central Committee. Internal security and external security are inherently unified, and they are both the cause and effect of each other, and the premise of each other.
Actively promoting the reform of the global governance system, as well as guiding the fight against the COVID-19 pandemic and summarizing useful experience, should be included in the process of discussing the national security system in the new era, Zhou said.
Yu Hongjun, also former vice minister of the International Department of the CPC Central Committee, said that coordinating development and security is fundamental to ensuring the great rejuvenation and rise of the Chinese nation. To ensure that the people work and live in a peaceful environment, it is necessary to maintain a peaceful and stable internal and external environment, as required for social development.
He Jianhua, former vice president of the Shanghai Academy of Social Sciences, proposed to uphold the new development philosophy of innovative, coordinated, green, open, and shared development. Innovation should be the driving force for high-quality development, and unbalanced regional development should be addressed through coordination. Green development will ensure the harmonious development of man and nature.
China's successful experience lies in being able to prevent and defuse risks when problems arise. Zhang Ming, deputy director of the Institute of Finance and Banking at the Chinese Academy of Social Sciences, roughly identified three systemic financial risks facing China: local government debt risks, financial risks related to the real estate sector, and potential risks in the banking system, especially small and medium-sized banks. The three are interrelated.
In order to deal with systemic financial risks, Zhang said that it is necessary to strictly control incremental financial risks, avoid excessively rising long-term interest rates, and resolve current local government debts in a transparent and orderly manner. It is advisable to prepare crisis plans for emergencies in advance.
"From the perspective of the general trend, we are closer to the great rejuvenation of the Chinese nation at this stage than at any time in history, but we must also pay attention to the details," said Yang Jiemian, former president of Shanghai Institutes for International Studies. It is necessary to understand new features of current changes in international security issues. Security issues often become the catalyst for changes in the international pattern, and world political factors will increase impacts on security issues. In addition, rapidly developing advanced technology is a double-edged sword for international security, Yang added.
China needs to establish its own international relations theory, reconstruct the system and mechanism of political and security order, and analyze and address international security issues within the framework of global security governance, Yang suggested.