China injects vitality into world economy
WU NAN
|
2022-01-27
|
Hits:
(Chinese Social Sciences Today)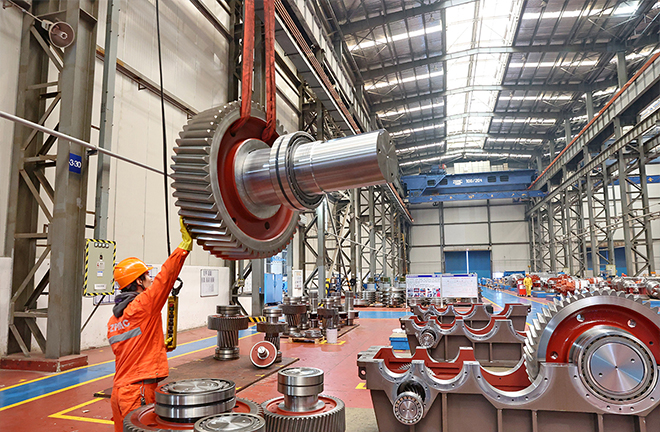 Workers in Nantong, Jiangsu Province, assemble crane accessories on January 8, to help with port infrastructure construction in Belt and Road countries. Photo: CFP
---
NANJING—On January 14, the international seminar on "Jiangsu's High-Level Opening up Strategy Under the New Development Paradigm" was convened in Nanjing, capital city of Jiangsu Province, both online and offline.
"At present, the world is undergoing major changes unseen in a century, intertwined with the COVID-19 pandemic. Our country is facing pressures such as demand contraction and supply shock," said Zhang Xinke, Party secretary of Jiangsu Provincial Federation of Philosophy and Social Sciences. It is necessary to promote deep-level reform and high-quality development with high-level opening up.
Klaus Kunzmann, a professor from the Institute of Spatial Planning at the University of Dortmund in Germany, said that the Belt and Road (B&R) initiative connects China, Central Asia, Russia, and Europe. With the 21st Century Maritime Silk Road as a link, China's coastal access to Europe is becoming increasingly more convenient. More and more Chinese investors are participating in the process of jointly building the B&R. In the field of infrastructure investment, the Chinese government has provided loans and technical support to help Eastern Europe with railway construction; in the field of port city construction, Chinese investment is concentrated in the logistics chain.
Thanks to the B&R initiative, there are 24 trains going from Duisburg in Germany to Chongqing, China, every week. In cooperation with Huawei, Duisburg will gradually become a business center for Chinese companies in Europe. In the future, more cities in Germany will benefit from the B&R initiative, Kunzmann said.
Under the background of the B&R initiative, China-foreign production capacity cooperation projects—represented by cooperative parks, infrastructure, and public service facilities—have played a positive role in promoting the economic and social development of countries along the B&R.
"China-foreign production capacity cooperation projects provide cities or regions with development opportunities to integrate into the global industrial chain and supply chain," said Wang Xingping, director of the International Cooperation Research Center for Sustainable Industrial Park Development and Planning at Southeast University. Various capacity cooperation construction projects such as ports, linking with local resources and relying on various local communities, are giving birth to a number of distinctive emerging node cities overseas.
These node cities are mainly found in West Africa, East Africa, North Africa, West Asia, Central Asia, and other regions. Most of the cities have a relatively small population, are still in the infancy stage of growth, and have yet to formulate local urban development plans, but they have huge potential for future development, Wang said.
Since the outbreak of the COVID-19 pandemic, the economic globalization process has gradually slowed down, but the process of digitalization has continued to accelerate.
Zhang Erzhen, a professor from Nanjing University Business School, pointed out that huge consumer demand will lead to innovation effects, driving changes to digital technology and technological progress and their penetration and integration in other industrial fields. This has brought strategic opportunities for China to gain a competitive advantage and development initiative in the new round of global division of factors of production.
Currently, Europe is ten years behind China in terms of digitalization, but under the influence of the COVID-19 pandemic, European people's daily lives, public administration, and industrial production will be more digitalized, Kunzmann said. As such, urban and regional development, as well as urban planning will undergo major changes.
"In the context of the global spread of the pandemic, China's strong industrial chain has exerted unparalleled advantages, and industries in Jiangsu Province are an important part of this industrial chain," said Sun Zhigao, director of the Jiangsu Provincial Strategy and Development Research Center. Jiangsu has accumulated extensive experience in integrating into the global industrial chain and supply chain. In the future, the province will rely on its advantages to appropriately introduce international resources and formulate better plans to integrate into the global innovation chain.
Edited by JIANG HONG