Conference explores China's economic strategy
GAO YING
|
2022-01-13
|
Hits:
(Chinese Social Sciences Today)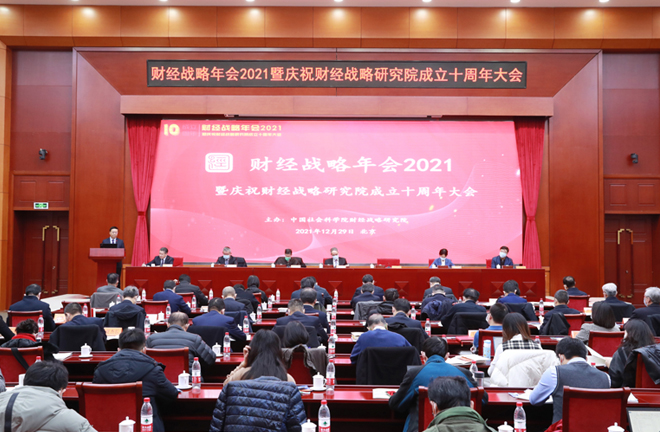 The Fiscal and Economic Strategy 2021 Annual Conference in Beijing on December 29, 2021 Photo: Zhu Gaolei/CSST
---
On December 29, 2021, the Fiscal and Economic Strategy 2021 Annual Conference was held in Beijing. Concurrently, the conference celebrated the tenth anniversary of the establishment of the National Academy of Economic Strategy at the Chinese Academy of Social Sciences (CASS).
Under the theme of "the CPC's Achievements and Experience of Leading Economic Construction," participants conducted discussions on such issues as fiscal policy and macro-control under the new development paradigm, high-quality development of trade and economy, and innovative development of the service industry.
CASS President Xie Fuzhan affirmed the achievements of the National Academy of Economic Strategy over the past decade in academic research and think tank construction, and put forward requirements for the academy.
According to Xie, it is necessary to adhere to the integration and development of basic theoretical research and applied countermeasure research.
Entering a new stage of development, the National Academy of Economic Strategy should stick to its positioning as a national academic think tank on fiscal and economic policy, and deepen the understanding of the positioning of think tanks, said CASS Vice President Gao Peiyong.
Liu Wei, president of Renmin University of China, said that the construction of think tanks should be based on academic research and follow the law of development of philosophy and social sciences.
Common prosperity is a major political and economic goal on the journey toward achieving the second Centenary Goal, said Gu Shengzu, vice chairperson of the 13th National Committee of the Chinese People's Political Consultative Conference and an economist.
From a moderately prosperous society in all respects to a modern socialist country, common prosperity must be based on high-quality development to "make the pie bigger." It is important to fully activate wealth creation sources through entrepreneurial innovation, mobilize the enthusiasm of 150 million market players, and consolidate employment as the foundation of common prosperity.
After more than four decades of reform and opening up, China has already created a set of relatively systematic policies and theories on making the "pie" bigger and better, but institutional exploration and innovation are still needed to cut and divide the "pie" well, said CASS Member Zhang Zhuoyuan. Among them, improving the fiscal and taxation system is the primary task, which is also a major issue facing the National Academy of Economic Strategy at CASS.
Zhang suggested that the increment in GDP should be more inclined to residents' disposable income, especially low-income groups, to prevent consumption contraction, and expand domestic demand. As such, the income gap caused by uneven development can be addressed to facilitate common prosperity.
To promote common prosperity in the monetary and financial field, it is fundamental to prioritize employment and provide the people with financial support, said CASS Member Li Yang.
"The employees of small enterprises and gig economy workers cover more than 90% of our country's employed population. Providing them with financial services and increasing their income levels are the main tasks and ways to achieve common prosperity," Li said. The internet, online platforms, and channels are the media through which small businesses, the gig economy, and society are connected. Therefore, supporting these platforms, networks, and channels is the main mechanism for finance to aid common prosperity.
Jiang Xiaojuan, dean of the School of Public Policy and Management at Tsinghua University, said that China is already an important shaper of the international economic and trade environment, and to a certain extent represents the "external environment" to other countries, with increasingly prominent international influence.
"We need to stabilize global expectations through institutional openness," Jiang said.
Edited by JIANG HONG