23 CASS Innovation Project research achievements honored
GAO YING
|
2022-01-06
|
Hits:
(Chinese Social Sciences Today)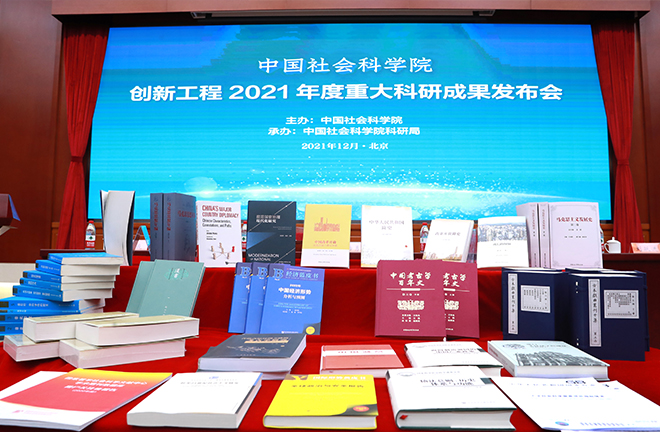 The 23 major Innovation Project achievements honored by CASS at a conference in Beijing on Dec. 28, 2021 Photo: Zhu Gaolei/CSST
---
The Chinese Academy of Social Sciences (CASS) honored 23 major research achievements as a part of its Innovation Project for the year 2021, at a conference in Beijing on Dec. 28, 2021.
In 2021, CASS scholars completed almost 400 monographs, more than 5,000 academic papers, nearly 2,000 research reports, and more than 100 kinds of academic materials, including collations of ancient books, translations, popular reading materials, and textbooks. The 23 major achievements are representative works among these, which fully demonstrate CASS's research strength and academic level.
Over the past year, adhering to a people-centered research orientation, CASS focused on major theoretical and practical issues in the new era and new stage, and played its role as a think tank to help with the Party and the country's decision making, said CASS Vice President Gao Peiyong.
Adapting the basic tenets of Marxism to China's specific realities and its fine traditional culture, CASS scholars explored the CPC's major achievements and historical experience over the past century. A Concise History of the People's Republic of China, A Concise History of Reform and Opening up, Chronicling China's Reform and Opening-up, The History of the Development of Marxism (Volumes Ⅰto Ⅲ), and The Annals of Marxism are typical works in this regard.
Focusing on traditional culture and basic humanities research, CASS scholars have actively carried out exchanges and cooperation with international counterparts. The ten-volume Collected Works of Kierkegaard is based on CASS's cooperation with the Søren Kierkegaard Research Centre at the University of Copenhagen in Denmark.
As an effort to develop archaeology with Chinese features, style, and ethos, CASS launched A Centennial History of Chinese Archaeology (1921–2021), Archaeological Research on the Silk Road on the Qinghai-Tibet Plateau, and the two-volume Report on the Excavation of the Ruins of St. Paul's in Macao (2010–2012).
After long-term strenuous efforts, CASS completed the tenth serial Collection of Ancient Operas, New Compilation of Bai Juyi's Works, and Contemporary Annotation of the Twenty-Four Histories (second batch). All of these collections have important academic value and historical heritage.
Committed to integrating basic theoretical research and applied countermeasure research, CASS released Blue Book of China's Economy: Analysis and Forecast of China's Economic Situation (2022), Growing Pains: Challenges and Countermeasures in the Process of China's Modernization, General Principles of Debt Law: History, System and Function, and China's Industrial Policy Toward a Manufacturing Powerhouse.
Yellow Book of International Politics: Annual Report on International Politics and Security (2022), China's Major Country Diplomacy: Chinese Characteristics, Connotations, and Paths (English Edition), and Latin American Studies on Socialism in the 21st Century demonstrate CASS's response to the changing landscape of international relations.
CASS has thoroughly summarized the experience of national governance, and shed light on a series of China's great practices which represent important milestones in the history of human social development, including the country's reform and opening up, and its completion of building a moderately prosperous society in all respects. Promoting Research on the Modernization of National Governance and China's Poverty Reduction Achievements, Experience and International Cooperation are good examples of such research.
In terms of academic evaluation, CASS has researched and formulated the Humanities and Social Sciences Journal Evaluation (GB/T 40108-2021) and the Humanities and Social Science Evaluation Index System of Think Tanks (GB/T 40106-2021); in terms of scientific research services, CASS has constructed the National Center for Philosophy and Social Sciences Documentation database, which provides convenient, fast, nonprofit resource-sharing, and academic information services to society.