Int'l experts advocate open world economy
WANG CHUNYAN
|
2021-12-30
|
Hits:
(Chinese Social Sciences Today)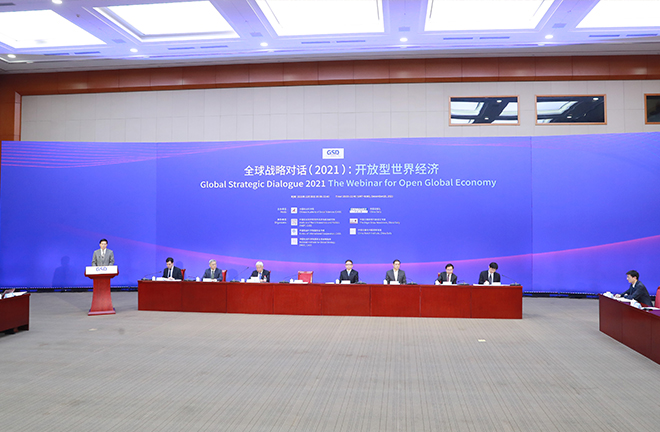 Global Strategic Dialogue 2021: The Webinar for Open Global Economy on Dec. 20 Photo: Zhu Gaolei/CSST
---
Global Strategic Dialogue 2021: The Webinar for Open Global Economy was convened on Dec. 20. International experts and scholars carried out in-depth discussions on global economic recovery amid the COVID-19 pandemic, and global collaboration on climate action.
Changing global landscape
The open world economy is facing unprecedented challenges, as major changes unseen in a century and the pandemic are intertwined, while unilateralism and protectionism are on the rise, said Xie Fuzhan, president of the Chinese Academy of Social Sciences (CASS).
The world today has entered a special historical period, said Zhou Shuchun, publisher and editor-in-chief of China Daily. On the one hand, as the scientific and technological revolution and industrial transformation have reconstructed the world's landscape, the global governance system and governance structure have been profoundly reshaped, and interpersonal and national ties are increasingly intense. On the other hand, the COVID-19 pandemic continues to spread, and the international circumstance is severe and complex.
"To jointly build an open world economy, we must earnestly strengthen global macroeconomic policy coordination," Xie said. Global governance mechanisms such as the G20 need to fully play their role, and there is a need to jointly oppose irresponsible behavior of passing on risks and crises.
In addition, it is vital to firmly safeguard the multilateral trading system with the World Trade Organization (WTO) at its core, Xie continued.
"China will work with all parties to actively participate in the reform of the WTO and jointly safeguard the multilateral trading system with the WTO at its core," Xie asserted.
Zhou said that all countries must unswervingly maintain true multilateralism and be supporters of economic globalization. Countries should be advocates for and builders of an open world economy, promote the common values of all mankind, and be practitioners of a community of shared future for mankind.
The World Economic Outlook issued in October by the International Monetary Fund predicts that the global economic growth rate in 2021 will be 5.9%, a decrease of 0.1 percentage point from its July forecast. According to the report, "the downward revision for 2021 reflects a downgrade for advanced economies," and "for low-income developing countries."
Disruptions in the global value chains (GVCs) caused by COVID-19 have exposed the weaknesses of the GVCs, said CASS Member Yu Yongding. It is time for countries to reshape the GVCs to achieve a better balance between efficiency and safety. GVC participants need to redefine their own roles and positions.
Natalya Ivanova, an academician at the Russian Academy of Sciences, said that it is necessary to reconstruct the value chain and resume international trade, abiding by the WTO's principle of multilateralism.
Joint effort amid climate change
To jointly build an open world economy, Xie said that it is necessary to design a new climate governance system where each party does its best. In the face of major global challenges such as climate change, all countries in the world need to jointly practice the concept of green growth, adopt a low-carbon lifestyle, and vigorously develop a green economy. Countries need to make contributions to emission reduction to the best of their ability, and constantly enhance the vitality and resilience of world economic growth.
At the UN Climate Change Conference in Glasgow (COP26) in November this year, almost 200 countries adopted the Glasgow Climate Pact for accelerated climate action.
Science has clearly proven that the global warming trend is very serious, and people need to control the temperature rise to bring it within a stable range and achieve net zero emissions, said Amar Bhattacharya, a senior fellow of the Global Economy and Development Program at the Brookings Institution.
More and more countries are proposing their own emission reduction targets; what is more difficult and also more important, is to take strong action to deliver on their commitments, Bhattacharya noted.
CASS Member Pan Jiahua agreed with this. While carbon neutrality has become the political consensus of the international community, with more than 100 countries having proposed emission reduction targets, countries need to seriously consider their implementation.
"It should be recognized that emission reduction is not a shared burden among all countries, but rather an opportunity to transform the mode of development. We should think about how to achieve better development with lower energy consumption," Pan said. Every country can benefit from reducing emissions, which is not a "zero-sum game."
Through an analysis of climate change actions in the Asia-Pacific region, especially the ASEAN region, Venkatachalam Anbumozhi, director of Research Strategy and Innovation at the Economic Research Institute for ASEAN and East Asia, said that as countries move toward long-term deep decarbonization and a circular net-zero economy, the pandemic recovery and stimulus packages offer a rare opportunity to realign the environment, energy, innovation, trade, and fiscal policies into macroeconomic planning and national budgets. In order to achieve the energy transition and net zero goals, ASEAN needs to develop into a new type of partnership and carry out more international cooperation to reduce the cost of energy transition.