Sports journalism serves international communication
SUN MEIJUAN
|
2021-08-26
|
Hits:
(Chinese Social Sciences Today)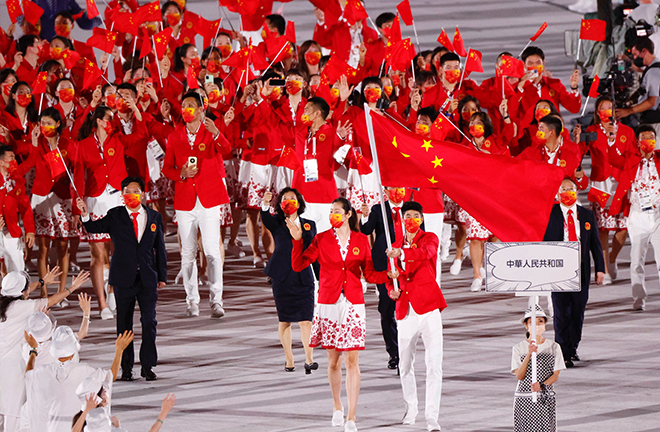 Members of Team China wave flags during the Opening Ceremony of the Tokyo 2020 Olympic Games at Olympic Stadium in Tokyo, Japan, on July 23, 2021. Photo: CFP
---
The study of sports journalism and communication in China started in the late 1980s, and has made significant strides amid the preparation and hosting of the Beijing 2008 Olympic Games.
As the national fitness program has been raised to a national strategy, sports journalism and communication performs a part in the new journey of building a "sports power" and "Healthy China." Meanwhile, driven by the practical needs of sports international communication, sports health communication, sports event communication, and media services, the discipline continues to broaden its research horizons and fields. Despite this, China's sports journalism and communication is still insufficient in dialogue and integration with other disciplines, and lacks high-quality interdisciplinary talent, which requires urgent correction through theoretical and practical innovation.
"The new era has endowed sports journalism and communication with more missions," said Guo Qing, secretary general of the Sports Journalism and Communication Branch at the China Sport Science Society. The discipline has two highlights in China—sports health communication and sports international communication. The dissemination of sports becomes a carrier of cultural exchange to carry forward the Chinese sports' spirit and the Olympic spirit.
"Building a sports power constitutes a part of constructing a great modern socialist country in all respects," said Wan Xiaohong, director of the Disciplinary Construction Office at Wuhan Sports University. Sports journalism and communication studies provide indispensable intellectual support for implementing the national fitness strategy and building a sports power and Healthy China. As a cultural phenomenon, sports journalism and communication has made unique contributions to lifting China's external dissemination capabilities and national soft power. It also works to enhance China's international influence, build a national cultural identity, and shape a national image. As current health communication has displayed increasingly prominent significance, sports communication research, as a part of health communication, concerns both the well-being of the people and the national image.
Basic theoretical research
Since the reform and opening up, great progress has been made in China's sports journalism and communication. Particularly, the hosting of the Beijing 2008 Olympic Games has reshaped China's sports communication. However, the discipline of sports journalism and communication is still weak in basic theoretical research and integrative research with other disciplines.
Its disciplinary research mainly rests on major policies and strategies in the fields of sports and news communication, while the internal mechanism of disciplinary development still needs deeper research.
"Sports journalism and communication has always adopted research paradigms of its parent discipline of journalism and communication. It has long been confined within the traditional research framework of mass communication," Wan said. Although it is an interdisciplinary field, the teaching staff of sports journalism and communication mainly comes from its parent discipline, who lack a deep understanding of sports and sports science, without the foundation for integrating sports science and journalism and communication. In addition, the theoretical support of sports journalism and communication is not enough, showing an obvious characteristic of "applied discipline." Scholars primarily investigate operations and practice in the field, with less focus on theoretical construction.
"As a multidisciplinary field, the basic theoretical research of sports journalism and communication is confronted with multiple challenges," said Bi Xuemei, a professor from the School of Journalism and Communication at Beijing Sport University. Within the scope of applied research, sports journalism and communication features prominent practicality. New media constantly updates and subverts laws of traditional media, which requires researchers to familiarize themselves with the operating laws and development trends of the sports journalism and communication industry. Additionally, with the rapid development of national fitness, competitive sports, and the sports industry, scholars are expected to keenly observe new phenomena with Chinese characteristics in the new era, offering effective academic support for the construction of a sports power.
Disciplinary transformation
"The iterative information communication technology has expedited the digitalization process, bringing about opportunities and challenges for the disciplinary construction of sports journalism and communication," said Huang Chuxin, director of the Digital Media Research Office at the Institute of Journalism and Communication Studies at the Chinese Academy of Social Sciences. With the endless emergence of new technologies such as cloud computing and big data, the disciplinary system of sports journalism and communication is characterized by the fact that technological improvements empower high-quality content, media convergence raises voices in mainstream media, and social progress propels the reform of journalism communication and education.
The just-finished Tokyo Olympics used "5G+8K" and other technologies that brought ultra-high-definition and ultra-smooth picture quality and more efficient and faster sports news dissemination.
Huang suggested consolidating the professional foundation of journalism and increasing technology empowerment in a way to continuously improve the disciplinary system and disciplinary level of sports journalism and communication.
"In order to construct the disciplinary system of sports journalism and communication with Chinese characteristics, we need to carefully sort out its developmental history over the past three decades, and incorporate the latest theoretical achievements and rich, practical experience since the 21st century," Wan added. Efforts should be made to transform from culturalism paradigms to professionalism paradigms and from sports cultural attributes to sports information attributes, strengthening theoretical construction, talent training, and think tank services, and exploring the role of sports in building a community of shared future for mankind.