Ethics returns to Chinese traditions
WU NAN
|
2021-05-27
|
Hits:
(Chinese Social Sciences Today)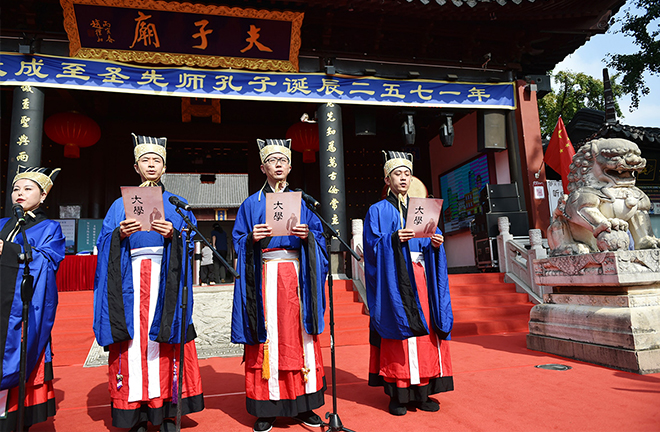 A Confucius memorial ceremony is held at the Confucius Temple in Nanjing, Jiangsu Province, Sept. 28, 2020. Photo: CFP
---
China's ethics started in the first half of the 20th century, and emerged as an independent discipline in the 1960s and 1970s. It became one of the eight branches of philosophy in the 1980s, and grew to be the most vigorous branch of philosophy in the 1990s.
With unremitting efforts from several generations of scholars, China's contemporary ethics field has achieved fruitful results and become a "prominent discipline" in the field of philosophy and social sciences, establishing a complete disciplinary system that covers basic disciplines, core disciplines, and applied disciplines.
According to Jiang Chang, a professor from the School of Philosophy at Hubei University, Chinese ethics has moved from a focus on traditions towards modernity and experienced four major pivots since the beginning of the 20th century. These shifts started from a strict adherence to traditions, and moved to learning from the West, then swerved to theoretical frameworks from the Soviet Union, turned to the West again, and finally turned back to Chinese traditions.
After four pivots, Chinese ethics returned to traditional Chinese ethical thought. This time it strives to dismantle barriers among Marxist ethics, Western ethics, and traditional Chinese ethics that have formed since the reform and opening up. Ethical research should be rooted in the fertile soil of China's fine traditional ethical culture, helping ancient Chinese ethics adapt to the times and thrive with vitality through creative transformation and innovative development.
The disciplinary boundary of ethics studies is a concern for many scholars, said Li Ping, a professor from the Department of Philosophy at Sun Yat-sen University. An "ethical entity" is a changing historical entity. Both knowledge and disciplines are the result of people's understandings of nature, human society, and man at a specific historical stage. Barriers between disciplines will be constantly broken with continuously changing objects, deepening understanding, and human's transformative activities on the world.
Ethics, a discipline that pursues goodness and virtues, and orients itself towards building relationships between the universe, man, objects, and egos, has a highly interrelated nature. In this sense, exploring ethical issues from various angles in different disciplines is far from digression. Instead, it points the way for further breakthroughs. Research of ethical and moral development must uphold an open ethical spirit, so that ethics can serve as the cornerstone which anchors society and human life.
In Jiang's view, although ethics investigates human beings and their proper relationships with society and the universe mainly on a moral level, this is still different from moral sociology. Moral sociology investigates moral phenomena in a society where the researcher lives, with its results chiefly applicable to that society. In contrast, ethics mainly studies the morality of the entire human race, with its results applicable to the whole group, though it can also zoom in on a certain society's morality.
Jiang observed applied ethics' tendency to be independent of theoretical ethics. Applied ethics applies principles of theoretical ethics to examine and answer various practical questions, whose line of reasoning should follow the premise of theoretical ethics. It will lose its roots if it moves away from theoretical ethics. Nevertheless, applied ethics is not a simple application of theoretical ethics, but an independent form of academic research.
Wang Xiaoxi, a professor from the School of Marxism at Nanjing Normal University, said that ethics centers on the perfection of man, the harmony and coordination of interpersonal relationships (social and human relations), and the law of moral occurrence and development. Evidently, ethical research requires integrating theories and practices, or philosophical thinking and practical thinking. Without philosophical thinking, ethics lacks a deep-level theoretical basis; without practical thinking, it is without root. Scholars needs to further link logical relationships at both ends, to avoid situations where theories are baseless and reality is not refined.
A growing trend in Chinese ethics rests upon realizing the coherence and co-governance of virtue theory and normative theory, said Wang Shuqin, a professor from the School of Marxism at Capital Normal University. Virtue theory, deontology, contract theory, and utilitarian theory can only explain certain aspects of morality. No moral theory can bring about complete unity. Disparity in moral interests of different moral communities necessitates different moral theories for targeted support.
Wang Shuqin posited that virtue ethics is a kind of elite ethics. The virtue generation logic which argues "people know how to do the right thing" is more suitable for privileged individuals with high moral self-discipline. The general public needs social moral education and more moral self-cultivation, to strengthen moral understanding, moral emotion, and moral will, and to cultivate good conduct. Normative ethics that incorporates contract theory, deontology, and utilitarian theory displays theoretical advantages for the general populace's acquired moral cultivation.