Seminar reviews China's sociology over a century
GAO YING
|
2021-05-27
|
Hits:
(Chinese Social Sciences Today)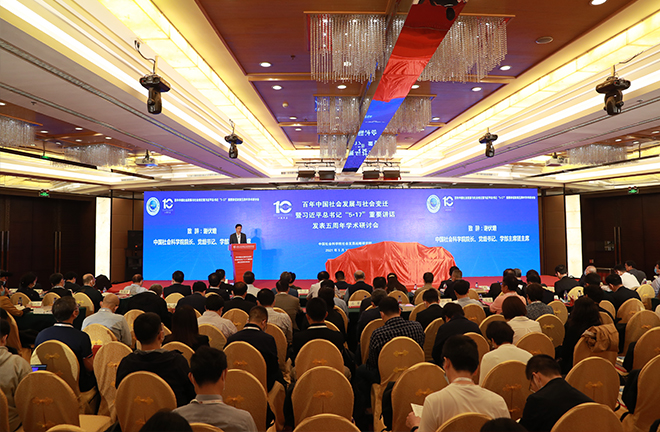 The seminar looks back on China's sociology and offers suggestions for social policies. Photo: Zhu Gaolei/CSST
---
Experts looked back on sociology in China over the past century and offered suggestions for deepening research in the new era at a seminar in Beijing on May 15.
Over 300 experts attended the seminar, which was hosted by the National Institute of Social Development (NISD) at the Chinese Academy of Social Sciences (CASS).
This year marks the 10th anniversary of NISD's establishment, said CASS President Xie Fuzhan. NISD's staff should closely integrate basic theoretical research and applied research, and focus on enhancing originality and formulating iconic concepts. Xie suggested striving to construct socialist sociology with Chinese characteristics, launching major scientific research results that have contemporary relevance and represent contemporary Chinese sociology's development level. These will help accelerate the construction of a sociological disciplinary system, academic system, and discourse system with Chinese characteristics.
Xie also suggested focusing on major theoretical and practical issues in the new era, conducting in-depth investigations and research, and introducing more outstanding research results that have important reference value for policy formulation and the promotion of career development, so that the institute can enhance its influence as a think tank. It is necessary to master the laws of scientific research and talent cultivation, to concentrate good resources and outstanding talent on joint research projects tackling major issues, thus building a world-class institute aiming to produce top achievements and top talent.
Wang Linggui, vice president of CASS, said that the NISD should highlight advantageous disciplines, strengthen key disciplines, accelerate the construction of characteristic disciplines, and support emerging disciplines, thus promoting the development of a "new-type" think tank through developing basic disciplines.
It is important to strengthen cooperation and exchange with other domestic and international think tanks to integrate research strength and achieve collaborative output, Wang said.
Participating scholars conducted in-depth discussions on such issues as China's social development and social changes, advancing the modernization of the national governance system and governance capabilities, and the characteristics and trends of China's social development in the new development stage.
CASS Member Jing Tiankui said that Western sociology was introduced to China at the turn of the 20th century, and Marxist sociology was introduced later. Before that, China also had pertinent group studies for a long time. The theoretical sources, theoretical structure, and disciplinary nature's integration and penetration have become key features of the development of contemporary Chinese sociology.
Guan Xinping, director of the Institute of Social Construction and Management at Nankai University, analyzed and summarized the characteristics and experience of the CPC's social policy over the past century. In the policy system, the CPC has attached importance to the integrity and rationality of the security system for people's livelihoods. In terms of the responsible body for protecting people's livelihoods, the Party has actively explored an effective combination of responsibilities of the state, society, enterprises, families, and individuals. Regarding operating mechanisms, the CPC has explored effectively combining the benefits of welfare mechanisms and market mechanisms.
NISD Director Zhang Yi said that the new development stage has provided new topics for social development research.
In the process of comprehensively implementing the rural vitalization strategy, attention should be paid to the combined use of economic policies, public policies, and social policies, said Wang Sibin, a professor from the Department of Sociology at Peking University. While developing the local economy, featured economy, and small-scale agricultural economy, it is necessary to guide social policies and public policies to favor rural areas, in order to fully make use of the advantages of economic growth, public services and social policies.
It is vital to study China's long historical traditions and current unique social transformation practices, and endow sociology with a distinctive "Chinese character," said Zhou Xiaohong, a professor at the School of Social and Behavioral Sciences at Nanjing University.
"Only through this can we participate in the sharing of global sociological discourse and establish a global sociology in a multi-lingual context," Zhou concluded.