Experts explore China's economic recovery
WEI SIYU
|
2021-05-13
|
Hits:
(Chinese Social Sciences Today)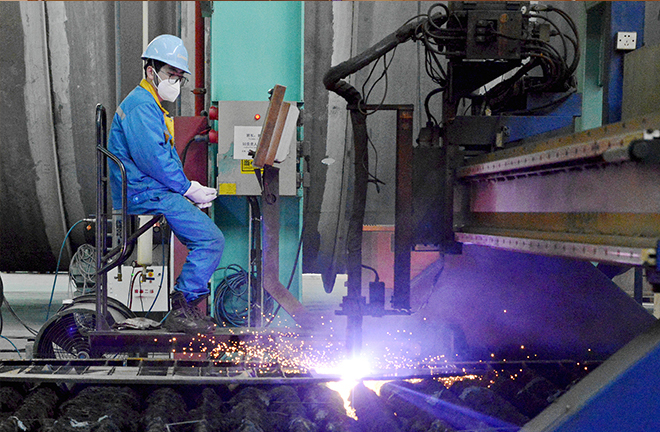 Workers process steel at an enterprise in Jingjiang Industrial Park, Taizhou City, Jiangsu Province, on Feb. 9. Photo: CFP
---
Experts shed light on China's economic recovery in the global landscape amid the COVID-19 pandemic at a webinar on April 18.
The China Macroeconomy Forum webinar focused on analyzing monthly macroeconomic data.
Data shows that China's GDP in Q1 saw an 18.3% year-on-year increase. Fan Zhiyong, a professor from the School of Economics at Renmin University of China (RUC), said that China experienced a strong economic recovery in Q1, with secondary industry recovering quickly. Actually, among all three industries, the manufacturing industry was the only one that resumed to a pre-pandemic level.
From the supply side, China is on a rapid rebound channel. From the demand side, total retail sales of consumer goods increased by 34% year-on-year as of March, Fan continued. In terms of investment, fixed asset investment has grown significantly, manufacturing investment has turned from negative to positive, and the high-tech industry is gaining momentum. Infrastructure investment has grown substantially, and investment in real estate has recovered.
Zhu Baoliang, chief economist of the State Information Center, said that from the demand side, retail sales have recovered faster than manufacturing investment. Meanwhile, real estate investment, infrastructure investment, and imports and exports all have a resilient growth trend, which shows that endogenous motivation is strengthening. It is estimated that in half a year, China's economy may return to a relatively normal level.
Given the impact of the COVID-19 pandemic, there must be a new understanding of capital stock, labor stock, and allocation patterns, said Liu Yuanchun, RUC vice president. Therefore, when discussing macroeconomics, the concept of stock must be well understood. Changes in macro data must be adequately reflected in micro subjects, so that the recovery expectations of micro subjects have a solid foundation. It is necessary to distinguish the difference between exogenous shocks and endogenous shocks, as well as the impact of different exogenous shocks on stocks and increments.
Fan said that the pandemic has affected countries to varying degrees, and their recovery situations are different. On the whole, the recovery of developed countries is faster, and the recovery of emerging market countries is slower. This will be a new challenge for China's future international trade and outbound direct investment.
At present, the United States and European countries have introduced strong stimulus plans, and the prices of staple commodities and financial assets have risen rapidly around the world. On the one hand, this will put greater pressure on future global inflation; on the other hand, when the monetary policies of major countries such as the United States are adjusted and contracted, high financial bubbles may decline rapidly, which will impact the real economy and directly affect exchange rates of several emerging economies, Fan noted.
Generally speaking, in addition to the inflation that has actually occurred, the world is predicted to see even higher inflation. Investors have relatively certain expectations of inflation in major developed countries in Europe and the United States, Fan said.
Zhu suggested maintaining the continuity, sustainability, and stability of policies in the future. Under the current circumstance, where existing basic capital control policies remain unchanged, it is advisable for the RMB exchange rate to float appropriately to hedge spillover effects from US monetary policy.
China should strengthen anticipation management and macro prudence in monetary policy, Fan suggested. Especially under the impact of the external global inflation bubble, it is necessary to make plans for the country's monetary policy while paying attention to practical difficulties faced by small- and medium-sized enterprises (SMEs). Fiscal policy should strengthen targeted support for enterprises.
Boosting the confidence of SMEs and comprehensively enhancing the investment confidence of private enterprises is the focus of short-term policies, Liu said. In addition, it is necessary to achieve self-reliance as soon as possible in the field of science and technology, and to implement such strategies as expanding domestic demand in the medium term, rural vitalization, and new-type urbanization. This is the key to ensuring a new development pattern during the 14th Five-Year Plan period and throughout the new development stage.
Fan suggested boosting cooperation with developed countries and other emerging countries, and enhancing dual circulation by the opening-up agreements signed in 2020.