Regional economic theory matures with time
ZHANG YIXIN
|
2021-04-29
|
Hits:
(Chinese Social Sciences Today)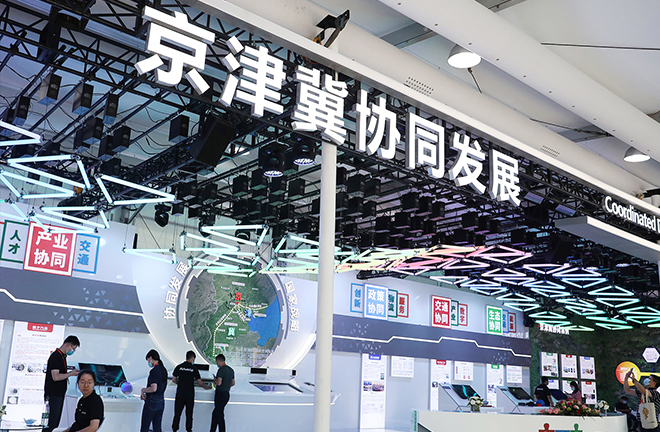 Beijing-Tianjin-Hebei coordinated development booth during the 2020 China International Fair for Trade in Services in Beijing Photo: CFP
---
Regional economics, a discipline centered on regional economic development and the coordination of regional relations, has been fully applied in China's regional development practice.
The Outline of the 14th Five-Year Plan for National Economic and Social Development of the People's Republic of China and the Long-Range Objectives Through the Year 2035 put forward "persistence in the implementation of major regional strategy, coordinated regional development strategy, and major functional zone strategy," delineating a grand blueprint for future China, and charting a course for deepening regional economic research.
China's regional economics research framework has basically taken form, said Yang Kaizhong, secretary for the Party committee of the Research Institute for Eco-Civilization at the Chinese Academy of Social Sciences (CASS). China's regional economics took root before the reform and opening up, drawing on productivity layout theories and practices from the Soviet Union. Since the reform and opening up, China's regional economics has continuously progressed in the course of answering and solving major regional theoretical and practical problems facing the socialist market economy. The process witnessed the formation of such theories as "China's regional division of labor and its transformation" and "the integrated spatial development strategy," as well as the development of new economic geography, and regional development theory in China.
Yang added that China's regional economics research framework has established this basic form after decades of development, largely on three levels. The first level forms spatial economic theory based on the location of economic activities, spatial economic interactions, and spatial economic growth and development. The next level establishes the economics of spatial governance represented by territorial space planning and regional policies. The third level adopts spatial analysis methods represented by spatial econometrics and analysis of the spatial economy's complexity. Regional economics has reached a new phase of academic independence and self-reliance in China.
China's regional economic theoretical system improves itself by conforming to the development of the times, said Ye Zhenyu, an associate research fellow from the Institute of Industrial Economics at CASS. A batch of representative and academically influential research findings have been published on the topics of major national regional strategy, territorial space planning, regional policy evaluation, regional development gaps, industrial transfer, and industrial agglomerations. Additionally, scholars have absorbed innovative practices in such areas as coordinated regional development, spatial layout amid urbanization, poverty eradication, and regional counterpart assistance into disciplinary theoretical systems, trying to explore regional economics with Chinese characteristics.
Representative outcomes of regional economics mainly summarize China's regional development and practices in the new era, said Sun Jiuwen, a professor from the School of Applied Economics at Renmin University of China. Theoretical research of coordinated regional development has made breakthroughs against the backdrop of coordinated regional development strategies, in response to unbalanced and inadequate development, especially with widening gaps among east, middle, and west China, and between south and north China.
Another achievement is demonstrated by theories of modern urban-rural relationships, which consists of the new-type urbanization theory, the rural vitalization theory, and the theory of targeted poverty alleviation, Sun continued. Modern urban-rural relationship theories share the goal of combining urbanization with rural vitalization and anti-poverty work based on integrated urban-rural development, interactions between industries and cities, and ecological livability, to build a new urban-rural relationship oriented towards modernization. In addition, the theory of coordinated regional development and regional integration focuses on Beijing-Tianjin-Hebei coordinated development, integration of the Yangtze River delta, and construction of the Guangdong-Hong Kong-Macao Greater Bay Area.
Regional economic theory considerably overlaps with international trade theory and industrial economic theory, said Fan Jianyong, a professor from the School of Economics at Fudan University. In addition to traditional resource endowment theory, which features constant returns to scale, and the new trade theory with increasing returns to scale, regional economic theory has gradually developed theories of new economic geography and urban economics that highlight differences in spatial externalities. Increased efforts are still needed from academia, and other sectors of society, to better link these new theories to the actual needs of China's regional economic development and institutional reforms, applying them to policy practices in coordinated regional development.
Regional economics should serve as a pillar in the economic system with Chinese characteristics, Yang suggested. Socio-economic activities must be boiled down to certain geographic spaces. The process of resource allocation is built upon questions such as "what, where, how, and for whom to produce" and "who makes decisions and according to what rules and procedures do they make decisions." China is a super large-scale country with vast territory, a large population, and rich regional diversity. Thus regional selections for production are critical to its economic activities.
The government has constantly shaped economic spatial structures to spur economic and social development, Yang noted. The PRC has successively implemented a balanced and an unbalanced layout in coastal and inland areas, and coordinated regional development strategy since its founding in 1949. Economic analysis without considering geographic spaces is impractical and does not fully illuminate China's economic operations, thus it cannot provide effective academic support for the Party and the nation in decision-making.
Edited by YANG LANLAN