Security highlighted in Blue Book of Social Opinion (2014)
By Li Yu
|
2014-09-10
|
Hits:
(Chinese Social Sciences Today)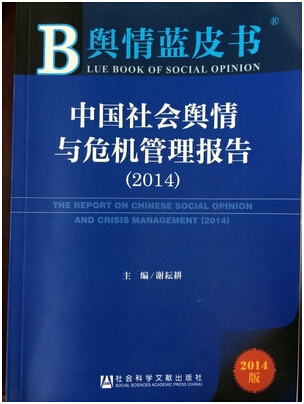 On Aug. 20, the Blue Book of Social Opinion: The Report on Chinese So­cial Opinion and Crisis Management (2014) was released in Shanghai. Ed­ited by the Research Center of Social Opinion and Research Center of Crisis Management at Shanghai Jiao Tong University and published by the Social Sciences Academic Press, the report showed that security is foremost among all the 16 highlighted social issues. Among those surveyed, nearly 80 percent are concerned with public security and territorial security, while more than 70 percent pay attention to environmental problems.
The survey indicated that public security (4.07 points), environmental pollution (4.05 points) and territorial security (4.00 points) received the most attention, with respondents reporting that they are "compara­tively concerned". Those surveyed also show above-average levels of concern with problems related to people's well-being, such as food security, medical care, education and commodity prices. At the same time, concern over family planning, reform of the household registration system and resource and energy shortage was below the average.
In terms of regional differences, the report showed that residents of west­ern and eastern China demonstrated more concern than those in central China, with attention rates varying from 3.58 (western), 3.49 (eastern) to 3.38 (central). Among the urban resi­dents, those in the third and first-tier cities showed more concern over so­cial hot spots than those in the second-tier cities, with their attention rates of 3.56 (third-tier), 3.51 (first-tier)and 3.45 (second-tier) respectively.
Among different income groups, those with lower incomes showed the highest levels of concern. The group with a monthly income of 1,001-2,000 yuan was the most concerned, with an average point of 3.68; while those with a monthly income higher than 10,001 yuan only had an average of 3.33 on the index.
The Chinese version appeared in Chinese Social Sciences Today, No. 637, Aug.22, 2014
The Chinese link is:
http://sscp.cssn.cn/xkpd/xszx/gn/201408/t20140822_1300740.html
Translated by Jiang Hong