China's new development provides new global opportunities
ZHAO YUAN
|
2022-11-25
|
Hits:
Chinese Social Sciences Today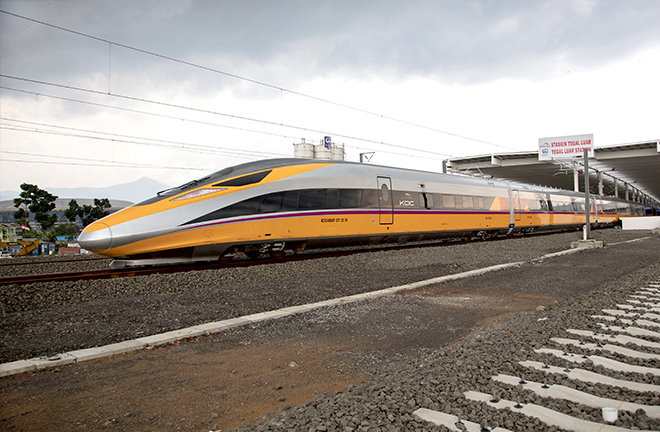 The Jakarta-Bandung High Speed Railway, Nov. 16 Photo: CFP
---
With the successful conclusion of the 20th National Congress of the Communist Party of China (CPC) in Beijing, the report to the Congress has received continuous attention abroad. While observing historical achievements and changes in China, overseas scholars aspire to decode China's development and explore the future path of common development and prosperity.
High-quality development for epochal tasks
"To build a modern socialist country in all respects, we must, first and foremost, pursue high-quality development," the Congress report stated unequivocally. On this topic, Rana Mitter, a professor of the History and Politics of Modern China at the University of Oxford, said "It is vitally important for China to stimulate domestic consumption to revive the economy. One important factor will be the improvement of welfare provisions and provisions for the elderly—people will consume more if they feel safer in terms of their old age pensions and healthcare needs. China, and the rest of the world, will certainly have many economic links for years to come and it's important to remember that a high-value economy needs the free flow of human capital as well as physical goods."
From his perspective as a historian, Peter Frankopan, global history professor at the University of Oxford, noted that "Macroeconomic shifts are not easy, especially as they not only require careful planning but also good timing. At the moment, with energy, food, and commodity prices subject to pressure, this makes things even more difficult. This is why, I think, President Xi has been talking about an age of frugality and trying to highlight the expectation that we are living through a difficult moment."
"Common prosperity is crucial for China's development economically, socially and politically," said John Ross, a senior fellow from Chongyang Institute for Financial Studies at Renmin University of China. According to Ross, "the goal of common prosperity is not limited to purely economic objectives, but includes ensuring a rise in the living standards of the Chinese people, increasing social cohesion and political stability, and thereby playing a fundamental role in China's national rejuvenation. As President Xi noted at the 20th CPC National Congress: 'Achieving common prosperity is a defining feature of socialism with Chinese characteristics.'"
BRI bridging China and the world
The Congress report pointed out, "As a collaborative endeavor, the Belt and Road Initiative has been welcomed by the international community both as a public good and a cooperation platform." Mitter believes that the BRI provides support for infrastructure in several important areas for global development. "It is important that BRI focuses on areas such as renewable energy, where China has real expertise and can transmit green technology to Global South economies," said Mitter.
Frankopan noted, "the world is going through a period of great change; that includes China and its domestic transitions, but also in its engagements with the outside world – not only in BRI countries, but beyond too. Clearly, there are mutual benefits in the process of globalization."
Creating a shared future
President Xi Jinping's concept of a human community with a shared future is "an outstanding contribution" according to Ross, who views the concept as the strategic basis for China's foreign policy. "This concept is an outstanding example of simultaneously basing a policy on Marxism and developing it further," he continued.
Mitter said, "I would link this concept to the most compelling issue facing the world today: catastrophic global climate change." He believes that in a human community with a shared future, all nations will have to set aside their differences on other matters and concentrate on cooperation on climate. In particular, all nations should share the goal of more ambitious targets toward net zero. China has a particularly central role to play in cooperating with others.
Frankopan believes that cooperation requires mutual trust, and like all friendships, it requires a chance to listen and learn from each other.
Forging an open economy
Scholars are also closely following the relationship between enterprises and globalization. "We will improve the modern corporate system with distinctive Chinese features, encourage entrepreneurship, and move faster to help Chinese companies become world-class outfits," the Congress report promised. "Firms are the engines of globalization," said Holger Görg, a professor of international economics at the University of Kiel. Globalization needs rules, and to implement and direct those rules, one needs forerunners. A benevolent forerunner, which would ultimately be responsible for implementing and enforcing the rules, would have to be trusted by all other countries involved in the global economy.
Rolf Langhammer, a professor from the Kiel Institute for the World Economy in Germany, believes that a forerunner needs to shoulder and share the burden of globalization that currently rests on some countries. This helps to enlarge the group of countries that is prepared and willing to participate in opening markets.
Chris Rowley, a professor emeritus from Bayes Business School, City, University of London, contends that "to promote global high-quality development, China will have to shift from being the 'go to' producer to being the producer of 'the best' products in terms of innovation, value added, quality, renewable and reparable elements, and the environment."
Mitter added, "Openness to labor and capital is essential to building a robust ecology when it comes to the development of new technology in particular. " 
Edited by ZHAO YUAN