Ecological awareness grows in step with economy
By Wang Jianhua, Li Laifang, Dong Xiaohong
|
2015-06-17
|
Hits:
(Chinese Social Sciences Today)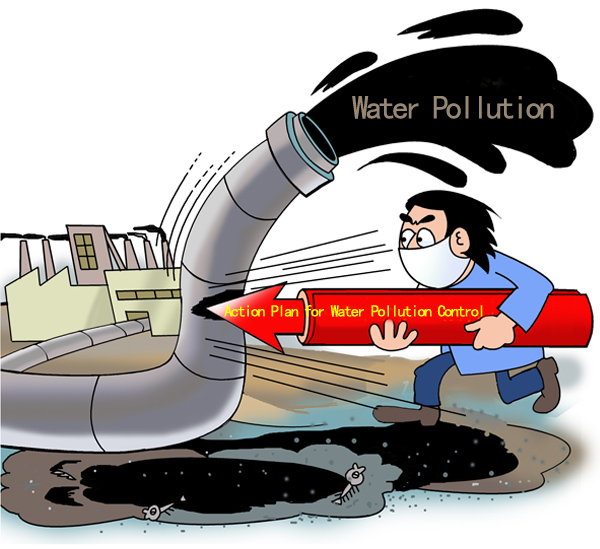 The State Council recently released an action plan for water pollution prevention and control, with the aim of reducing pollutants, improving drinking water and promoting water conservation. (PHOTO: CFP)
June 5 marked World Environment Day. The United Nations Environment Programme set the theme for this year "Seven Billion Dreams. One Planet. Consume with Care." China's Ministry of Environmental Protection adopted the domestic theme of "Practicing Green Lifestyles." Both these themes complement each other, promoting harmony between man and nature through ecological progress and sustainable development.

The Chinese government has advanced environmental reforms to promote ecological progress and combat air, water and soil pollution.

Resolution shortcomings
In early May, the central leadership of the Communist Party of China (CPC) and the State Council jointly released guidelines for accelerating ecological progress. It marked the first time the country had mapped out an overall plan for ecological progress that included requirements, missions, key tasks and institutional systems.

Xu Shaoshi, director of the National Development and Reform Commission, described the plan as an overall, systematic project to advance ecological progress by fundamentally transforming development ideas and modes.

China's ecological progress has lagged behind its economic development. Policymakers recognize ecological progress as instrumental to building a moderately prosperous society. Building such a society is a historical aim that should be completed at the 100th anniversary of the founding of the CPC.

In order to fulfill this task, China has resolved to tackle its resource constraints, severe pollution and degraded environment to strike a balance in ecological progress and the construction of a moderately prosperous society by 2020.

Hu Angang, a professor from Tsinghua University, said that ideas and measures for "green development" will be included in the 13th Five-Year Plan (2016-2020) that emphasizes ecological progress.

China plans to comprehensively raise public awareness about ecological progress, making it a mainstream societal value.

There is already high public awareness of ecological progress, according to a report by the ministry released in February. Some 78 percent of respondents said everyone is responsible for building a beautiful China.

In March, the ministry announced that it had restarted the "green GDP" accounting system, also known as Green GDP Accounting 2.0. The system aims to comprehensively and objectively reflect the environmental impact of economic activities.

The concept of green GDP was first put forward by the United Nations Statistics Division. In 2006, the State Environmental Protection Administration, now the Ministry of Environmental Protection, and the National Bureau of Statistics jointly released the China Green National Accounting Study Report, the only report to disclose calculation of green GDP.

Changing societal influences
International academia agrees that ecological progress comes after industrial development. In human history, people have undergone three stages of society: primitive, agricultural and industrial.

Industrial society has lasted 300 years and is characterized by the conquering of nature. However, global ecological crises in developed capitalist countries have proven the world can no longer support the development of industrial society.

People have subsequently begun to focus on promoting ecological progress. Zhao Lingyun, an ecological economist, said that it is hard for developed capitalist countries to promote ecological progress due to their anti-ecology social institutions.

Starting the 1970s, many Western ecologists have held such views when reflecting on ecological crises.
Developed capitalist countries eased ecological crises by virtue of abundant capital and advanced techniques, but their actions were nevertheless based on ecological hegemony, ecological exploitation and worldwide environmental degradation.

Zhao said that socialism with Chinese characteristics is people-oriented, stressing the coordinated development between man and nature. It provides the country with institutional and policy advantages to advance ecological progress, Zhao added.

In addition, the spirit of ancient Chinese civilization is also consistent with the internal requirements of ecological advancement, which include pursuing syncretism between heaven and man.

Many Western ecologists have urged absorbing the essence of Oriental civilizations. In 1988, 75 Nobel laureates made a joint statement in Paris calling for mankind to draw upon Confucian wisdom to survive in the 21st century.

Mutual benefits
Based on its social institutions, China will make ecological progress in a scientific and reasonable manner, rather than following the Western path of robbing natural resources and transferring crises.
In 2009, China overtook the US to become the world's largest investor in renewable energy resources. In the subsequent five years, China was only overtaken by the US in 2011.

China announced last year that its proportion of non-fossil energy resources in primary energy consumption will increase to 20 percent in 2030, while carbon emissions per unit of GDP will drop by 40 to 50 percent in 2020 compared to 2005 levels. It is an arduous task for China, the world's largest developing country, to realize these aims.

A report by the Development Research Center of the State Council released earlier this year found total emissions of major pollutants have declined. Carbon dioxide and nitrogen oxide emissions will respectively reach their inflection points in 2006 and 2012, while the aggregate volume of major air and water pollutants is likely to peak between 2016 and 2020.

In order to promote ecological progress, China proposed the idea of people sharing a common destiny in the Report to the 18th National Congress of the Communist Party of China. It includes offering environmental assistance to developing countries and drawing experience from developed countries to maintain global ecological security.

In 2013, the Ministry of Commerce and the Ministry of Environmental Protection jointly released guidelines for environmental protection in foreign investment and cooperation, with the aim of guiding Chinese companies to further standardize environmental protection in overseas investment and actively fulfill their social responsibility of environmental protection.

Accounting for Chinese firms' investment through third parties, total overseas direct investment hit about $140 billion in 2014, making China a net exporter of capital.

In March, China introduced its "One Belt, One Road" initiative, which includes the Silk Road Economic Belt and 21st Century Maritime Silk Road. It promotes ecological progress and strengthens cooperation in the fields of environmental protection, biological diversity and climate change in a bid to jointly build a "green Silk Road."

Some analysts said that the Asian Infrastructure Investment Bank, initiated by China, will also pay more attention to ecological progress rather than strictly focusing on infrastructure.

Stricter laws and regulations
Steve Wolfson, who leads the China Environmental Law Initiative at the US Environmental Protection Agency, said that environmental reforms have been implemented in China, including the construction of a new legal framework and stricter judicial enforcement.

The concept of ecological security was first incorporated into the national security system in April last year, signaling the Chinese government's determination to advance ecological progress.

Although more than 120 laws and regulations on environmental protection have been issued nationally, there are still institutional deficiencies in some fields.

Some analysts forecast that the legislative body will soon formulate and amend laws on control of soil, water and air pollution as well as for environmental damage compensation.

Development is still the foundation and key point of solving all problems in the country. The Chinese leadership has made beneficial interaction between ecological and economic development a strategic priority.

"Ecological progress in China is synchronized and coordinated with material, spiritual and political progress," Zhao said.
(Edited and translated from Xinhuanet)