Sarah Laursen on exhibitions of Chinese and Asian art
CHU GUOFEI
|
2022-10-13
|
Hits:
Chinese Social Sciences Today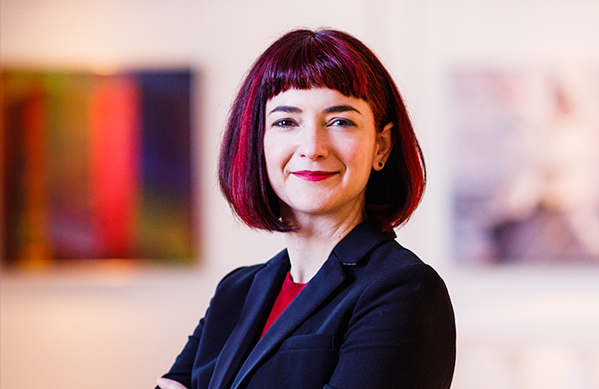 Dr. Sarah Laursen is the Alan J. Dworksy Associate Curator of Chinese Art at the Harvard Art Museums, where she oversees the collections of Chinese art, Korean paintings and decorative art, and South and Southeast Asian Buddhist art. Prior to joining Harvard, she was a professor and curator of Asian art at Middlebury College in Vermont, where she organized exhibitions of Chinese gold, Chinese painting and photography, Japanese tattoo art, and Asian narrative art. Photo: Courtesy of Keith MacDonald  
---
In a recent interview with CSST, Dr. Sarah Laursen, the Alan J. Dworksy Associate Curator of Chinese Art at the Harvard Art Museums, shared her curatorial, teaching, and research experience encompassing topics ranging from Chinese archaeology, collecting history, to contemporary Asian and Asian American art.
CSST: What made you interested in art history and contemporary Asian and Asian American art?
Laursen: I have loved art for as long as I can remember, but I first became interested in Asian art when I traveled to China with my father (Dr. Richard Laursen) in 1998. We stayed with friends in Changsha, where we visited the Han tombs at Mawangdui and met members of the fine arts faculty of Changsha Normal University. On the same trip, we traveled to Beijing to visit the Palace Museum and Peking University's Arthur M. Sackler Museum of Art and Archaeology, and to Chongqing, where we saw the "Rent Collection Courtyard," a famous group of sculptures created in 1965 at the Sichuan Fine Arts Institute. I realized then that the world of Chinese art was vast, diverse, and—at that time—very understudied in the United States. 
When I returned from China, I began my undergraduate studies at New York University in art history and East Asian studies, taking my first courses in Asian and Asian-American art history. At that time, I also began studying Mandarin, first at Harvard University and then at New York University. While studying in New York, I held internships in the Asian art departments of the Brooklyn Museum and the Metropolitan Museum of Art (Met). Several important loan shows came to New York from China around this time, and they deeply influenced my future interests.
CSST: Please share your thoughts and reviews about those loan shows from China, from the perspective of a student and intern. 
Laursen: Two concurrent exhibitions in the fall of 2000, "Gold of the Nomads: Scythian Treasures from Ancient Ukraine" at the Brooklyn Museum and "The Golden Deer of Eurasia: Scythian and Sarmatian Treasures from the Russian Steppes" at the Met, ignited my interest in the archaeology of the steppe and the nomadic goldsmiths of the ancient world. As a result, many years later, I wrote my dissertation, "Leaves that Sway: Gold Xianbei Cap Ornaments from Northeast China," about the gold ornaments of the Murong Xianbei, a branch of the Xianbei tribe that established the Yan states in Northeast China in the 4th and 5th centuries CE.
In 2001, Asia Society organized an exhibition called "Monks and Merchants: Silk Road Treasures from Northwest China" that explored the history of the Silk Road, focusing on Buddhist missionaries and Sogdian traders in Western China. The Sogdians were an eastern Iranian people who lived in present-day Uzbekistan and Tajikistan between the 4th and 8th century CE, and many of them formed merchant communities in China during the Six Dynasties period and Tang Dynasty. Several funerary couches and other archaeological remains of the Sogdians were discovered in the late 1990s and early 2000s, and they became the focus of much scholarly interest. That year, I wrote my undergraduate thesis about the impact of Sogdian material culture on the arts of the Tang Dynasty. My interest in the Sogdians later led me to pursue my MA and PhD at the University of Pennsylvania (Penn) under Nancy Steinhardt and Victor Mair, who were both very interested in the Sogdians and had written about their art and history.
In my senior year of college, I worked as an intern at the Met under the supervision of Jason (Zhixin) Sun, a curator in the Department of Asian Art. At that time, he was preparing for a major loan exhibition called "China: Dawn of a Golden Age," which would bring to New York many of the most important archaeological discoveries of the Han, Six Dynasties, and Tang periods. I was fascinated by the silver and glass vessels, beautifully preserved textiles, masterfully crafted ceramics and jades, Buddhist icons, and a Sogdian sarcophagus in the show. I spent many hours in the library and at the photocopier gathering research, and on at least one occasion, Jason Sun allowed me to help him choose between objects that might be in the exhibition. It was also the first time I saw the gold jewelry and headgear of the Murong Xianbei.
By the time I graduated from New York University, I was certain that I wanted to continue studying ancient art, but it was an exciting time for contemporary Asian art as well. While taking a course in modern Chinese history, I saw "Inside Out: New Chinese Art" at Asia Society, which was curated by art theorist Gao Minglu. This show raised my awareness of Chinese artists—working both in China and abroad—who were experimenting with new media while also reviving traditional Chinese techniques and materials. In many ways, this brave generation of artists laid the foundations for contemporary Chinese artists today.
CSST: You mentioned that "I realized then that the world of Chinese art was vast, diverse, and—at that time—very understudied in the United States." How is it now? 
Laursen: In the almost 25 years since I began studying Chinese art, the field has changed dramatically. Americans have come to understand how important China is historically and in the present day. Many museums and academic departments have curators and professors of Chinese art, and even the smallest colleges teach surveys of Asian art history. 
However, I think that most Americans' understanding of Chinese art history is still limited to a few categories, like brush painting, Buddha statues, and Ming Dynasty blue-and-white wares. Fewer people are aware of the astonishing archaeological finds of the last fifty years, like the mummies of the Tarim Basin, the 12th- to 11th-century BCE monumental bronze figures from Sanxingdui, the Han Dynasty gold treasure from the tomb of the Marquis of Haihun, and Northern Dynasties paintings like those seen in the Tomb of Xu Xianxiu. In order to overcome these limitations, it is the responsibility of curators and professors to introduce these new discoveries, which are sometimes published only in Chinese and have not yet been translated into English.
I think it is also very important to understand that Chinese art in the United States is not just for Chinese and Chinese-American audiences. It is for everyone. Some Westerners avoid Asian art because the long history and difficult language are intimidating to them. That is why we need to find new ways to present Chinese art that our students and visitors identify with. When I taught at Middlebury College, I taught a writing course that was about artists' materials and techniques in Asia. Each week, we focused on a different medium, like ceramics, printing, or jade carving. Because the focus was on materials instead of history, students (especially artists) were excited to take the class. In the same way, the recent exhibition "Early Delights: 6,000 Years of Asian Ceramics" at the Harvard Art Museums approached Asian ceramics thematically rather than geographically or chronologically. The visitors I have seen in this exhibition are from many different backgrounds, and they were all able to find themes that connect to their own experiences and interests.
CSST: You have organized several exhibitions. What are the ideas behind when organizing these exhibitions?
Laursen: In organizing exhibitions, my objective is to expose our audiences to new cultures and ideas. 
"Perseverance: Japanese Tattoo Tradition in a Modern World" at the Middlebury College Museum of Art was a traveling show borrowed from the Japanese American National Museum. It was originally curated by Takahiro Kitamura and photographed and designed by Kip Fulbeck, and I admired the way they connected the past to the present. When the show came to Middlebury, I added several didactic texts about the content of the tattoos (fantastical creatures, Buddhist deities, folklore heroes, and famous warriors) and the connections between the tattooing and Edo-period woodblock printing. My hope was to introduce Asian art to new audiences in Vermont through the popular medium of tattoos. I believe this was quite successful because for years afterwards, I met people who had visited our museum for the first time to see that exhibition. I took a similar approach with "The Art of Storytelling: Five Tales from Asia, Then and Now," which introduced Asian's most important epics—traditionally illustrated in books, architecture, and props for performance—through contemporary comic book art.
 "Lost Luxuries: Ancient Chinese Gold" was only on view for a short time before the pandemic, so it did not reach as many people as I had hoped. "Lost Luxuries" brought together Chinese gold in collections across the United States, which had often languished in museum storage because it was not well understood. Recent excavations have shed light on the possible origins of these objects, and I attempted to recontextualize them in this show. Fortunately, the exhibition has a digital component because it was planned in conjunction with a course I taught called "Digital Methodologies for Art Historians." Most of this content can still be accessed virtually, using the online platforms Thinglink and Esri StoryMaps. 
CSST: All these shows are held by university museums. What makes university museums unique?
Laursen: This is an excellent question. The primary function of a teaching museum is to educate students and the public, not simply to offer aesthetic enjoyment. Sometimes, that means we present exhibitions about difficult or controversial topics that intentionally challenge visitors. We consult with faculty members and invite them to visit exhibitions with their classes, and we organize public talks and symposia to bring as many viewpoints into the conversation as possible. Our goal is not to make money from ticket sales or merchandising. Instead, we want to bring people from diverse backgrounds together to learn something new and see the world from a different perspective.
CSST: What are your plans in future, on exhibitions, teaching, and researching?
Laursen: For teaching, I think it will be important in coming years to acquire more contemporary artworks. These acquisitions will both increase the representation of the Chinese and Chinese-American students at Harvard, but also create a more accessible entry point for non-Chinese audiences who may at first feel daunted by ancient Chinese art.
My next exhibition, which will be on view in fall 2023, is also a collaboration with Harvard students. "Objects of Addiction: Opium, Empire, and the Chinese Art Trade" will examine the relationship between the opium trade and the development of a market for Chinese art in the United States in the early 20th century. In addition, we will explore the history of China's relationship with the West, Boston-area families who profited from the opium trade in the 19th century, and the effects of opium on China's public health and economy, as well as American attitudes towards Chinese immigrants. 
In terms of research, I am eager to work with curators, archaeologists, art historians, and other scholars and technologists throughout China to find ways to better contextualize the archaeological fragments in our collections, which I explored with students in the "Reframing Tianlongshan" virtual exhibition (https://harvardartmuseums.org/tour/reframing-tianlongshan). I think virtual reality and augmented reality could be exciting vehicles for communicating both the original and current state of the sites they come from. This will allow us to learn from the past and help Harvard's next generation form positive and lasting connections to China's people, history, and art.
Edited by REN GUANHONG