Ancient tea shipping route has rich cultural value
ZHENG LIANG and WANG ZITIAN
|
2022-08-25
|
Hits:
Chinese Social Sciences Today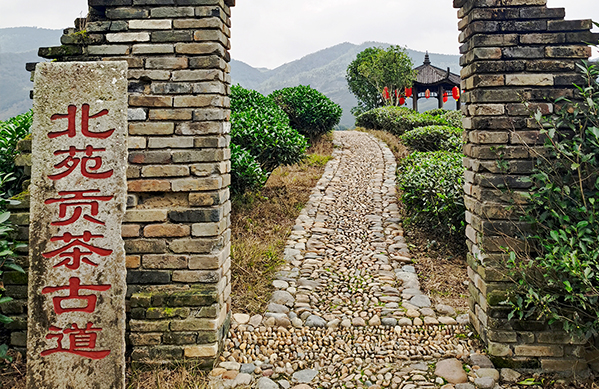 An ancient overland path for transporting Beiyuan Tributary Tea, a specialty of Jian'ou in Nanping City, Fujian Province, which is part of the ancient tea shipping route Photo: PROVIDED TO CSST
---
In southeast China, there is an ancient tea shipping route stretching from Fujian Province, known as cha chuan gudao. This path is an item of "linear cultural heritage" integrating transportation routes, based on the province's rich tea culture and long shipping history, and its close connections with the Maritime Silk Road. Along the time-honored tea route, an abundance of tangible and intangible cultural heritage dating to the Tang Dynasty (618–907) and after has been preserved, forming a sustainable cultural ecosystem.
The global development of a linear cultural heritage cannot be separated from China's active participation and vigorous promotion. The UNESCO World Heritage Committee first proposed the concept of heritage routes in the 1994 expert meeting discussing routes as part of cultural heritage in Madrid, Spain, when the definition, identification, and delimitation criteria of a heritage route were settled.
As a new type of cultural heritage, a heritage route is a cultural landscape "based on the dynamics of movement and the idea of exchanges, with continuity in space and time."
Moreover, according to Annex 3 of the 2002 Operational Guidelines for the Implementation of the World Heritage Convention, spatial characteristics, temporal characteristics, cultural characteristics, and the role or purpose are the four criteria for considering a route as having exceptional universal cultural heritage worth.
In 2008, the International Council on Monuments and Sites (ICOMOS) approved the Charter on Cultural Routes, which emphasized that cultural routes "must have integrated into a dynamic system."
Chinese academia has been dialoguing with other nations while engaging in cultural heritage studies. Based on similar heritage research models, such as European cultural routes and American heritage corridors, scholars including Shan Jixiang, former curator of the Palace Museum, proposed the concept of a linear cultural heritage, which has been recognized as a creative term suited to actual conditions of cultural heritage preservation in China.
The term not only agrees with Chinese language expressions, but also encompasses historically "thick descriptions" of Chinese cultural heritage and suggests diverse linear flows during the interaction, evolution, and exchange of cultural heritage, as well as heritage's temporal liquidity and spatial agglomeration.
Into the 1980s, with deepening investigations into the Silk Road, Chinese academics gradually began to focus research on linear cultural heritage. With their efforts, such heritage routes as the Great Wall and the Grand Canal were inscribed on the UNESCO World Heritage List. Thereafter, many other linear cultural heritage items, like the Maritime Silk Road, Ancient Sichuan Roads, and the Route of the Red Army's Long March have been on China's list, waiting for world heritage application.
In 2014, the Silk Roads: the Routes Network of Chang'an-Tianshan Corridor, jointly submitted by China, Kazakhstan, and Kyrgyzstan, was recognized by UNESCO as a world heritage site, setting a good example for integrated preservation of linear cultural heritage.
In 2009, the National Cultural Heritage Administration of China spearheaded the construction of a national linear cultural heritage network, with the aim of identifying important linear heritage sites with great historical significance to the development of the Chinese nation on the macro level. Endowed with functions of cultural heritage, ecological conservation, leisure, recreation, aesthetics, and education, the network will be built into cultural infrastructure showcasing national identity, continuing historical lines, and ensuring harmony between man and nature.
Whether discussing European cultural routes or Chinese linear cultural heritage, both conversations are alert to the dynamism and continuity of heritage as a whole. Cultural relics along the routes are all full of vitality and can connect the present to the past. Conforming to the requirements for dynamic cultural routes, the ancient tea shipping road—starting from Fujian—can exhibit cultural diversity along existing routes and enrich and highlight regional cultural characteristics. In the cultural space, moreover, it can link up to the Maritime Silk Road via ports in the province and integrate tea trade flows between Fujian and surrounding provinces and regions to form trade networks.
Ships travel not only on the sea, but also by river. In tea's external flow from mountainous areas in Fujian, river channels and ships played a huge role. Temporally, the tea shipping route still has dynamic cultural value today.
As a linear cultural heritage, the Fujian tea shipping route consists of four waterways, namely Minjiang, Jinjiang, Tingjiang, and Jiulongjiang rivers, alongside the waterway of the South China Sea. Each river route has one thing in common: they are all connected to mountains and rivers, with tea as the principal trade commodity. The four separate routes constitute a whole heritage.
Transportation in the upper reaches of the Minjiang River can be divided into overland and waterway transportation. By land, tea was transmitted to Jiangxi Province and Zhejiang's inland areas, and from productive regions to commodity distributing centers near the river. Waterway transportation included transportation along the Minjiang River's main artery and tributaries, in its upper reaches, such as the Futunxi, Jianxi, and Shaxi rivers, and from Nanping in northern Fujian to Fuzhou, capital city of the province.
Therefore, river channels and mountain passes are major components of the Fujian tea shipping route. The mainstream of the Minjiang River runs through Fuzhou into the East China Sea. Through transit at the Fuzhou Port, tea passed important ports like Quanzhou, Xiamen, and Zhangzhou, and then headed southward to Guangzhou via sea routes. The flow of tea along the route, from the hinterland all the way to the Maritime Silk Road, continued for thousands of years.
As a maritime cultural heritage route, the Fujian tea shipping route has been the front-end link for material storage and circulation on the Maritime Silk Road. Through historical evolution, tea and ships, or boats, along with related materials, have all become maritime heritage components.
Along the route, there are numerous, rich heritage items, tangible and intangible. Tangible heritage consists of the route and its annexes, such as post stations, wooden bridges, and surrounding vegetation and landscapes, cultural relics, ancient buildings (and complexes), and village communities. In terms of intangible cultural heritage, there are traditional crafts related to tea and ships (or boats), social organizations, codes of conduct, beliefs and rituals, folk arts, folk literature, and food traditions.
Linking China and the world
From a linear cultural heritage perspective, the tea trade route is centered around Fujian and encompasses tea production areas like southern Zhejiang and eastern Jiangxi. Its waterways, with the Minjiang River as the main channel, bond crucial ports in the four provinces of Fujian, Zhejiang, Jiangxi, and Guangdong. Due to tea's regional and international connectivity, tea products from mountainous areas are carried out of remote steep mountains, flow into river networks, and gather in ports. Along the Maritime Silk Road across the sea, they are transported to Southeast Asia, and by way of the Cape of Good Hope in South Africa, arrive in England, Amsterdam, and even North America, appearing in sitting rooms around the world.
While changing the daily drinking habits of different populations, the flow of tea also drives the development of shipping and trade. Tea is not only a trade commodity, but was also a prelude to the butterfly effect that changed the world in the 18th and 19th centuries.
In the southeast, central south, and northwest sections of China's territory, there are three tea-themed heritage routes: the ancient tea shipping route in the southeast with Fujian at the core, the Hunan-centered wanli chadao (tea road of ten thousand miles) in south central China, and the famous Tea-Horse Road in the northwest centered in Yunnan. These three linear heritage routes, with tea as the primary trade material, have been linking China and the world.
Xiamei Village in Wuyishan City, Fujian, is the starting point of the ancient tea shipping route. According to Tao Decheng, an expert on tea economy and culture from the Army Engineering University of PLA, tea produced in Fujian and the Taiwan region is exported from Fuzhou, Xiamen, and Danshui (in Guangdong Province).
In history, before the port of Fuzhou was opened to trade after 1842, merchants specializing in Fujian's tea business were allowed to trade with foreigners only in Guangzhou, so they had to cover the tough, long, and costly overland route of more than 600 miles to Guangzhou, which took four weeks. After Fuzhou, along with Shanghai, Xiamen, and Ningbo, were designated as foreign trade ports in addition to Guangzhou, Fujian tea merchants began transport from Wuyishan's tea region by boat, floating downstream along the Minjiang River, to arrive in Fuzhou in just four days, no more than eight or ten days under extreme circumstances.
Despite vicissitudes over thousands of years, tea exports and cultural exchanges have consistently maintained ties between China and the world.
Challenges to preservation
In spring 2021, General Secretary of the CPC Central Committee Xi Jinping first went to Wuyishan on his inspection tour to Fujian, when he put forward the "Fujian Mission," calling for coordinated efforts to promote the tea culture, development of the tea industry, and use of technology in the sector.
From the perspective of tea's heritage in Fujian, constructing linear cultural heritage from the ancient tea shipping route is imperative, but some original overland paths have been damaged or covered by modern highways or forests. Regarding waterways, with the construction of water conservancy projects in the Minjiang River basin, and changes to shipping conditions, the Minjiang shipping line has not been fully available.
In addition, villages along the tea shipping route have also undergone dramatic changes. Many folk customs have no inheritors, and those who have memories of the significant route, such as tea farmers and sailors, are too old to fully recount stories about many intangible cultural heritage items they encountered.
Nevertheless, it is necessary to combine transportation routes with heritage themes and integrally examine tangible and intangible heritage along the route, which can improve preservation measures and diversify categories of heritage to be protected, ultimately contributing to China's push for building itself into a culturally advanced nation.
Zheng Liang (professor) and Wang Zitian are from the College of Marine Culture and Law at Jimei University.