View cultural diversity through Chinese-language films
ZHANG QINGFANG
|
2022-08-18
|
Hits:
Chinese Social Sciences Today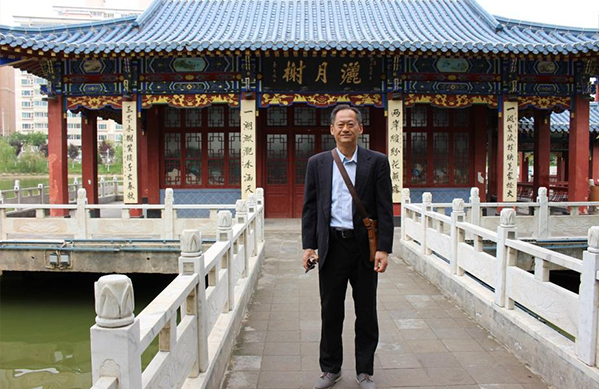 Born in China, Professor Sheldon H. Lu's scholarship and teaching lie in Chinese literature, Chinese-language films, world films, cultural theories, heritage inheritance, etc. PHOTO: COURTESY OF SHELDON H. LU
---
In recent years, there have been discussions on the academic concept of "Chinese-language film" in the field of Chinese film studies at home and abroad. Sheldon H. Lu, professor of comparative literature at the University of California at Davis, interprets the changes and development of contemporary China in the context of "Chinese-language film," spreads Chinese culture in the West, and promotes cultural exchanges between China and the West.
ZHANG: In 2005, you co-edited a collection of English papers known as Chinese-Language Film: Historiography, Poetics, Politics with Yueh-yu Yeh. Since then, the concept of "Chinese-language film" has been widely used and spread in overseas academia, especially in the English-speaking world. Can you share more about the implication of "Chinese-language film"?
LU: The concept of "Chinese-language film" has been changing constantly. In the preface to Chinese-Language Film: Historiography, Poetics, Politics, I pointed out that, for the time being, the Chinese-language film is defined as films in Chinese, shot in the Chinese mainland, Taiwan, Hong Kong, and other Chinese-inhabited areas, as well as films produced and distributed by film companies in these regions in cooperation with film companies from other countries. It covers not only the Chinese-language films from the Chinese mainland, Hong Kong, Macao, Taiwan, and overseas Chinese-inhabited areas, but also Chinese-dialect films made by Chinese from all over the world. When tracing its origin, the term "Chinese-language film" has existed in some Southeast Asian countries for a long time. As early as 1926, a silent film known as "New Friend" with Chinese subtitles was produced by the overseas Chinese in Malaya (then a British colony). In 1959, the Singaporean film critic Yi Shui compiled a series of articles on Malayan Chinese-language films into a monograph, On Issues of the Malayanisation of Chinese-Language Cinema, and published it. It was probably the earliest written information [about the term "Chinese-language film"] available.
In the 1990s, the concept of "Chinese-language film" began to be widely used. In the mid-1990s, Cultural Criticism and Chinese Cinema written by the Hong Kong scholar Zheng Shusen and Contemporary Chinese-Language Films (Dangdai Huayu Dianying Lunshu) written by the Taiwan scholar Li Tianduo were published, which were very influential at the time. Because of the globalization of capital and film production of the time, scholars, film critics, and people who work for both the big and the small screen in the Chinese mainland, Taiwan, and Hong Kong began to communicate and cooperate on multiple levels. In my opinion, the reason why the term "Chinese-language film" can be widely accepted and used is mainly because it is a cultural concept, which is easily recognized and accepted by Chinese people with different social and cultural backgrounds and overseas Chinese. As we all know, the Chinese nation is an ethnic community composed of various ethnic groups, languages, and dialects. Therefore, the "Chinese language" from the term "Chinese-language film" should include all the languages and dialects used in the Chinese mainland, Taiwan, Hong Kong, and Macau. From this perspective, "Chinese language" is not a linguistic concept in a strict sense, but rather a cultural concept in a broad sense.
ZHANG: What is the difference between "Chinese-language film" and "Sinophone Cinemas"?
LU: "Chinese-language film" is quite different from "Sinophone cinema." The latter is more prevalent in academia outside the Chinese mainland. The term "Sinophone" was first put forward by Chinese scholars from Southeast Asia at the end of the 20th century. Since the 21st century, theories of this concept have been continuously deepened, organized, and even applied to research practice by North American and other Western scholars in the context of postcolonial theory. Therefore, "Sinophone" has become a concept alongside colonialism, postcolonialism, and other related concepts, the same way that Anglophone, Francophone, Hispanophone, and Lusophone have done. Although "Sinophone" seems to expand the horizon and scope of global Chinese-language literature and Chinese-language culture, the "-phone" was actually a historical product of modern Western colonization. Britain, France, Spain, and Portugal established colonies outside their homeland, imposed their language onto the people they colonized, thus diffusing these European languages around the world. Is it appropriate to apply the cultural and linguistic phenomena arising from the Western colonization to China and overseas Chinese-speaking communities? I know that some scholars in the field of sinology in North America agree with and adopt the term "Sinophone." However, the concepts of "Chinese-language film" and "Sinophone cinema" are very different from each other. Furthermore, "Chinese-language film" is an academic and cultural concept rather than political theory. It highlights the diversity and multiple perspectives of Chinese culture.
ZHANG: When introducing the concept of "Chinese-language film" into English-speaking academia, you also put forward the concept of "transnational Chinese film." Can you talk more about it?
LU: Since Chinese-language films deal more with transnational issues and involve issues of film production under the flow of capital, I put forward the concept of "transnational Chinese film" when thinking and perfecting the concept of "Chinese-language film." The term "transnational Chinese film" was mentioned in my paper Historical Introduction: Chinese Cinemas (1896-1996) and Transnational Film Studies, published in 1997. In this paper, I emphasized that transnationalism in Chinese cases can be observed from the following aspects:
The first aspect is the competition and cooperation of Chinese national cinema/regional cinema in the Chinese mainland, Taiwan, and Hong Kong. The second is the transnational capitalism in the 1990s, and the globalization of Chinese film production, sales, and consumption. The film discourse itself presents and remains curious about China and Chineseness, that is, a cross-examination of the national identity, cultural identity, political identity, ethnic identity, and gender identity of Chinese individuals or groups at home and abroad. This is the third aspect. The fourth is that the re-examination and review of China's "national films" is like reading retrospectively the "prehistory" of transnational film discourse. This process aims to reveal the transnational roots and conditions of films. In an attempt to take the rapid global rise of the "fifth generation" of Chinese filmmakers [directors who graduated from Beijing Film Academy in the 1980s, and have won international acclaim for films characterized by realism, powerful social commentary, and high production values] as the background, I try to develop and establish a platform, on the theme of "transnational Chinese film," for Chinese filmmakers to communicate with overseas academic circles, especially Western academia.
ZHANG: You are the first scholar to publish books on the theme of "transnational Chinese film" among researchers of Chinese films at home and abroad. Are the concepts of "transnational Chinese film" and "Chinese-language film" mutually complementary?
LU: In film studies on a global scale, the concept of "transnational Chinese film" has been widely accepted and used by academia. It is constantly being revised, improved, and supplemented by relevant scholars. Chinese-language films are not only of transnationality, but also of translocality and polylocality. A good example of the influence of the concept of "transnational Chinese film" is a later British academic journal named Transnational Cinemas. This also proves that we Chinese scholars are not running behind Western scholars, and our ideas have also influenced Western scholars' research. In other words, world film studies are synchronized, and scholars at home and abroad are all facing the same topics.
"Chinese-language films" actually include "transnational Chinese film" in its scope, because the former itself refers to films that span different countries and regions, and are made in Chinese and its different dialects. That is why I have used the term "Chinese-language films" frequently in recent years, as it is more concise and general. My research on Chinese-language films has also influenced some studies in other related fields. Inspired by such influence, I co-edited with Mi Jiayan and published the book titled Chinese Ecocinema: In the Age of Environmental Challenge (2009). It was the first time in global academia that "Ecocinema" was put forward as the title of a book. It can be said that when we study Chinese films overseas, we can also lead the trend of film research on a global scale.
ZHANG: Can you talk about your latest research achievements?
LU: I'm still interested in the topics I worked on before, such as modernity issues, film ecology, and Chinese-language films. I'm also attracted by something new, including Chinese literature, folk history, Chinese and Western cultural inheritance and cultural preservation, and I've found some relevant materials. I want to organically link academic research with life, which is also a combination of theory and practice.
In 2021, I published an English monograph titled Contemporary Chinese Cinema and Visual Culture: Envisioning the Nation. It won 2022 Honourable Mention for Best Monograph from the British Association of Film, Television, and Screen Studies. As for the main content of this book, I noted in the preface that this book is a study of primarily Chinese-language cinema and partly broad visual culture from the late twentieth century through the early twenty-first century to the present time. It investigates the manners in which Chinese filmmakers and artists envision China and the world, conjure up reality, and intervene in social and cultural practices. I analyze materials mostly from the Chinese mainland and cover some films from Hong Kong and Taiwan. The kinds of works under examination include feature film, documentary film, and a variety of art forms: photography, painting, video, architecture, installation, TV drama, and performance. Occasional references to relevant literary works will also be made as they pertain to the subject matter of specific films and art works. In short, Chinese contemporary film and TV works present numerous forms and styles. This is also my latest research direction.
Zhang Qingfang is dean and Distinguished Professor from the School of Journalism and Communication at Hebei Normal University.