The bronze galloping horse
|
2021-04-15
|
Hits:
(Chinese Social Sciences Today)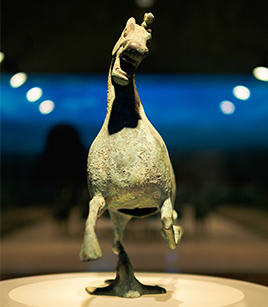 The bronze galloping horse preserved in the Gansu Provincial Museum seen from another angle Photo: 669PIC
---
In 1969, an ancient tomb was accidentally uncovered by farmers when they were digging air-raid shelters. Over 200 pieces of bronze items, including a unique bronze horse, were unearthed and are now preserved in the Gansu Provincial Museum. In 1971, renowned Chinese scholar Guo Moruo (1892–1978) observed this bronze horse in the Gansu Provincial Museum when hosting Cambodian politician Norodom Sihanouk on his tour to China. Guo was struck by the beauty of the bronze horse and selected it for a national exhibition. Soon, the bronze horse became nationally known and attracted worldwide attention.
The bronze galloping horse is 34.5 cm high, 45 cm long, and weighs 7.15 kg. With an open mouth, ears pricked back, and nostrils flared, the horse charges ahead at full tilt. Its wind-whipped mane conveys momentum, but what really captures its speed is a flying bird under one of the horse's hooves. The horse's careful balance renders this sculpture an iconic work of art. All of its weight is supported by a thin right-rear leg which treads on the tiny bird. According to Cheng Lijun, deputy director of the Department of History at Gansu Provincial Museum, experiments have shown that the bronze horse could only have been made after finding the exact center of gravity.
It's a representative work of China's ancient bronze craftsmanship. In 1983, the bronze galloping horse was selected as a trademark for Chinese tourism by the China National Tourism Administration.
Horses have a very high status in traditional Chinese culture. The ancient Chinese believed that horses represent the spirit of courage, integrity, diligence, and power. In some Chinese myths and legends, a Dragon Horse is a mythical creature that has a dragon 's head and claws, a horse's body, and is covered with dragon scales. As an auspicious symbol, the Dragon Horse is viewed as the Chinese people's ethos.