Night Banquet in Tang Dynasty Palace wins hearts
LI LIXIN
|
2021-03-25
|
Hits:
(Chinese Social Sciences Today)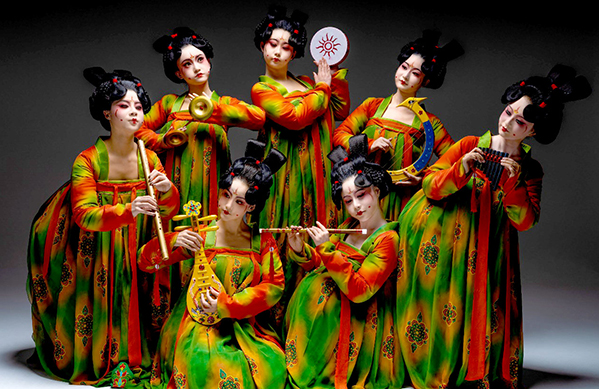 A poster of the dance show Night Banquet in Tang Dynasty Palace Photo: CGTN
---
The 2021 Spring Festival gala on Henan TV has garnered more than 300 million views, ranking first on the Sina Weibo variety show list. It became wildly popular due to the shows performed at the gala, including the dance Tanggong Yeyan (Night Banquet in Tang Dynasty Palace), the tai chi performance Tiandi Zhizhong (Center of Heaven and Earth), and the Chinese traditional opera Baiyi Zhijia (Frontline Medical Workers), which captured and displayed the essence of traditional Chinese culture. After the gala's premiere, Night Banquet in Tang Dynasty Palace went viral online, with Sina Weibo viewers watching it over ten million times.
Night Banquet in Tang Dynasty Palace
Early in 2010, Li Wuwei, who is known as the father of China's creative industry, advised Henan Province on how to interpret and share its rich cultural heritage. He suggested recreating scenes and atmosphere displayed by cultural relics in modern fashion. Li wanted to make history come alive in a vivid and attractive way, and distill the cultural resources into something symbolic and powerful, so as to build a distinctive brand for the cultural heritage of Henan Province. The dance Night Banquet in Tang Dynasty Palace is an example of the province's adoption of Li's advice, and the performance overcame difficulties in interpreting and making use of China's traditional cultural heritage. It let cultural relics "speak" through music and gestures, and gave life to history through dance movements.
The Night Banquet in Tang Dynasty Palace dance drew inspiration from Tang (618–907) tri-colored glazed figures, specifically, the tri-colored ceramic figurines of female musicians and dancers displayed at the Luoyang Museum in Luoyang, Henan Province. The figurines freeze-frame the scenes of Tang court dancers and musicians in different poses while playing musical instruments including handbell, panpipes, flute, tambourine, and pipa.
These statues represent the great ceramic art of the Tang era, through vivid colors and delicate glazing. Dancers in Night Banquet in Tang Dynasty Palace revived Tang Dynasty makeup, clothing, and dancing styles, based on the tri-colored pottery figurines. Modern digital technology such as 3D, AR, and 5G, were used to produce a combination of virtual scenes with the real stage, bringing the dance into the setting of ancient Chinese paintings. AR technology also presented several national treasures as part of the stage, such as Fu Hao Xiao Zun (an owl-shaped bronze wine vessel dating to over 3,300 years ago), Lian He Fang Hu (a rectangular wine vessel decorated with a lotus flower and crane, dating from 770 to 476 BCE), the Jiahu Bone Flutes (the oldest known musical instrument in China, dating back to around 7000 BCE), paintings of "Court Ladies Adorning Their Hair With Flowers" by the Tang painter Zhou Fang, and "A Thousand Li of Rivers and Mountains" by the Song painter Wang Ximeng (c. 1096—1119). Eventually, the combination of ancient artistic treasures with modern technology offered true entertainment and a sense of realism.
The Night Banquet in Tang Dynasty Palace recreates the magnificence of a banquet in a Tang Dynasty palace. It highlights a group of high-spirited girls living in the palace over 1000 years ago. Through their witty and even humorous dance movements, the dancers offer the audience a visual tour of a museum where they not only appreciate the cultural relics but also the charm of ancient people, thereby becoming a Chinese version of Night at the Museum.
Center of Heaven and Earth
Gustave Flaubert once said, the more art develops, the more scientific it will be, just as science will become artistic. Separated in their early stages, the two will become one again when both reach their culmination. The tai chi performance Center of Heaven and Earth at the Henan Spring Festival gala epitomized art and science "meeting at the top of the hill."
Usually, the Chinese martial art of tai chi seems to have nothing to do with science. However, the Center of Heaven and Earth performance creatively and successfully blended tai chi practices with aerospace technology, featuring performers in splendid costumes which resembled astronaut outfits, performing various dance formations, alongside the smart use of lighting, audio, and other stage techniques. Center of Heaven and Earth succeeded not only in interpreting the ideas and philosophies held within the art of tai chi, such as the philosophy of Yin and Yang, and the idea that hardness should be met with softness, but also in visualizing aerospace technology. Watching the performers moving through tai chi sequences in a flowing and graceful way was pure visual splendor. Meanwhile, the stage and background provided stunning scenes of the vast universe and pivotal moments when China's aerospace industry made extraordinary achievements.
Frontline Medical Workers
The traditional Chinese opera Frontline Medical Workers was performed in the form of lianchang, which is an uninterrupted performance of several opera scenes. Showing a traditional opera lianchang has been common at Spring Festival galas. Frontline Medical Workers was a combination of three classic operas: Mu Guiying Takes Command, A Fairy Couple, and Hua Mulan, the leading roles in each opera are played by women. The three operas highlight women's contributions, patriotism, and pursuit of happiness. Frontline Medical Workers created strong emotional resonance by incorporating anti-epidemic elements into the classic operas—medical workers appeared on the stage and sang with opera singers, and anti-epidemic videos were shown during their performance. The show endowed familiar songs with new connotations. It paid homage to medical workers while expressing affection for traditional Chinese operas.
The thread running through all three shows, Night Banquet in Tang Dynasty Palace, Center of Heaven and Earth, Frontline Medical Workers, and other performances during the Henan Spring Festival gala, was the quintessence of traditional Chinese culture. Based on the rich heritage of Yellow River culture, these shows combined traditional culture and contemporary topics, historic relics and modern art forms, intangible cultural heritage and modern technology, traditional operas and the fight against the epidemic.
There are several reasons why Henan Spring Festival gala was so successful. First of all, the gala did a great job in exploring, displaying, and interpreting the Yellow River culture which has been deeply influential in Henan Province. Innovation and creativity were also the keys to success. At a low cost, the gala truly surprised the audience with its excellent creativity. The third reason lies in the extensive use of technology, such as 3D, 5G and AR, which formed fantastic virtual scenes and added a strong sense of the avant-garde. The gala targeted the young audience. The shows included various fashion elements which were quite popular among young people. Online platforms played an important role in the gala's distribution. After going viral on Sina Weibo and the online video platform Bilibili, the gala attracted Chinese mainstream media's attention. Their reports of the gala promoted a new wave of traditional Chinese culture.
Li Lixin is the deputy director from the Institute of Literature at Henan Academy of Social Sciences.