Michael Wood: Du Fu's poetry crystalizes the ethos of Chinese civilization
JIANG HONG
|
2020-12-17
|
Hits:
(Chinese Social Sciences Today)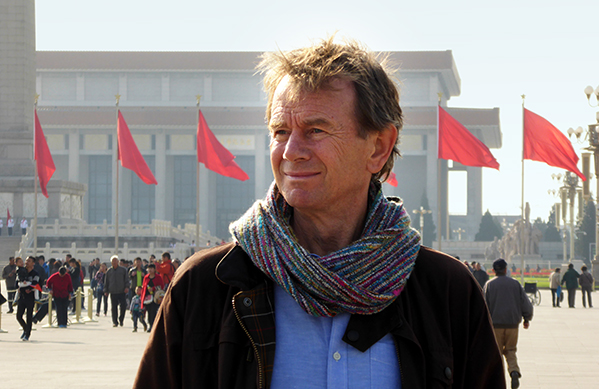 Michael Wood is an internationally acclaimed historian, film producer, broadcaster and writer. He is currently a Professor of Public History at the University of Manchester, a Fellow of the Royal Historical Society and the Royal Society of Arts and President of the Society for Anglo-Chinese Understanding. Wood is the author of many best-selling books. His books on British history include In Search of the Dark Ages, The Story of England, and In Search of Shakespeare. He has also presented numerous documentary films, including Legacy: The Origins of Civilization, In the Footsteps of Alexander the Great, and The Story of India. His most recent documentaries include The Story of China and Du Fu: China's Greatest Poet. Photo: MAYA VISION INTL
---
The Story of China, a new book by British historian and writer Michael Wood, was published recently. While offering a grand historical narrative of Chinese civilization from ancient to present times, the book also focuses on individuals and events in detail. It is a combination of macro history and micro history.
In 2016, a documentary sharing the same name was produced by Wood and broadcast worldwide, receiving widespread attention. Earlier this year, the BBC documentary Du Fu: China's Greatest Poet, written by Wood, shared the charm and the inimitable works of China's "Saint of Poetry." Wood's new book about Du Fu is expected to be published in 2021.
Actually, Wood's fascination with Du Fu and Chinese culture began as early as his school days. In a recent interview with CSST, he shed light on the essence of Chinese culture as captured by Du Fu's poetry.
CSST: What inspired you to make the China documentaries and publish your new book?
Wood: The book came out of a long fascination with China which began in my schooldays in Manchester with A. C. Graham's Poems of the Late T'ang. It was one of those books that opened a window on a world one could never have dreamed existed. Later, as a graduate student in Oxford, sharing a house with a sinologist was another eye-opening time. I encountered revelatory books like Arthur Waley's Book of Songs.
After my postgraduate research I began working in television. I first went to China in the early 1980s, and first filmed in China in the late 1980s.
My wife Rebecca and I are part of a small independent company called Maya Vision International. Through this company we made many historical, cultural, and political documentaries which have been distributed all over the world, to 150 countries and territories. Among our history series was The Story of India (2007), after that everyone agreed that we had to try to do the same for China. So The Story of China was some time in gestation.
We have made many history films, but many cultural ones too, among them a four-part series on the life of Shakespeare, a recent film on the great Roman poet Ovid, and other films about early English culture. Films on poetry and literature are also part of what we do, and when we made The Story of China, we included many sequences on culture with the stories of famous Chinese writers and poets.
The ethos, the spirit of a civilization, comes out strongly in its poetry and literature.
My journeys in China have extended over four decades, both as a traveller and as a broadcaster. I made The Story of China films, which have been seen worldwide, then in 2018 a series on the fortieth anniversary of Deng Xiaoping's Reform and Opening Up, one of the most significant events in modern history. Most recently, in autumn 2019, I returned to make a film on China's greatest poet, Du Fu, which gave me another opportunity to think about the long vistas of Chinese culture and its enduring ideals.
CSST: Did the encounter with Du Fu's poetry in your teenage years inspire you to make the documentary about the great poet?
Wood: I was interested in Du Fu since I was at school, when I read the book of Tang poetry translations. I have been fascinated ever since. Du Fu was included in a sequence in our BBC series The Story of China in 2016-17. After a warm response to that series, I was intrigued by the idea of trying to bring Du Fu to a British audience for the first time. If it could also be shown in China, that would be great.
Audiences in China were very generous in their feedback about The Story of China, and I was keen to film back in China with our brilliant Chinese film crew, whom we very much enjoy working with. Having made the Ovid film, we thought it would be very interesting to try to tell Du Fu's story. One thing led to another, and we made Du Fu as a CCTV/BBC co-production.
Of course, I should say I was also curious, as you must be when you make films, to explore his story further. I wanted to see the cottage in Chengdu, to visit Baidicheng, and of course to go to Anding near Changsha—a Chinese friend's mum and dad live nearby in Pingjiang and they told me about the Qingming festival commemoration at Du Fu's tomb. I couldn't wait to go there!
This autumn I prepared a little book full of text and photos called In the Footsteps of Du Fu following his journey around China. We are just about to look for a Chinese publisher—this is my offering to the spirit of Du Fu!
CSST: Du Fu is called "the Saint of Poetry" in China. Li Bai, known as the "Immortal Poet," ranks alongside Du Fu as one of the two leading figures of Chinese poetry. Why do you consider Du Fu the greatest Chinese poet?
Wood: Of course Chinese people put them together, two sides of human nature almost. We would call them the Apollonian and the Dionysian! When I refer to Du Fu as "China's greatest poet," it's similar to saying Shakespeare is the greatest English poet—it is the amplitude of his works that is so striking. The amazing range of Du Fu's poetry: from huge vistas of war; his great speculations in the Three Gorges on human beings' relation to nature, landscape, and the cosmos; to the close-up intimacy of family, friendship, eating together, making a chess board out of old paper. Everything in life is the subject of his poetry.
So it is his wide-ranging imagination which makes us think of Shakespeare. As Stephen Owen says in our film, like Shakespeare in English, Du Fu not only wrote "the greatest words in the Chinese language," but he also helped create "the moral and emotional vocabulary of the culture."
What is important is his lifelong belief in Confucian virtue, benevolence, and righteousness—they are still fundamental to how society works and how people act towards each other: these are what makes society tick.
He writes very movingly about friendship and family. Du Fu writes lots of poems about eating and drinking. One of the big things the Chinese people love, of course, is eating and drinking together with family and friends.
Though he died in obscurity, in the 9th century Du Fu's poetry began to be known, in the 10th century his fame grew, and by the 12th century he was viewed as a great poet. From then on, in the Confucian revival of the Song (960-1127), he crystallized in beautiful language the values of the Chinese civilization, which passed right down to modern times, even today.
CSST: Sinologist Nicolas Chapuis, also EU ambassador to China, said Du Fu is to China what Shakespeare is to England, and what Victor Hugo is to France. Do you think Du Fu's global influence is increasing?
Wood: Nicolas Chapuis is part-way through a huge publication project, translating the whole of Du Fu's work into French, with very helpful and detailed commentary. So after the first complete edition in Chinese, then Stephen Owen's complete English version, we now have a really wonderful French edition distinguished by its rich and helpful commentary, which draws not only on nearly a millennium of Chinese commentaries, but also on almost 200 years of Western scholarship.
We are seeing the growth of a global vision of Du Fu, as a poet who transcends the boundaries of translation and becomes a universal voice like Shakespeare. As Chapuis says in the preface to his book "a voice that lives today with a clarity and power that cannot but astonish."
CSST: You have been greatly successful in making history accessible to the general public. Can you share with us the key to your success? What makes the films on China so appealing to audiences?
Wood: Thank you, that's very kind. The Story of China TV series was the main one to receive public acclaim. The audience response was often amazement at the stories we told: "I never knew that...!" Audiences here really liked the way that Chinese people came across as interesting, engaged, and great fun: as witnesses to their own history. I personally hope that the films were appealing too because they were made with heart.
Films are basically simple: a combination of pictures, sounds, words, and music. But how those elements are put together is the key. With really good editing, the right use of music, and a careful choice of words, you can create mood, atmosphere, and emotion as well as simply giving facts. Rather than being drily factual we also think that films should make the audience feel. The films should have empathy—an important word.
One of the things Chinese audiences said to us about The Story of China series was that it "made us feel." Even Xinhua commented on this aspect when reviewing the films, finding that the films "transcended the barriers of culture and language and created something inexplicably moving." Films work best if they affect the heart too.
Edited by REN GUANHONG