Characters give insight into ancient China
By Wu Nan
|
2015-01-08
|
Hits:
(Chinese Social Sciences Today)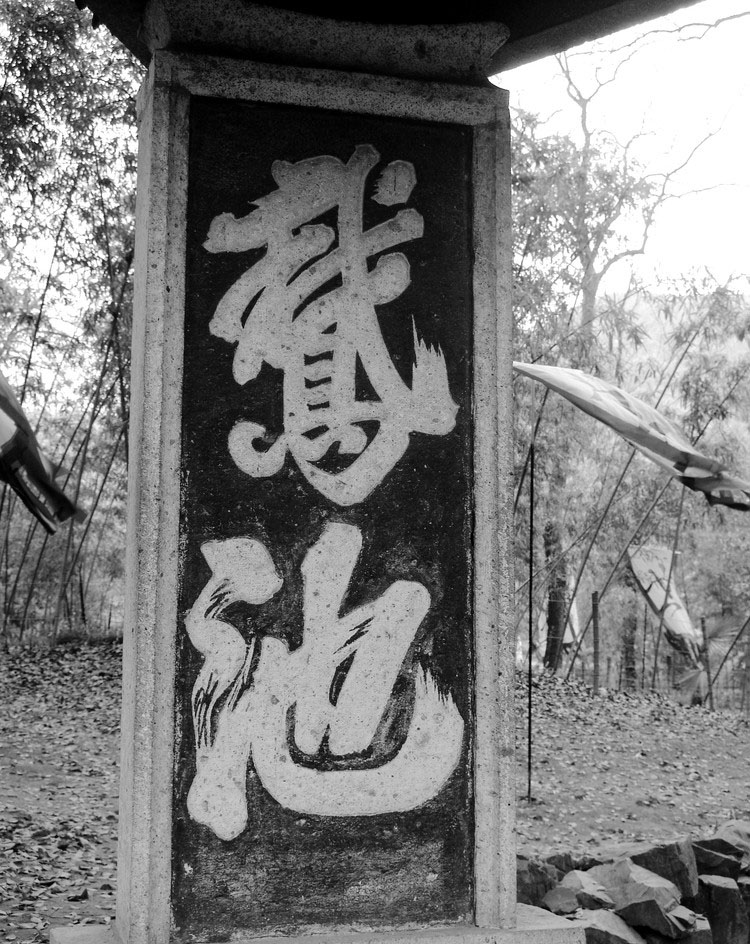 Two Chinese characters on a stone tablet read 'e chi' (goose pool). The characters were inscribed by Wang Xizhi (303-361), referred to as the Sage of Calligraphy, and his son Wang Xianzhi (344-386).
Scholars at a forum themed "Image, Literature and Chinese Characters" held at Nanjing Normal University from December 19 to 20, 2014 have hailed the academic value of written Chinese. Chinese characters are like "living fossils" of ancient culture of China that provide insight into history, literature and aesthetics, said scholars.

Beauty of Chinese characters
Attending scholars stated that written Chinese, the only one of the world's three most ancient writing systems still in use today, evolved from inscriptions on oracle bones and represents wisdom of the Chinese nation. Chinese characters are perceptual symbols with rich auditory, visual and psychological significance, said scholars.

"Chinese characters are a combination of form, sound and meaning. Form is appealing to eyes, sound is appealing to ears, and meaning is appealing to people's hearts. They are connected to each other and complementary. Together, they realize the distinctive image of beauty," said Dang Shengyuan, a research fellow at the Chinese Academy of Social Sciences. He noted that in the traditional Chinese character system, the form and sound of Chinese characters have "picturesque and musical" qualities. The reputation of China as a country of poems and literature is closely related to the distinctive beauty of Chinese characters as images, Dang added.

"Chinese characters are an art form with artistic value," said Gu Feng, a professor at the College of Liberal Arts at Yangzhou University. Yang added that Chinese characters' artistic value outweighs its function as a writing system. Chinese characters have made immeasurable contributions to the shaping of Chinese thinking and traditional Chinese aesthetic culture, especially the formation of aesthetic thoughts, he added.

Origin of Chinese wisdom
Scholars have always attached great importance to the study of connotations of Chinese characters and their structures. Dang said that traditional Chinese characters contain mysteries of traditional Chinese culture, greatly influencing Chinese people's pattern of writing. Chinese characters have always been closely related to traditional poetry and aesthetic thoughts, said Dang, adding that traditional poetry promotes exploration of characters' aesthetics.

"The special unity of image and meaning plays an important role in the development of Chinese characters. The concepts of pictographs and ideographs signify the integration of 'image' and 'meaning' in characters. Furthermore, concepts of 'image beyond image' and 'meaning beyond meaning' have expanded the aesthetic space," said Luo Dongqing, a professor at the School of Chinese Language and Literature at Nanjing Normal University.

Chinese characters are the origin of Chinese wisdom and should be studied from philosophy and aesthetics perspectives to discover the unique spiritual world of the Chinese nation, added Luo. He stressed that it is necessary to shift from linguistics philosophy to the philosophy of Chinese characters, and the focus of this philosophy should be on the aesthetics of characters.

In terms of aesthetics of characters, associate professor Dong Chunxiao from Zhejiang University of Finance and Economics said modern development of Chinese characters and their cultural significance must be considered. All aspects of beauty in form and function, including beauty of characters in calligraphy and beauty of form in writing of different materials using various instruments and methods, must also be taken into account, said Dong.