Kunqu Opera master Cai Zhengren
|
2014-11-20
|
Hits:
(Chinese Social Sciences Today)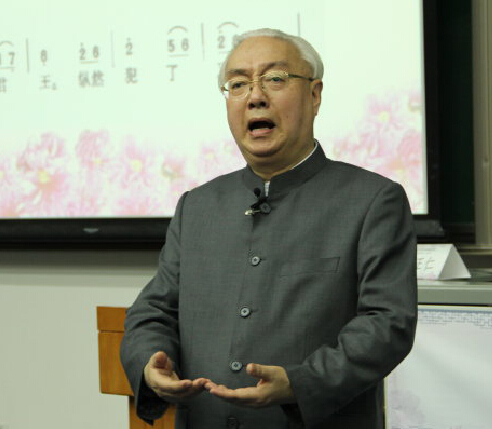 Cai Zhengren is giving a lecutre on Kunqu Opera in Peking University.
In 2001 at UNESCO, an operatic art was made the first list of World Intangible Cultural Heritages. But fifty years earlier, Kunqu Opera had been at its lowest ebb. For 600 years, it was China's prevalent form of entertainment and inspired many off-shoots. But diversity eventually diluted its power. It seemed that Kunqu Opera was only lingering on. But one man said it was never meant to die.
He is Cai Zhengren. From a budding player to a master of the art, Cai Zhengren has played a central role in the revival and rejuvenation of Kunqu.
On Shaoxing Road in downtown Shanghai sits the home of the Shanghai Kunqu Opera Troupe. As the retired director of the Troupe and an actor himself, Cai is often joined by a circle of students after a strenuous round of preparation.
Cai Zhengren said, "A rigorous inheritance and a vigorous development makes the future of Kunqu Opera." Throughout his career as a Kunqu performer, Cai was regarded as a rigorous inheritor and an inspiring performer.
Cai Zhengren said, "Kunqu opera was at a low ebb when I was enrolled. Those who mastered the art form were down to around twenty. I was honored to be among the first batch of actors of Kunqu opera after the founding of People's Republic of China. We learned the opera and inherited the art. It seems that Kunqu wasn't meant to die."
In 1954, Cai was picked from several thousand applicants to study at the East China Opera Research Institute.
He started to learn the Young Male role under the masters Shen Chuanzhi, Zhou Chuanying and Yu Zhenfei.
The Notation and Breath Markings by Yu Sulu, father of Yu Zhenfei, is a guide in Cai's practice and a reminder of how his teacher brought the characters to life.
Both in China and abroad, Cai has drawn fans, seeking autographs and eager to talk with him.
A burgeoning number of young and educated audiences have put an end to the decline of Kunqu opera.
Cai Zhengren said, "As a Kunqu opera actor of fifty years, I would like to summarize with two sentences: Kunqu is developing and it depends on all of us."
The Chinese link: http://www.ecns.cn/2014/10-27/140194.shtml
Translated by Du Mei
Revised by Tom Fearon