Yungang statues bring Northern Wei to life
By Zeng Qiang
|
2014-08-22
|
Hits:
(Chinese Social Sciences Today)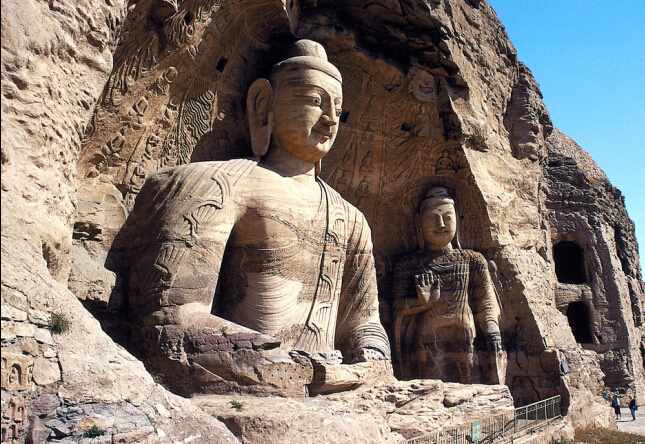 file
Yungang statues keep looking far and thinking about the nature of the world.
Although the Yungang Grottoes, a key royal project of the Northern Wei Dynasty, are populated by Buddha statues, the faces of the statues are based on emper­ors and other real historical figures. The sculpted im­ages are vivid and three-dimensional, unlike pictures, endowing them with an immortal spirit and priceless values.
The main giant Buddhas of the Yungang Grottoes are situated in a space called the Tan Yao Five Grot­toes and seem to depict people of the northern ethnic group. Standing in caves that have a fairly mild climate in both summer and winter, their bright, deep eyes look far into the distance.Some say they keep vigil over the common people, while others say they sit and ponder the nature of the world.
Above all, the 17-meter-high outdoor Buddha stands out. Its majestic embellishment is outstand­ing, and its appearance brims with youthful exuber­ance. This giant Buddha's smiling eyes represent self-confidence and speak a silent message to the world of what needs to be done. Elsewhere in China, the giant Buddha of the Longmen Grottoes in Luoyang is said to follow the style of the Tang Dynasty instead of the Northern Wei Dynasty and imitates the appearance of China's first Empress Wu Zetian.
Undoubtedly, Empress Wu was possessed of ex­traordinary fierceness to contend with men in the cut-throat world of imperial politics. Still the Buddha statue, shaped after her gentle appearance, seems to offer comfort to the world. The Buddhas in Yungang are completely unlike those of Longmen. Although the Tang Dynasty shared numerous similarities with the Northern Wei Dynasty, the times had changed and the Northern Wei Dynasty relocated the capital to Pingcheng. The Dunhuang Buddha statues are unlike the giant Buddhas of the Yungang Grottoes, which re­veal more about the Xianbei nationality's energy and power. When they gaze upon the faces of the giant Buddhas, people will gain a better understanding of the Xianbei Tuoba family's impact on central China.
It is generally recognized that craftsmen making the Yungang giant Buddhas mainly came from Liangzhou in what is now Gansu Province. The area was a hub on the Silk Road connecting the East and the West.
These craftsmen inherited the Gandhara art of an­cient India fused with characteristics of sculpting tradi­tions from ancient Greek and Persia as well as the royal aesthetics of the Xianbei and the requirements of the Han people. They gathered all wisdom and diligence to create the giant Buddhas of the Yungang Grottoes with their completely new engraving methods.
Zeng Qiang is from Shanxi Writers Association.
The Chinese version appeared in Chinese Social Sciences Today, No. 631, August 8, 2014
Translated by Zhang Mengying