Bamboo artisans carve out path through history
By Fan Aiping
|
2014-07-02
|
Hits:
(Chinese Social Sciences Today)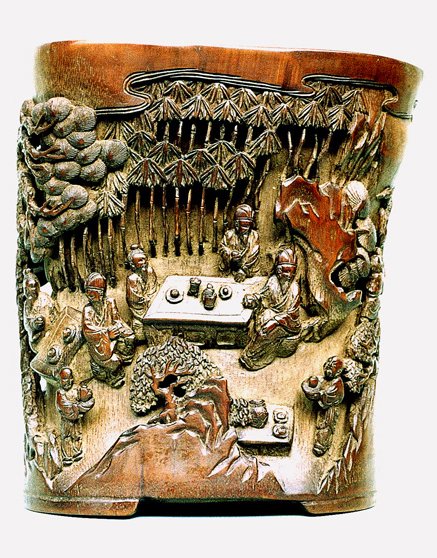 A piece of bamboo carving in the Ming Dynasty
Throughout the course of a history that dates back more than 2,000 years, the art of bamboo carving has undergone several stages in its evolution. The art form in early days was characterized by a focus on practicality, which later gave way to an equal emphasis on usefulness and artistry followed by a period that stressed ornamental functions.
The craft's history not only reflects changing ar­tistic values but also the technological maturing of the practice. Evolving from simple tools and daily necessities to ornate works of decorative art, bamboo carvings have grown increasingly exquisite, exerting a rich and profound cultural influence.
Many of the existent best bamboo carving artifacts are handed down from the Ming and Qing dynas­ties, and only very few examples prior to that period. Bamboo had always been a favorite of Chinese scholars since ancient times. Poets writing during the Tang and Song dynasties expressed a preference for the medium in their work, much of which survives to this day.
By the Ming and Qing dynasties, it had become common practice for scholars to plant, draw, write about and carve bamboo. Developing in tandem with scholar's painting and calligraphy, the practice of bamboo carving experienced a synergy with various art forms of the day, causing it to flourish like never before.
During the Ming and Qing dynasties, the craft un­derwent a transformation from producing simple, unsophisticated carvings to making artistic pieces typified by rich patterns and intricately drawn lines that left an irrefutable impact on future generations of arts and crafts.
Over centuries, advanced carving techniques were perfected, constantly pushing the boundaries of what was possible.
In addition, "nobleness" and "gracefulness" are the signature of bamboos, which is also translated into bamboo carving. In the eyes of literati, bamboo carv­ing is distinguished from fluffy luxury goods.
The Chinese version appeared in Chinese Social Sciences Today, No. 604, June 6, 2014
Translated by Zhang Mengying