Marxology: continuing Marx's adventure in thinking
BY CHEN YEJUN
|
2014-09-17
|
Hits: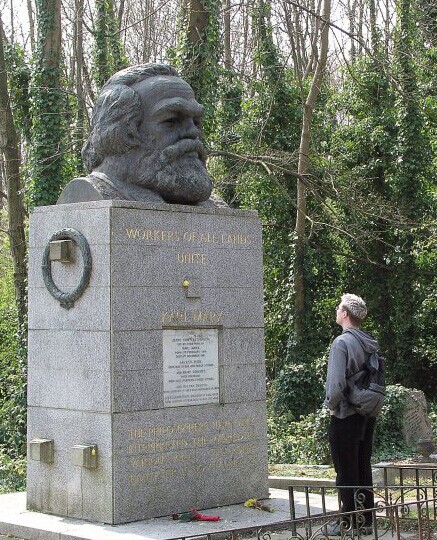 Karl Marx grave in Highgate Cemetery in North London (file)
In recent years, Marxology as a scholarly field of study has at­tracted increasing attention from the Chinese academic arena. In just one example of that trend, a sym­posium on the "History, Present and Future of Marxology" took place on June 7 at Beijing Normal University.
Marxology was founded by Soviet theoretician David Riazanov, while renowned Marxist historian Maximilien Rubel made "Marxol­ogy" more widely acknowledged. In Rubel's view, as understanding of Karl Marx and Marxism coalesced into a systematic research, it should be recognized as a distinct school. Lu Kejian, a professor at Beijing Nor­mal University, noted that Marxol­ogy spans three spheres: the study of Marx's life and career, his writings and his thought and theories.
As early as the 1980s, Chinese scholars began exploring Marxol­ogy. "Marxology is an academic approach," said Nie Jinfang, a philosophy professor at Peking University. This approach is aimed at investigating, verifying and compiling classic writers' original literature and documents, Nie explained. This allows scholars to present these writers' original thinking, method of narration and process of discussion.
In Nie's view, Marxology repre­sents a new perspective and ap­proach to Marxism, which requires successors to continue Marx's adventure in terms of thinking and to follow Marx's exploration of myriad subjects.
In light of today's international background, it is Marx's critique of capitalism that triggers nostalgia for Marx, said Wei Xiaoping, a re­search fellow in philosophy at the Chinese Academy of Social Scienc­es. Whether the core thoughts and awareness of Marxism are termed "Marx before Marxism,""Marx after Marxism,""restoring Marx," or "rereading Marx", these are just different ways to underscore their close connections to contemporary issues in the world, she said.
Participants pointed out that Marx's theory of human nature has become one focus of research in recent years. For instance, Nie Jin­fang introduced, Atanasov, a lead­ing Russian scholar in Marxism, who developed Marx's theory of human nature by studying Marx's documents. Atanasov analyzed the role of human nature in Marxist thought in his 713-page publica­tion "Collection of Marx's Works on Human Nature". Combining con­clusions gathered from history and archives, the book contributes an accurate and profound explanation of Marx's thinking, according to Nie Jinfang.
The publication of a massive collection of the works of Karl Marx and Friedrich Engels in German, titled "Marx-Engels-Gesamtausgabe,"provided a great opportunity to scholars to expand research on the correla­tions between Marx and Engels and between Marx and Marxism; the work features a development approach to Marx's ideologies and theories. However, the investigation of literature and documents should not be carried out without forming a holistic view of Marxology.
"Marx-Engels-Gesamtausgabe" is an authoritative text for studying Marx's thinking, explained Nie Jin­gfang. This does not mean that an understanding and interpretation of Marx's thinking has an ultimate conclusion, Nie added. True study should be reflected in the interpre­tation and analysis of the original documents.
There are two groups of schol­ars examining and expanding Marxology outside China, stated Lu Kejian. One group includes Soviet and Eastern European scholars who are compilers of "Marx-Engels-Gesamtausgabe" and favor literature research and document verification. Another group fea­tures Western scholars who center their research on Marx's thinking. Each group has its own strengths and shortcomings. The first group is easily swayed by dogmatism and tends to be rigid in terms of understanding Marx's thinking; the second group is usually active and spontaneous. Members of this group tend to raise new ques­tions and reach conclusions often, but lack research on the related literature, so that some bold and novel conclusions are somewhat overstated.
Chinese scholars should com­bine the strengths of overseas scholars while making advances in terms of international literature research, said Lu Kejian. Research­ers in this area in China should develop original interpretations of Marx's thinking in order to form a Chinese school of Marxology and to present their findings to the in­ternational academic community, Lu Kejian added.
The publication of "Marx-Engels-Gesamtausgabe" created a valuable opening for equal communication between Chi­nese Marxist scholars and their international peers, said Lu Kejian. Chinese scholars conduct research in the field of Marxol­ogy not to defeat their Western counterparts, but to facilitate the study of Marxism in China, Lu ex­plained. This is ultimately aimed at leading Marxism study into a new direction.
The Chinese version appeared in Chinese Social Sciences Today, No. 607, Jun.13, 2014
The Chinese link is: http://www.cssn.cn/bk/bkpd_qklm/bkpd_bkwz/201406/t20140613_1210306.shtml
Translated by Feng Daimei