Sir Danny Alexander: AIIB strives to be high-standard MDB
JIANG HONG
|
2019-09-12
|
Hits:
(Chinese Social Sciences Today)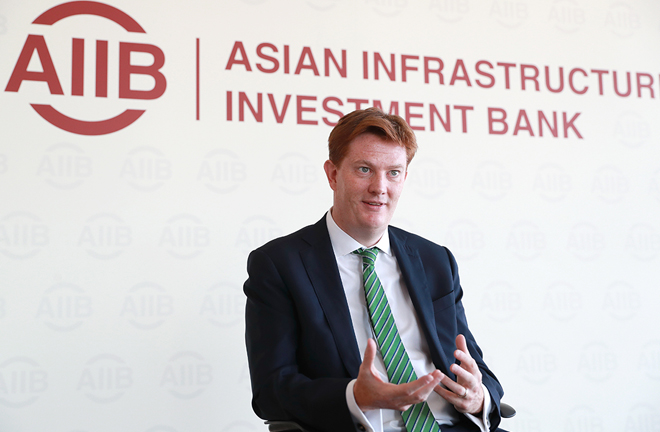 Sir Danny Alexander is the AIIB's Vice President and Corporate Secretary, responsible for the AIIB's relations with its members, the Board of Governors, the Board of Directors and other aspects of governance including the admission of new members. As Chief Secretary to the Treasury, he was one of the leaders of the UK coalition government between 2010 and 2015. He holds a BA in philosophy, politics and economics from the University of Oxford and is an honorary fellow of St Anne's College, Oxford. He was knighted in 2015. Alexander is a national of the UK. Photo: Zhu Gaolei/CSST
---
The Asian Infrastructure Investment Bank (AIIB) now has 100 approved members after its Board of Governors supported the applications of three African countries—Benin, Djibouti and Rwanda—during its fourth annual meeting in Luxembourg in July.

Since it began operations in January 2016, the AIIB has been committed to promoting infrastructure construction and connectivity across Asia. To date, 47 projects totaling over US$9 billion have been approved.

Recently, CSST interviewed Sir Danny Alexander, the AIIB's vice president and corporate secretary, on the Bank's efforts to build itself into a lean, clean and green institution.
CSST: The UK was the first major industrialized country to decide to join the Bank, and you were involved in that decision back when you were in the British government. Can you tell us the details of that story?

Alexander: Sure. The Chinese leadership proposed the idea of the AIIB back in October 2013, and there were a series of discussions about which countries were going to take part.

We were considering whether or not we want to take part, and there was some international debate about this. The UK has always been committed to the multilateral system and sees countries working together in multilateral institutions as a good way to solve common challenges or problems. We felt this was a very sincere attempt by China to create a multilateral institution, and that should be supported.

In addition, since the global financial crisis, the world is increasingly focusing on international economic discussions on the importance of investment in infrastructure as a way to ensure sustainable economic growth and to address climate change.

I have to say that in my three and a half years of working here since the launch of the Bank, that judgment has really been proven to be correct, because the AIIB has turned into an institution that really does operate very well to global standards. The governance is very good, and we are making an impact with our projects.
CSST: As a new multilateral development bank (MDB), the AIIB's core values are being lean, clean and green. Will you please elaborate more on that?

Alexander: I'll start with "green" because I think it's the one at the center of what the Bank is trying to achieve. The AIIB was founded just a few weeks after the Paris Agreement was adopted, and not long after the Sustainable Development Goals were agreed by the international community. So we really see a major purpose for our bank as supporting our members in the transition that they need to make towards a lower-carbon future.

"Green" is not just a core value of the institution; sustainable infrastructure is also one of the thematic investment priorities for the Bank, and one of the key areas we want to make a difference in through investing in renewable energy and sustainable cities and in supporting the energy transitions that our members have to make. We are also trying to make sure that the AIIB itself as an institution is green.

"Lean" is also important because it means being very efficient in the way that we use resources we've been given by our members. We have a duty to look after it carefully and spend wisely, so that means we don't want to be bureaucratic.

"Clean" refers to the good governance and the high standards of the Bank. I think now everyone understands that the AIIB runs very much as a high-standard international institution, particularly in terms of our projects, making sure there is strong environmental protection and social safeguards for the impact of our projects. We have zero tolerance for corruption, and we have strong systems to do that. We take complaints seriously. There is also open procurement, where any project we finance has to be open to companies in any part of the world to take part in. Those are all part of a clean, high-standard institution.
CSST: I have read that some still have doubts about the AIIB's commitment to tackling climate change, that they are concerned the AIIB still leaves the door open to certain coal projects. How do you respond to that?

Alexander: The AIIB is indeed committed to being a green institution. Our energy strategy has a very strong focus on clean energy and renewable energy, and our sustainable cities strategy has really focused on how we can help create the infrastructure that ensures these cities are sustainable as Asia urbanizes further.

Our members had a big debate about coal and we have a very clear position in our energy strategy. We also do not have any coal projects in the pipeline right now. A real focus is developing renewable energy and clean energy, and that is going very well.
CSST: What other misunderstandings of the AIIB have you encountered? How do you respond to them? What are the Bank's purposes exactly?

Alexander: I think one of the major questions we often get is about China. The Bank is headquartered here in Beijing, and some people ask "What is China's role?"And I explain, the AIIB is not a Chinese bank; it is a multilateral institution. China is the largest shareholder, but it is one shareholder of many. We now have 100 approved members, and all those members have a say and influence.

Through our Board of Directors, China has one seat among twelve, so they are part of the discussion, but by no means is that a dominant voice. Good governance in a multilateral institution means that one country cannot dictate or drive what the Bank's doing. The AIIB operates in that way, and I think in people's experience they can see this is a very strong multilateral institution that responds to all of our members.

We have to be non-political in the way that we run the Bank, and be based on the strategies collectively agreed by all the members.

The purpose of this bank is to invest in infrastructure projects that support the sustainable development of Asia. We basically identify three areas where we think we can make the most impact. One in climate change and sustainable infrastructure; the second is in infrastructure that enhances the connectivity of this region; and the third is to help mobilize more private-sector money to come into infrastructure.


CSST: Some experts believe that many developing countries have moved away from using certain MDBs to finance infrastructure, because the institutions are very "slow and bureaucratic." How does the AIIB avoid that?

Alexander: I think that's not quite right in the first part. Actually the World Bank and the Asian Development Bank have their own business models, but they have done a wonderful job for many Asian countries, and they continue to invest a great deal in this region.

One of the differences between us and those institutions is that our mandate is more focused: We focus only on infrastructure. We hope that by being focused on infrastructure and other productive sectors, we can both realize and develop expertise while staying efficient as we stay focused on that single task.

We have built very good working partnerships with the World Bank and with the Asian Development Bank. We have financed projects together and we have learned a lot from their experience.

I think one of the things we have to be focused on is that as we grow, we will have many more people working here, and we need to make sure the institution continues to be efficient the way it operates. We do not allow bureaucracy to build up internally that slows things down. I think that's maybe one lesson that we can learn.
CSST: How does the Bank prevent corruption?

Alexander: To start with, we have very strong anti-corruption policies in the Bank. Before we decide to finance a project, we do a lot of work to make sure that there are good protections against corruption in place, and none of the integrity or other issues would be risks for us.
We also have a Complaints-resolution, Evaluation and Integrity Unit in the Bank, and their job is to continue to oversee, challenge and investigate any allegations of corruption that come around.

If there is corruption in any project or any company, then we can ban it from ever working with the Bank. This is also an area where we cooperate with other multilateral institutions. For example, if a company is debarred or sanctioned by the World Bank or by the Asian Development Bank, then we will also apply the same sanctions.
CSST: Will the US and Japan reconsider whether they will join the Bank?

Alexander: That's really not for me to comment on because that is in the end a sovereign decision for those countries. What I want to say is two things. One is that the door remains open for new members to apply to join the Bank. Secondly, whether or not you are a member of the Bank, we can still engage with you.

Our procurement is open international procurement for companies from our members as well as non-members. We have open recruitment to get the best-quality staff from across the whole world. In addition to Chinese, Korean, British and Indian and so on, we also have a number of American and Japanese nationals working here.

We can work with Japanese and American companies on projects and other things that we are doing. So there is a very strong relationship between the Bank and those countries, even though they are not members.

It is up to them to decide whether they want to join, but in the meantime, we take very seriously the opportunities that exist to work with people and companies from those countries.
CSST: Now that the number of its approved members has reached 100, what are your expectations for the Bank?

Alexander: We have the challenge of continuing growing to meet the needs of the members, and with 100 members those needs are very diverse. That means we need to have a very strong dialogue with our members, and we have to listen to what the clients are requesting.

I would say that our investment business will continue to grow, and the number of projects will increase year by year. We are also expanding the range of different products and the different ways that we can support investment.

For example, as well as in US dollars and other hard currencies, this year we are starting to have the capacity to make loans in some local currencies. In the next year or so we'll start to be able to offer guarantees. We will further expand our work with private sector projects and capital market-related projects. There are numerous areas of expansion and development.
CSST: Will the Bank look beyond Asia?

Alexander: Asia is our priority, but we can invest in projects outside Asia where we also see some benefits to Asia coming from those projects. Outside Asia we can invest in projects that promote connectivity. Secondly, outside Asia we can invest in projects that are specifically focused on tackling climate change, particularly renewable energy and energy-efficiency projects.

I think that in the years to come, we will see more investments outside Asia focused on those two areas: connectivity along with climate change and renewable energy.
edited by MA YUHONG