Russian General History of China deepens scholarly communication
XIAO YUQIU
|
2019-08-15
|
Hits:
(Chinese Social Sciences Today)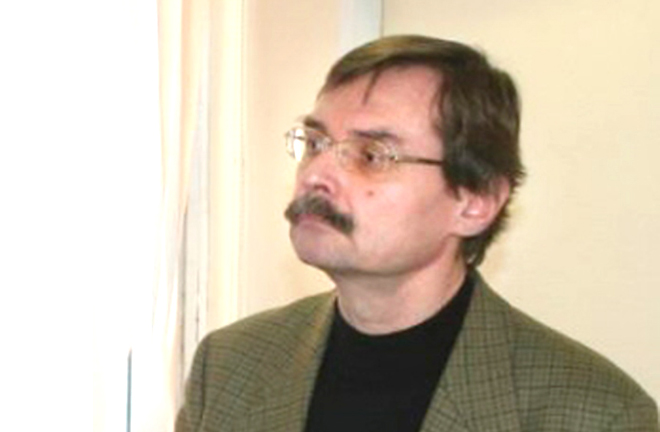 Andrey Vinogradov graduated from the Institute of Asian and African Studies at Moscow State University in 1984 with a degree in international economic relations. Later, he studied in full-time postgraduate and doctoral studies at the Institute of Far Eastern Studies of the Russian Academy of Sciences (IFES RAS). He was also trained in China for a year. Currently, Vinogradov is head of the Center for Political Studies and Forecasting at the IFES RAS. His main areas of research cover problems of modernization, sociocultural transformations of modernizing societies, inter-civilization relations, modern political processes and the political systems of China and Russia.
---
Russian Sergei Tikhvinsky, who died in 2018 at the age of 99, was the chief editor of The Russian-language General History of China. The undertaking gathered more than 160 Russian experts on Chinese historical research and it took them five years to compile. Its publication in 2017 marked a milestone achievement of Chinese studies in Russia. In April 2019, the work's translation into the Chinese language began, and it is expected to be completed in 2023. The project's chief expert Yan Guodong recently had a sit-down interview with Andrey Vinogradov, head of the Center for Political Studies and Forecasting from the Institute of Far Eastern Studies of the Russian Academy of Sciences, to discuss such issues as the compilation and translation of General History of China and contemporary Chinese studies in Russia.
Yan Guodong: This historical work's features and academic value will be displayed in China as its translation and research progress. What are the advantages and disadvantages of General History of China?
Andrey Vinogradov: The compilation of this set of books aimed to introduce the history of China to the Russian society. The Russian Academy of Sciences led the academic work, whose writers were all scholars of Chinese history, making it possible to summarize the country's achievements in this field. The most obvious manifestation in this regard is the first volume History of Ancient China (Research based on Archaeological Finds) and the ninth volume Reform and Modernization (1976–2009). Russia doesn't have a monograph on Chinese history after 1976. Despite being informative, the work has a major flaw as it lacks academic annotations. To fix the shortcoming, I specifically marked the timelines and names of the events and characters in the book, so that readers can check them.
I think the first volume is of the greatest academic value. Derevyanko Anatoliy, scientific leader of the Institute of Archeology and Ethnography of the Siberian Branch of the Russian Academy of Sciences, adopted the latest research discoveries. Many of his colleagues in the institute engaged in the compilation. Oleg Nepomnin, the chief editor of the sixth volume, has spent his whole life studying the Qing period of Chinese history. The seventh volume Republic of China (1912–1949) edited by Mamayeva and other scholars has a structure similar to The Cambridge History of China. By making it this way, editors expected to distinguish the writing style from that of the Soviet Union era. The eighth volume looks more like a personal monograph since it mainly consists of articles written by Victor Nikolayevich Usov.
Yan Guodong: This set of books serves a form of academic summary concerning this field, which remarkably differs from The Cambridge History of China and The Harvard History of China.
Andrey Vinogradov: General History of China is aimed at expanding general readers' knowledge about Chinese history, so we didn't consider including all the latest research results in Russia as our fundamental task. Another important reason lies in a huge shortage of scholars who focus on these studies. For example, the second volume Warring States, Qin and Han (5th–3rd century BC) was compiled individually by its editor-in-chief L. Perelomov.
Yan Guodong: General History of China has a very distinct feature in that the structure and style of each volume varies. Why is that? Weren't the principles and styles of compilation formulated before the project started?
Andrey Vinogradov: We discussed this issue at the first editorial board meeting. The length of history that the work touched upon was too long, and the editors and authors of each volumn conducted research in different ways, so we decided that they had the final call in terms of designing structure and content. At that time, Sergei Tikhvinsky only asked for one requirement: that each volume must mention culture. Of course, culture was here referred to in a broad sense, including literature and art. This has enriched General History of China, although such content resembled that of Encyclopedia of Chinese Intellection and Culture, which was published by Russia in previous years.
Yan Guodong: In the process of compilation, what issues were frequently discussed among the editors?
Andrey Vinogradov: Most editors of each volume insisted on academic norms while Tikhvinsky held that there was no need to add annotations in popular scientific works. Later, in response to repeated requests from some editors, Tikhvinsky agreed to add notes, but since most work had been done, and some authors had died, it was impossible to do so. In particular, the seventh volume had been submitted to the publisher, so the styles had to be unified without annotations.
Yan Guodong: Tikhvinsky was central to the initiative and organization of the project. What motivated him to start this massive project?
Andrey Vinogradov: I think there were two reasons, but it is hard to say which one played the dominant role. Tikhvinsky mobilized the academic strength of the Institute of Far Eastern Studies of the Russian Academy of Sciences and raised enough funds to organize the compilation and publication of the Encyclopedia of Chinese Intellection and Culture, which had promoted Chinese studies in Russia. This was one of the motivations for Tikhvinsky to compile General History of China. In addition, as a leading figure of Russian Sinology with a rich life and academic experiences, he could examine China's history and reality from the perspective of human history and world politics. In view of China's rising national strength and its growing role in international affairs, he held that it was necessary to compile such a work for the Russian society to understand Chinese history. This is the second reason.
Tikhvinsky was concerned about Chinese studies in Russia. Two or three months before his death, I brought the ninth volume to visit him. He suggested that the Russian Academy of Sciences establish an independent research institute to conduct Chinese studies. He considered China's development as a great phenomenon in the world. Such an institute was not only necessary but also meaningful.
Yan Guodong: What's your take on the study of Chinese history in Russia?
Andrey Vinogradov: Current Russian Sinology is undergoing a complex period due to transformation of the Russian society and the level of economic development. Few young people are willing to engage in Chinese studies. Both Alexander Romanov and I are more than 50 years old, but we are the youngest scholars in the circle. Aging scholars is the most prominent problem facing the Institute of Far Eastern Studies.
There are some scholars interested in ancient Chinese history in the Institute of Oriental Studies of the Russian Academy of Sciences in St. Petersburg and Moscow, and some of them even work without pay. However, contemporary Chinese studies are less optimistic, because most senior Sinologists have their own research fields. There are only a few scholars working on contemporary Chinese issues.
Yan Guodong: China's historical research is becoming more detailed and profound. In particular, research in the fields of social history, environmental history and economic history has made great progress in recent years. Have Russian scholars followed the trend, or have they made any achievements?
Andrey Vinogradov: Studying Chinese political history is the traditional strength of Chinese studies in Russia. Russian sinologists have done a lot of work in the study of the Communist International and the early history of the Chinese Communist Party. After China implemented the reform and opening up, Russia began to attach importance to the study of China's economic development. The Far East Institute currently has three scholars engaged in the study of Chinese environmental history. In addition, studies of Chinese culture and Chinese literature are keeping on track.
Yan Guodong: Compared with Chinese scholars' Chinese historical studies, what innovations have Russian scholars made?
Andrey Vinogradov: At the beginning, Tikhvinsky wanted to invite Chinese scholars to join the compilation of General History of China and pay them. Later, the idea of paying Chinese authors turned out difficult to achieve. I'm more concerned about the history of the 20th century. In terms of China's political history research, Russian scholars have also used some different materials from those used by Chinese scholars, especially the Russian archives about China between the 1920s and the 1950s. Our Sinologists have conducted fruitful research on China's economic history prior to the reform and opening up, especially the research and forecasting of the Chinese economic outlook and potential. Compared with Western scholars, our research is objective and comprehensive while laying greater emphasis on facts.
Yan Guodong: What are your suggestions for the Chinese-language version of General History of China?
Andrey Vinogradov: We would like to know how Chinese scholars evaluate this work, and we hope that our perspectives and views can benefit Chinese historians. Due to shortcomings in obtaining and reading Chinese-language literature, our research inevitably has flaws. We are open to criticism from our Chinese counterparts, which will benefit our common scholarly cause.