Tu An: 'Without love and compassion, a poem is lifeless'
By HUANG WEI
|
2016-12-22
|
Hits:
(Chinese Social Sciences Today)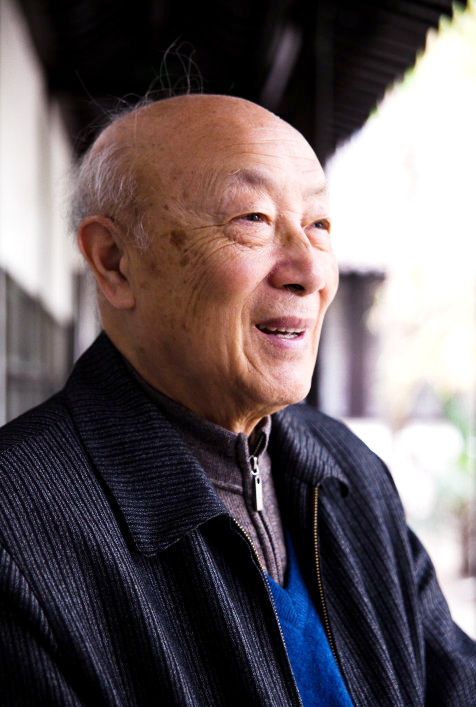 Jiang Bihou, better known by his pen name Tu An, is a Chinese poet and translator. Born into a scholarly family in 1923 in Changzhou, Jiangsu Province, he started to publish works in 1941 and graduated from Shanghai Jiaotong University in 1946. He started working at the People's Literature Publishing House in 1973 and later worked as the editor-in-chief. He is among the first few scholars in China who translated Shakespeare's Sonnets and the works of John Keats into Chinese. His translations are well respected by domestic and overseas scholars.
---
Starting in the 1930s, translations of Shakespeare's Sonnets were introduced into China, but the first completed translation of Shakespeare's Sonnets did not arrive until 1950. This came courtesy of Tu An. In addition to his translation he also provided succinct notes for each of the sonnets.

For 66 years after it was released, he continued to revise his translation of Shakespeare's Sonnets, racking up a staggering 500 additional instances of input. In a recent interview by the Liberation Daily, Tu An recounted his story of interacting with Shakespeare across borders and time.

He also enthusiastically pointed out that the continual revision and polishing of poetry translation is an endless task, and this is the job that he has been pursuing all his life—this is also what makes his translation of Shakespeare's Sonnets continue to be republished in different editions.

Those who do not have a love for poetry may find it hard to understand the passion that Tu An harbors—a type of passion that is stirred by enduring poetic sentiment. It is also a tenacious pursuit for beauty and vitality. He once said: "Without an ever fresh outlook toward life, there would be no poem. To me, what I see every day is fresh. As the sun rises routinely, it has different looks each day in my eyes. I would love to be an infant who embraces life with a brand-new outlook as each day passes. In this way, new vigor within me would keep springing out."
Liberation Daily: How did the lines of Shakespeare's verse touch your heart when they first appeared in your life?
Tu An: I was deeply fascinated by the incisiveness of Shakespeare's art and thought when I first read those verses by him. The elegant rhyme, tidy form, profound content and thought-provoking perspectives really enchanted me. This was how I was motivated to translate Shakespeare's Sonnets in the mid-1940s.

It was my mother who enlightened me and imparted rudimentary knowledge of poetry to me as a beginner of poetry learning. Since third grade in primary school, she taught me to read classical Chinese essays and poems such as The Finest of Ancient Prose and 300 Tang Poems. From that time on, I became a pilgrim of poetry, and decided to stick with it for my entire life. At that time, my mother always first explained the content of the verses herself and then read them to me. I followed her as if I was singing folk songs, though without a deep understanding of the content. I just enjoyed the joy that chanting the verses brought me. What my mother taught me was "Changzhou chanting" style which was listed as China's national intangible cultural heritage in 2008. I am one of the only three representatives left of this art form.

Even today, I still like to chant the verses while falling asleep. Be it Chinese poets like Li Bai, Du Fu, Bai Juyi, or foreign poets such as Shakespeare, Wordsworth, Keats, they are all comforts and motivators for me, making me feel the beauty of life—as one of my friends said, I do not have to take a sleeping pill because the pill of poetry works better for me.
Liberation Daily: In your opinion, poetry translation is difficult and Shakespeare's sonnet translation is particularly tough. What makes it so?
Tu An: To translate a poem, not only the rhythm, metre in verse, but also its soul, flavor and style should be conveyed and reproduced in the target language. The requirement of form-content unity between the original poem and the target poem makes the translation difficult. For example, in A Defense of Poetry, an essay by the English poet Shelley, he claimed that poetry is untranslatable. Robert Frost, the American poet, had the famous saying that poetry is what gets lost in translation. Their opinions might be absolute but do indicate the difficulty of poetry translation in some sense.
Liberation Daily: If poetry is untranslatable, then the Chinese would not have known Shakespeare and foreigners would not have known Li Bai, Du Fu, right? The Chinese literary master Lu Xun once compared translators to Prometheus, the deity in Greek mythology who stole fire from Mount Olympus and gave it to Mankind, who speak different languages, to foster mutual communication.
Tu An: There are Chinese sayings that "Poetry expresses one's will" and "Poetry originates from emotion." The diversity of people's nations and languages does not deny the interconnectivity between their emotions and wills. Poetry translation has practicality in this sense. At the same time, it is undoubtedly true that some portion of the essence in source language gets lost in the process of translation, but excellent translators try to maintain the original meaning and flavor to the utmost extent.

To me, to well accomplish the task of poetry translation, the communication between the inner worlds of the translator and author should be locked in an embrace. The internalization of the original poem means the resonance and fusion with the author. It is a translator's responsibility to make the author's things his or her own by reading the author's emotion between the lines. Sometimes unsuccessful translation forces you to, by all manners of means, seek the counterpart expressions in the target language, especially those rhyming words—this is like the chase of the beloved and when the chase finally triumphs, you rejoice with excitement.
Liberation Daily: During the process of revising Shakespeare's Sonnets translation, you often consulted Bian Zhilin (a 20th-century Chinese poet, translator) for advice.
Tu An: It was in 1962 when I first visited Bian Zhilin for advice. He recognized my translation of Shakespeare's Sonnets, but believed that revision and polishing was still needed. At that time, he himself translated the first piece of the sonnets to give me an example. He thought that poetry translation should abide by the principle that the rhythmic arrangement of the original poem should be maintained so as to achieve the form alikeness between the original and target poems. His concept of translation had a great impact on me.


Liberation Daily: What do you think is the difference between creating and translating a poem? And what does poetry mean to you?
Tu An: The translation of a poem relies on one's savvy while the creation relies on inspiration. A squeezed poem from one's brain with the lack of inspiration would be emotionless and dry, flat, which can be called a hollow poem. My principle is that when there is no inspiration for poem within me, I would rather not write it.

As I wrote in my collection of poems Night Songs as Water, I have never received baptism from the pastor but I regard poetry as my religion and the Muse as my Goddess. That is to say, poetry is the basis for my living.
Liberation Daily: What kind of message should poetry deliver to the public?
Tu An: Apart from being used to express one's emotion, poetry writing and translation should embody the sense of responsibility—to bring positive effects to readers through the reflection of the truth, the good and the beautiful in life. The concern for the people, for the nation and for the country should be a thread that runs through a poem. Without love and compassion, a poem would be lifeless.

Unlike politics, economics and military affairs, poetry does not directly intervene and change people's reality and destiny. However, it exerts a subtle but great influence on the inner worlds of human beings. A nation that lacks the nourishment from poetry would be spiritless with a dim soul.
Liberation Daily: In today's context, where there is an information explosion, technological advances and globalization, do you think poetry and poetic sentiment still have a foothold?
Tu An: These new trends of the times pose new tasks for poetry and the current field of poetry is indeed not that prosperous. But as the spiritual home of human beings, poetry will never be doomed if human beings have not perished. I believe that the future of poetry will have glory, which I am optimistic about.