Ambassador Aquilina: Small island has big advantages
By ZHAO YUAN
|
2016-11-16
|
Hits:
(Chinese Social Sciences Today)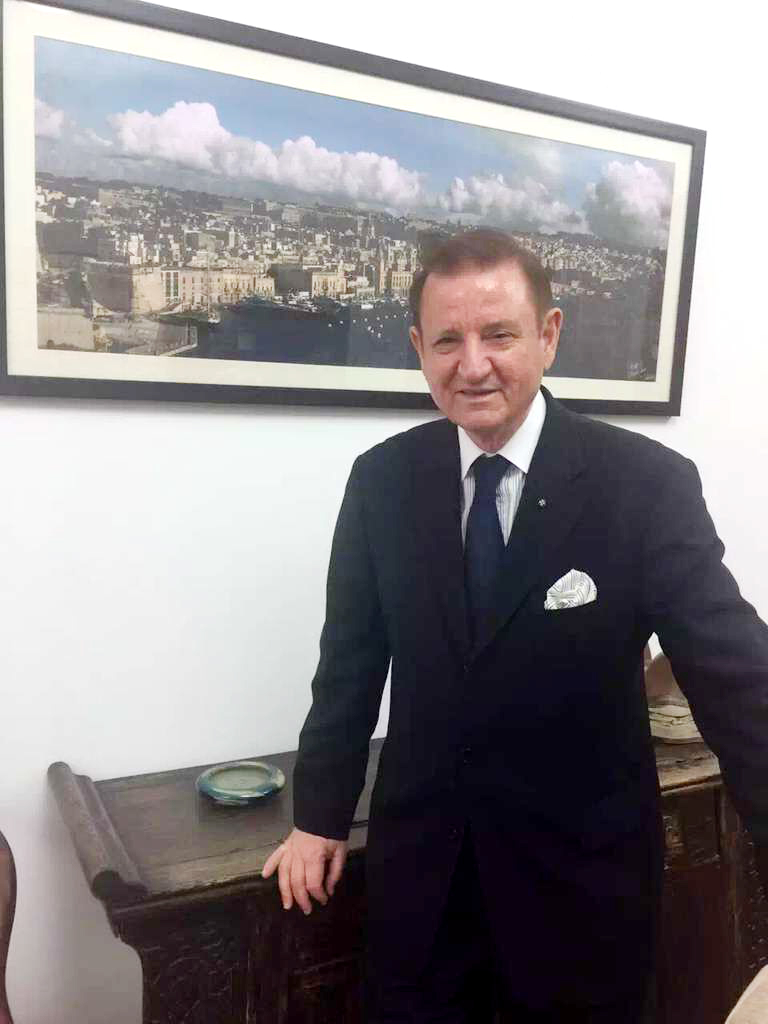 John Aquilina (Zhuo Jiaying) is the current ambassador of the Republic of Malta to China. Born on March 12, 1950, in Malta, he immigrated to Australia together with his parents and elder brother. After graduating from the University of Sydney in 1971, he taught in a public high school. Between 1986 and 1988 and again between 1995 and 2003, he served in a range of ministerial positions. Since November 2013, he has served as the high commissioner of Malta to India and Bangladesh as well as the ambassador to Nepal. In December 2015, he was appointed as Malta's ambassador to China.
---
Known as the "heart of the Mediterranean" and the "backyard garden of Europe," Malta is a mysterious country that is unfamiliar to many Chinese people. However, since China proposed the "Belt and Road" initiative in 2013, this situation has changed.

Malta, a beautiful island country located at the end of the 21st Century Maritime Silk Road, is important not only because of its special geopolitical significance but also due to its active response to and cooperation with China on the "Belt and Road" initiative. Recently, a CSST reporter had a dialogue with the Maltese Ambassador to China John Aquilina to hear his views on infrastructure interconnectivity, bilateral trade and investment as well as the green economy and filmmaking industry in Malta.
CSST: Could you please talk about China-Malta commercial and cultural cooperation in recent years? And, how is the financial industry in Malta going?
Aquilina: Malta and China have had a very long history together. We established diplomatic relations on Jan. 31, 1972, so we have had 44 years of diplomatic relations, and there have been many Chinese investments in Malta in harbors and infrastructure.

Even now the Shanghai Energy Commission has loaned in Malta 330 million euros and bought a 30 percent share in Malta energy authority, through which we are making a greater investment in Europe, because, now Malta, with that money, is investing and building a wind farm in Montenegro, which provides 3 percent of Montenegro's energy, as well.

So, let's start first with markets. Obviously with 420,000 people, Malta is not a market. So we cannot say to Chinese industrialists or Chinese retailers "Come on, Malta is a big market where you can sell a lot of things and make a lot of money." That's not true. So Malta itself is very small, but it is part of the European Union.

Once you are in Malta, you are in Europe, so that makes Malta one of the biggest markets in the world. So, I am telling Chinese businesspeople, if you want to enter into Europe, think about Malta. Why Malta and not Germany, Italy or France, or one of the other countries, or even the United Kingdom? There are a lot of reasons.

For one, we are an island. We are a self-contained economy, so we are not exposed to the problems that all the other countries have. When the global fiscal crisis occurred from 2008 to 2009, most Western economies suffered from recession, but Malta didn't suffer. Malta didn't suffer because it is a strong economy, and its economy is integrated with itself, and it has strong banking controls—banking controls on loans and banking controls on financial transactions. As a result of that, Malta continues to prosper.

According to news reports last month, Malta's GDP growth in 2015 was 6.3 percent. For most European countries, they are lucky if they get 2 percent or 2.5 percent. China's 13th Five-Year Plan aims for 6.5 percent, so for Malta, a small European country, to have GDP growth of 6.5 percent, there must be something happening in Malta. The growth is there.
CSST: As an important country along the 21st Century Maritime Silk Road, Malta is home to world-renowned port facilities. Could you tell us about your shipping industry?
Aquilina: Malta has very good harbors, and the Chinese helped to build some of these. For example, in our grand harbor, we have the No. 6 dockyard, one of the largest ship dockyards in the world, which was built by the Chinese in the 1970s. Eight hundred Chinese workers went there and helped to build it, so it was called the "red dock."

Then in the South of Malta, at one of the other harbors, we needed a big breakwater to protect the ships. Again, Chinese engineers came and did that. So they built the breakwater for us. Because we have deep harbors, ships with grain wheat can come from Australia, from Canada—wheat that is not for Malta, but for Africa, Egypt, Tunisia, Libya or Morocco or Algeria.

Why can't these ships go to these places? It is because the harbors in these places are very shallow, and big ships cannot go there. Malta has very deep harbors, so ships come with grain, unload the grain in Malta into big salons. Little ships from those countries can take it into little harbors, so this is our port facility.

We take the big container ships—big container ships from Northern Germany or from Japan bringing in motorcars. They offload in Malta, unload the big containers and smaller ships get around into the smaller harbors around the area. This is another thing Malta does—the debunking area, debunking port and debunking facilities.

Large container ships can unload their products, and these products can be reloaded into smaller ships to small harbors in not only Northern Africa, but also Eastern Europe and Southern Europe. There are a lot of advantages in Malta. There isn't a ship built yet that cannot be anchored in Malta. Even the biggest ships in the world could be anchored in Malta. So that's a great asset.
CSST: Malta is a great market as a member of the European Union. What kind of businesses will be attractive to Malta? What are your commercial suggestions to the Chinese investors who want to tap into this market?
Aquilina: We are small. We don't have a lot of land for factories to be built, and we don't want a lot of factories anyway. Factories may bring pollution. We attach great importance to our environmental protection. We have strong environmental laws. The fresh air and the blue sky are very important for us, particularly for our tourism industry.

So what kind of businesses can we attract to Malta? We can attract clean energy companies, but that requires intensive investment and a large amount of capital. We can attract IT companies—small IT companies don't take up much space. You can sit in the office and do computer programming or on-line games.

We can have thousands of IT companies. We have one of the world's fastest Internet speeds in the world. If you Google any of our websites, you will see how beautiful and fast they are. We can have call-centers. We have quite a lot of call-centers because the Maltese are quite good with language.

We are quite close to other nations, so we can attract people fluent in Arabic, French, Italian and English. English is one of our official languages as well as Maltese, a very ancient language. We can have textiles. One of the things Malta can do to take advantage of the fact that Malta is a member of the European Union is that other EU members can export to Malta in bulk containers. Then products are repackaged in Malta into retail components and exported that to the rest of Europe to save the companies a lot of duties, because instead of sending already completely packaged products, you are sending bulk products, which are then repackaged and stored in Malta, or sold online on Malta.

When I was a high commissioner in India, we brought pharmaceutical companies. I don't know any pharmaceutical companies from China, but there is the opportunity. Indian pharmaceutical companies manufacture their drugs in India, ship them into Malta in bulk and then they do the testing in Malta in Maltese testing laboratories to obtain European certifications. Afterward they repackage their drugs, and they can sell them to the rest of Europe as European products.
CSST: Malta is a well-protected World Heritage City, making it a fantastic place to shoot films or TV series. Could you share some of the valuable experience of the filmmaking industry in Malta?
Aquilina: Malta has beautiful weather and lovely coastlines. So here are two industries. One is the film industry. A lot of Hollywood films are shot in Malta. Hollywood has been making movies in Malta for 90 years, and Malta just celebrated its 90th anniversary of filmmaking.

Hollywood chooses Malta because it is beautiful, but also because it is small. Being small is an advantage. Many Chinese don't understand this because the Chinese mentality is that big is powerful, big is best, but being small also has a lot of advantages.

One advantage is if you are in a small place and you get everything around you, you don't have to spend a lot of time to travel from point A to point B. In one day you can have different shooting locations.

If you are making a movie, Malta also has a lot of experience. There are many companies providing lighting, cameras and scaffoldings. There are a lot of acting companies. In this way, we can contribute to the cultural communications of China and Malta. I am keen to get some Chinese filmmaking companies to come to Malta. The other advantage besides the beautiful coastline and historical architecture is that the air is very clean.

The picture is very sharp because we are an island. We have sea breezes that keep blowing, so the air is so clean. We also have strong environmental laws, and they are getting better. We also have 300 days of sunshine, so some of the film companies can have as long as 12 hours of filming each day.

In winter, they can film up to 10 hours, so they won't spend as many days filming. The fewer days they have to spend filming, the less the cost will be, so it's economical for them. It gives them a financial advantage, so it makes filming in Malta much cheaper—hiring your equipment locally is much cheaper than bringing your own equipment.

So Malta is a very attractive spot for filmmaking. We have the largest water tanks in Europe, which can be used for filming sea scenes. We make artificial waves, so for example, we can have big storm scenes in the middle of the sea, and it's all controlled, because the tank is right on the edge of the sea. With the proper camera angle, the ship can be filmed as if it is in the middle of the sea.

You can have big ship battles with ancient ships, like in Troy with Brad Pitt, which was made in Malta, also Gladiator and so on. Chinese are very keen on Western culture and Western classics. The capital Valetta is a very classical landscape and we really welcome China-Malta cooperation in this regard.
Zhao Yuan is a reporter at the Chinese Social Sciences Today.