Vilnai: China will be an innovation superpower
By Sun Mengxi
|
2016-07-28
|
Hits:
(Chinese Social Sciences Today)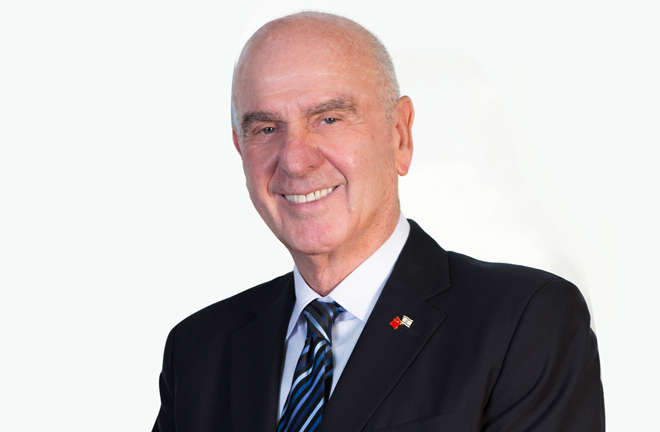 Matan Vilnai, born in 1944 in Jerusalem, is an Israeli politician and a former Major General in the Israeli Defense Forces (IDF). He graduated from the Hebrew Reali School in 1962 and was drafted into IDF, where he served in the Paratroopers Brigade and as a member of the elite reconnaissance unit Sayeret Matkal. A former government minister, he was appointed ambassador to China in 2012.
---
Having visited dozens of universities, technology centers and industrial parks in China during his tenure, Matan Vilnai has left his footprints across the country. For more than four years, China and Israel have strengthened cooperation on technological innovation and business investment as well as in the sectors of education and tourism. What role does innovation play in intellectual life and economic development in the two countries? Recently, a CSST reporter interviewed Ambassador Vilnai, who shared his views on this as well as the prospects of China-Israel bilateral relations.
CSST: During your tenure, you have attended four sessions of the National People's Congress and the Chinese People's Political Consultative Conference. In your opinion, what is the most impressive achievement that China has made in the past three years?
Vilnai: I am not going to speak in quantitative terms since I don't know that much about statistical minutiae. As far as I can tell, the Chinese people have been galvanized by their leaders' calls for innovation. Indeed, Chinese President Xi Jinping and Premier Li Keqiang emphasized the urgency of innovation on multiple occasions. The same passion for innovation prevails in China as well as in Israel.

I have traveled to many provinces of China in the past three years. I just visited Chengdu, Sichuan Province, in mid-March this year. While talking to university presidents, professors, students and business personnel, I can feel their yearning for innovation, for entrepreneurship, for dynamism. I am sure that China is headed in the right direction.

In early April this year, Bar-IIan University, a prestigious university in Israel, sent a delegation to Beijing. The university's Institute for Nanotechnology and Advanced Materials signed a cooperation agreement with the National Center for Nanoscience and Technology at the Chinese Academy of Sciences. Bar-IIan professors told me that the ethos among China's young scientists is refreshing and clearly different from the atmosphere of the old days. I believe that, in 10 years' time, China will be an innovation superpower among countries. This is where China will go.
CSST: Israel and the US are world leaders in science and technology. Considering that many Silicon Valley entrepreneurs, engineers and scientists actually come from Israel, it can be safely concluded that Israel is a powerhouse of global scientific and technological progress. What are the crucial factors that give Israel such an immense advantage in innovation?
Vilnai: I have been asked this question in every interview with Chinese media. And, of course, I take pleasure in sharing the essence of Israel's success with everybody. As a former minister of science, I used to consult with our accomplished professors, university presidents and Nobel laureates. For us, the point is obvious: Innovation is a way of life.

There are several answers to this question. First of all, Jewish intellectual tradition emphasizes studying in small groups and asking questions all the time, meaning that students never take established wisdom for granted. Therefore, people tend to think differently about everything. Not only students but also primary and secondary school teachers as well as university professors always ask questions. Secondly, Jewish people are not afraid of setbacks and failures. No one likes them. But if we fail, we come back again. If you talk about this with our Nobel laureates, they would tell you how many times they failed along the path to the Nobel Prize. In fact, they failed their way to the Nobel Prize. "Though a righteous man falls seven times, he will get up," as it is said in the Book of Proverbs. To my understanding, these are the two most important factors among all others that contribute to Israel's tremendous success in scientific and technological innovation.

I must emphasize again that the single most prominent force driving Israel's innovation success lies in our national ethos, and that is why we expect our Chinese friends to visit Israel as much as they can to mingle with our people, to discover business opportunities and to develop partnerships.

All modern societies need technology to be modern. All modern societies need innovation to advance. All modern societies need young, talented people to work on them. Chinese leaders understand these things very well.
CSST: A number of Chinese Internet giants, such as Baidu, Alibaba and Tencent, have already started investing in high-tech firms in Israel. Is it a validation of Israel's innovation capacity?
Vilnai: Large companies around the world understand too well the innovative zeal of our society and the caliber of our engineers, technicians and scientists. That is why Microsoft set up a development center in Israel, and that is why Baidu, Alibaba, Tencent, and many other outward-facing Chinese companies came to our country.
CSST: During your tenure, China and Israel have become closer than ever through science and technology cooperation. Could you walk us through the milestones of bilateral cooperation?
Vilnai: On May 19, 2014, Chinese Vice-Premier Madame Liu Yandong visited Israel and met with our Prime Minister Benjamin Netanyahu in Jerusalem. Both of them are extremely serious about innovation. In January 2015, the then Foreign Minister of Israel Avigdor Lieberman visited Beijing. He and Madame Liu Yandong co-chaired the first conference under the framework of the China-Israel Joint Committee on Innovation Cooperation. On March 29, 2016, Madame Liu Yandong visited Jerusalem again and co-chaired with our prime minister the second conference of the China-Israel Joint Committee on Innovation Cooperation. The two conferences attracted a legion of distinguished experts of science and technology from both countries. This bilateral mechanism will be here to stay, for it has worked very well obviously.
CSST: It seems that higher education and research institutions play a key role in your agenda of accelerating bilateral cooperation on science and technology.
Vilnai: You are right. Speaking of my own mission as the Ambassador of Israel to China, one of my goals is to enhance academic partnership between Israel and China. In my tenure, all of the presidents of our major universities came to China and established contact with Chinese higher education and research institutions. In early April 2016, I met a group of professors from the Bar-IIan University who are going to team up with Chinese nanotechnology experts to tackle eight projects. In late March 2016, I attended the signing ceremony of a cooperation agreement between East China Normal University and the University of Haifa. They are going to establish a joint institute combining research and real-life application in Shanghai to make progress in environmental and ecological engineering, biochemical and pharmaceutical science, neuroscience, and data science. In late May 2015, I inaugurated the China-Israel Center for Entrepreneurship and Innovation at Jilin University. In addition to the Embassy of Israel to China, China's National Development and Reform Commission also played a key role in this initiative. Many Chinese universities started joining hands with our universities. It is a new situation in which everybody is a winner.
CSST: What are your predications about the prospects of bilateral educational exchange?
Vilnai: Currently, there are nearly a thousand Chinese students studying in Israeli universities. Of course, we expect more Chinese students to come to our shore. A thousand is not enough.

Israeli universities and Chinese universities can learn a lot from each other. We are a model of creativity and innovation. You exemplify the value of hard work and discipline. More importantly, you understand what must be achieved and how to achieve it. Identifying priorities, devising plans and coordinating implementation are not easy tasks. Yet, you handled them deftly. So long as educational exchange becomes more active and fruitful, we will know more about and learn more from each other.
CSST: Israel became a founding member of the Asian Infrastructure Investment Bank on March 31, 2015. What motivated Israel to join in this initiative?
Vilnai: I was in the city of Mianyang, Sichuan Province, when the AIIB membership application approached the official deadline. Three hours before noon on March 31, 2015, the Israeli government decided to become a founding member of the bank. This was a weighty, wise move. I believe that the bank will be one of the most important financial mechanisms in the world.

We have the know-how and capacity to play a pivotal role in every project related to the "Belt and Road" initiative under the framework of the AIIB. I know for sure that we can do it. That is why I sought our prime minister's permission to join in this initiative.

The reason why the decision was only made at the last minute was that we did not have a clear picture of what was going on at the beginning. We assumed that the AIIB was likely to be a regional project mainly focusing on East Asia. It was not until a herd of European countries rushed to join the bank did we realize the scale of its ambition. Once we came to know the full picture, we made the decision immediately.
CSST: What are your expectations for China's future and the prospects of China-Israel relations?
Vilnai: I spent 40 years in the army. Yet, as I have observed, modern societies are seldom threatened by missiles, tanks or rifles but often dragged back by indecisive leadership and counterproductive norms.

I often say that China is not merely a country but a great continent. As a continent, you have overcome firmly intertwined reactionary forces and marched toward openness and prosperity, setting an example to the rest of the world. Just think about how many Chinese have been lifted out of poverty both socially and economically in the past few decades. It is impressive. Or think about the handful of five-year plans that have drawn upon the collective efforts of the people and borne innumerable fruits. Efficiency, resolution and solidarity are more powerful than military clout. You have them all, and you know how to put them to work.

I hope that China can keep expanding its sphere of influence in a uniquely Chinese way that emphasizes harmony and peace. I hope that China will continue its striking ascent to superpower status.

Over the long haul, Israel and China will strengthen cooperation on many fronts, such as culture, education, economy, public health, and scientific and technological innovation. I believe that, the common ground between Chinese and Jewish cultures, such as family values and solidarity, and the aphorisms in Confucian cannons and Jewish sacred books will continue to bind us together and draw us even closer.