Nishihara: Memories of war, vision of peace
By Wang Xiaoyan
|
2016-06-12
|
Hits:
(Chinese Social Sciences Today)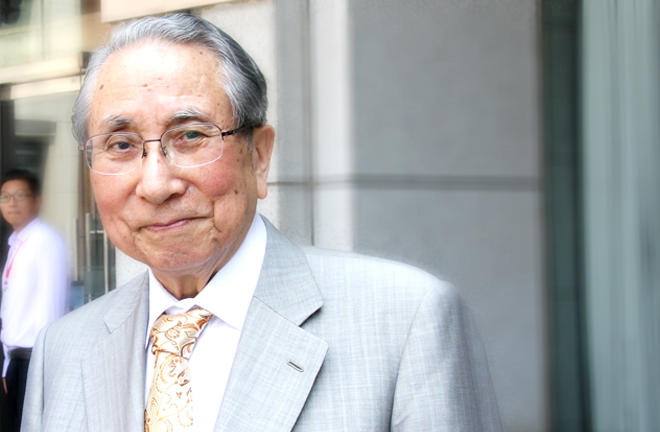 Haruo Nishihara is a famous Japanese criminal law expert, educator and social activist. Born in 1928 in Tokyo, he graduated from Waseda University in 1951. He was hired as a law professor at his alma mater and later served as the president of the university from 1982 to 1990. After retirement, he worked as the executive board chairman of Kokushikan University. He launched the Asian Peacemaking Center and served as its chairman. For his many books on criminal law and Asian studies, he was honored with the Order of the Sacred Treasure by Japan, the Iron Cross First Class by Germany and the Magnolia Award by the Shanghai municipal government.
---
Though his hair has been grayed by age, Haruo Nishihara has a genuine and innocent smile that radiates from his face. At the age of 88, he continues to visit China every year for academic exchanges while tirelessly working to advance the cause of peace in Asia and the world. He is also a fan of Shaolin kung fu, tai chi and Confucianism.

In celebration of his most recent birthday, Nishihara was honored at an academic symposium along with Chinese professor Gao Mingxuan, who is also the same age. Gao was the first East Asian scholar to be awarded the Cesare Beccaria's Medal, which is considered the most prestigious prize in the field of criminal law. The friendship between the two has lasted for more than 20 years, and together, they have been at the forefront of cooperation between Japan and China in the field of criminal law.

Since his first visit to China in 1982, Nishihara has been to China over 60 times. For his commitment, 14 Chinese universities and research institutions have awarded him the titles of honorary professor or research fellow.
CSST: You have mentioned many times that your aspiration to foster communication between China and Japan in the field of criminal law and your desire for peace both stem from feelings you had when you were 17 years old in the summer of 1945. Could you please talk about that time?
Nishihara: I had just enrolled in the second grade of primary school in 1937, and I was a 17-year-old high school student when Japan surrendered in 1945. The eight years when Japan waged the war of aggression against China coincided with my youth. The education that I received at that time was utterly militaristic. I was brainwashed by such didactic teaching, believing that the war was justified and taking for granted that a country like China that had faded its past glory is supposed to be subordinated and affiliated to Japan. I was once full of patriotism, which, to me today, is incredible and dreadful.

The year 1945 is a watershed. The past truth becomes a fallacy and the past fallacy turns out to be a truth. This reversal of life value occurred so radically that it exerted enormous influence on my later life. When I came to know the truth of how Japanese troops invaded Nanjing city, I was stupefied. The memory of the entire country of Japan being immersed in an exhilarating atmosphere after it successfully captured Nanjing city lingers on inside me still today. In Tokyo, people lit lanterns and gathered in front of the Imperial Palace to celebrate the great victory. I was there among the throng.

In later years, as I gained deeper understanding of the facts of the war, an immense sense of remorse, guilt and a strong desire to expiate them filled me. As a Japanese, I think we need to do something to atone for what we have done. Pitifully, I was only 17 years at that time—too young to fulfill my ideas. But I told myself that 20 or 30 years later, when I would be capable enough to make up for our wrongs, I would try to do something in some way, and before that, I told myself to never ignore my own voice.

Actually, many other Japanese think like me, which is also an important reason why peace and friendliness could become the main tone of Japan-China relations.
CSST: You were appointed to be the 12th president of Waseda University in 1982. That was not long after the Cultural Revolution ended and reform and opening up policy was launched in China. Together with the delegation from Japan, you set foot in China for the first time that year and an agreement of cooperation was signed with Peking University, which was the first agreement between universities of the two countries.

Nishihara: In January 1982, through the Chinese Embassy in Japan, Peking University proposed a plan to sign an agreement of academic cooperation with Waseda University. To Peking University, Waseda University was its first choice. I was then responsible for the international affairs of Waseda University, which later accepted the invitation from Peking University. In late June that year, we flew to Beijing exclusively to sign the agreement.

To Waseda University, this was also the first time that it had an agreement of cooperation with a Chinese university. To me personally, this was also the first among my 60 trips to China, which deepened my affinity with China. Apart from Peking University, I also participated in signing agreements of cooperation with Fudan University, Shanghai Jiaotong University and other Chinese universities.

And what spurred me to continuously deepen interaction with China were the academic exchanges in criminal law between the two countries, which are still vigorous today.
CSST: The first Japan-China academic symposium on criminal law was hosted in 1988 in Shanghai, right? It was out of your proposal?
Nishihara: Yeah. At the invitation of Shanghai People's Association for Friendship with Foreign Countries (SPAFFC), I, who was the president of Waseda University at the time, gave a lecture on Japanese education in August 1986 in Shanghai. After the lecture ended, my wife and I left for Hangzhou and Shaoxing, the two cities in Zhejiang Province for visits at the invitation of Li Shoubao, president of the SPAFFC.

I clearly remember the scene in which I extended an olive branch to Li. On the morning of August 16, 1986, I said to Li in the train heading from Shanghai to Hangzhou: "It is going to be 10 years since China promulgated the first criminal code, which can be understood as 'only 10 years' and also as 'already 10 years.' Though Japan and China have different political regimes, they have many commonalities in the field of criminal law. So I feel it is time to gradually conduct academic exchanges between the two countries."

Since criminal law involves some sensitive issues concerning human rights, I guessed Li would say something like "Ok, we'll take it into consideration," but to my surprise, he agreed on the spot, exclaiming, "This is a good idea. Let's work together and make it happen. How about hosting the symposium in Shanghai next year? Our association is well financed."

Our efforts finally paid off. From April 28 to April 30, 1988, the first-ever Japan-China academic symposium on criminal law was convened in Shanghai. The attendees made commendable remarks on the symposium and hoped it could be hosted again. For some reason, the second symposium was delayed for one year and finally took place at Waseda University in March 1990, which also won wide acclaim. Thus it was decided that the symposium would be hosted alternatively in China and Japan since then. To me, it is gratifying that this communication mechanism still continues today.
CSST: In addition to criminal law, reflection on Asia's future and world peace are also themes of your work. What do you think the future has in store for Japan-China relations?
Nishihara: From a global perspective, I think both China and Japan need to realize that what dominates today's human society is a system centered on Europe and America that is based on Christian values. Such values emphasize technology, freedom, interest and rationality. And modern society can be in some sense regarded as the product of the Western philosophy and ideology, which poses a huge problem: If it continues to develop, would human society be doomed to perish?

My belief is that any ideological system capable of quelling the fears of human beings and eliminating the evils of modern society must be rooted in Asian values. But to make it a reality, the efforts of a single country are far from enough. To me, a new lifestyle for human beings needs to be explored based on Asian values, which should include man's affinity with nature as well as an equal respect for nature and human life. China can play a major role in this aspect and aside from China, Japan and other East Asian countries should also play their parts.
CSST: What do you think still needs to be done in your coming years?
Nishihara: I am already 88 years old, but I feel lucky that I am healthy. As long as I am still alive, there are some things that I should do.

China has become a world power and there are some Japanese who feel jealous about this, but I am different, because I witnessed the hard times of China when it was treated like a semi-colony by European and American countries, when it was attacked by Japanese imperialists and when its people struggled in poverty and plight. Compared with the state's position, I take the people's position more seriously. Only if people's wellbeing can be improved, differences between countries can be diluted.

In recent years, China has initiated many important strategies closely related to international society—the "Belt and Road" initiative, Asian Infrastructure Investment Bank, and the internationalization of the RMB. Every act of China could exert great impact on its neighboring countries as well as the whole world. It is also because of this that China is endowed with obligations and responsibilities that come together with its status as the world power.

Talking about my life goals in the future, it is not so much to be a Japanese law expert as an Asian law expert. The international law system at present is determined and dominated by Western society. But I hope Asia can, based on its reality, have its own international rule of law that is applicable within the region. This would be conducive to building a "community of common destiny" that is exclusively Asian, and the first step for this is academic dedication.

I would never forget how I felt in my inner self as a 17-year-old in 1945 when Japan was defeated. Japan's acts of aggression against other Asian countries need to be atoned for by at least three generations of its people, which is the only way for it to be redeemed in the minds of other Asian people. I have felt so and insist so to this day. And to make the reconciliation a reality will be my job in the years to come.
Wang Xiaoyan is the chief journalist from the Japanese Department of China Radio International.