Women's literature opens up dialogue on gender, feminism
By Gao Xing
|
2016-02-04
|
Hits:
(Chinese Social Sciences Today)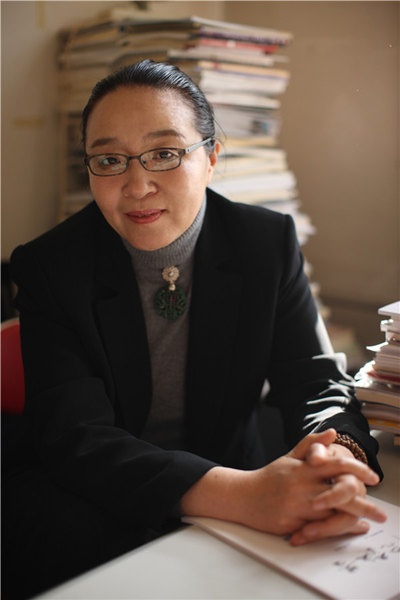 Dai Jinhua (1959- ) is a professor and doctoral supervisor at the Institute of Comparative Literature and Comparative Culture and director of the Research Center of Film and Culture at Peking University. Her research interests are mass media, film and gender studies, and her representative works include Film Criticism.
---
As an expert on gender studies and women's literature as well as a scholar of film and cultural studies, Dai Jinhua is highly influential in China. Her reputation as a pioneer of Chinese feminist cultural criticism has led some to call her "China's Susan Sontag." Her wisdom and talent have already made her a legend in academic circles. So what does she think of the significance of women's literature and feminism? What are the cultural implications of the story of Mulan, a classical Chinese literary heroine who dressed up as a man and joined the army in her father's place? Gao Xing, editor-in-chief of World Literature, sat down with Dai to discuss these questions.
Gao: Currently, some writers are sensitive about women's and men's literature. For instance, Milan Kundera has created many female characters in his novels. But these female characters cheat on their husbands and think about betrayal all the time, which leaves a negative impression on readers. On the contrary, another writer Ivan Klima shapes many gentle and beautiful female characters who can understand others' happiness and pains and share their experience with others. Actually, Kundera was once asked how to treat women's and men's literature. He said gender shouldn't exist in literature, and people should approach literary works separately. But Klima said he loves women, and that's why those female characters in his novels are filled with good qualities. Different male writers have different opinions on female characters. So do you think there is separate literature for men and women?
Dai: I'm conflicted on this question. I think any word with a modifier does contain a certain measure of discrimination, such as young writers, ethnic minority writers and female writers. It seems that they belong to some vulnerable groups. We should endow them with more general standards instead of a unified criterion to measure them. Actually, for female writers, many of them are the best writers among their contemporaries, and there is no need to add a gender label before their writings. I have always opposed double standards in literature and art, which is my standpoint. But from another angle, I consistently agree with the classification "women's literature." Thank you for your example of Milan Kundera. He is one of my favorite writers because of his wisdom and humor. But I don't like the female characters he creates.

The reason I don't like them does not come from the disloyalty you mentioned. It is a stereotype, with some clever tricks in between the lines. I think that there are two kinds of female images in Kundera's novels. One is the disloyal women, who are free and wild and are hunting for love just like men. The other is the faithful women, an image of the eternal mother. I call the male characters in Kundera's novels "loyal playboys." They hunt for love everywhere but their love only belongs to one woman—the loyal maternal woman. In their hunt for love, they are both hunters and prey.

That explains why I think women's literature is needed. Why is there a difference between female characters in novels by female and male writers? Because only in female writers' novels can we understand those different, complicated but real female images. In most cases, male writers, even the most brilliant ones, can only shape limited types of female characters.

However, when we read the works of female writers, even those works written under certain standards, we still can find out some delicate expression that cannot be found in those stereotypical women created by male writers. Thus, a refined sensitivity and an exquisite observation of women distinguish female writers from male writers.
Gao: Generally, we still live in a patriarchal society. How can women gain equal rights and be treated with dignity? Are women capable of self-emancipation and achieving equality?
Dai: On the one hand, times have already changed and a lot of progress has been made compared to a century ago. When Virginia Woolf wrote A Room of One's Own, she was not qualified to enroll in the University of Oxford or the University of Cambridge. At the same time, Chinese women still endured foot binding, and only prostitutes were able to easily access any place in society. But today, space has been expanded for women to choose the life and the job they want. In this sense, if a woman has a clear knowledge of reality and gender rights, and understands herself enough, she can certainly make the right choice for her future.

On the other hand, gender still constrains women's development. Its negative effects have been amplified and exist in every aspect of our life. Living in such an environment, what choices an individual woman can make are very limited. Many things cannot be achieved just by their efforts. Today, what we can do is to have a clear understanding of reality and ourselves. Just as I mentioned before, we have to pay the price for seeking independence and realizing our vision. Even pursuing subjugation, dependency, selling or exchanging also has a high cost. So women should make prudent decisions and happiness is in their own hands.

Gao: Among the excellent women's literary works you have read, which book—I mean out of books dealing with gender relations—probes the profundity and complexity of gender relations and left the deepest impression on you?
Dai: What comes to mind is Wang Anyi's novella Sacred Altar. In the book, she describes the subtle differences between men and women: If a woman becomes a spiritual friend of a man and they truly realize equality in spirit, then she is not regarded as a woman anymore in his eyes. Spiritually deep understanding and equal communication between men and women seem to supplant or even eliminate the beauty of gender relations. Simultaneously, this is a situation that liberated women have to be confronted with.

I mentioned a similar topic some time ago, that is, Mulan's dilemma: The precondition for a free and liberated woman to participate in social activities is to hide her feminine characteristics because all social norms are male dominated. In the field of spiritual and cultural products, men also control the evaluation criteria. Being involved in social activities means a woman has to pay the price for covering her gender characteristics and acting like a man. But another long-standing dilemma for women is that they have to hide wisdom and act like a woman.
Gao: So what actions should women take to overcome Mulan's dilemma? Could you please give our female readers some advice?
Dai: Although women's rights are limited in society, they can still depend on their wisdom to participate in the process of creating history and changing reality. I don't have any advice for female readers, but my experience proves that reading is my best friend. It will amuse you and benefit you for your whole life. I believe that reading 50 selected and high-quality books will completely change your life.