Pilot projects needed to test waters of mixed-ownership reform
By Huo Wenqi
|
2015-12-11
|
Hits:
(Chinese Social Sciences Today)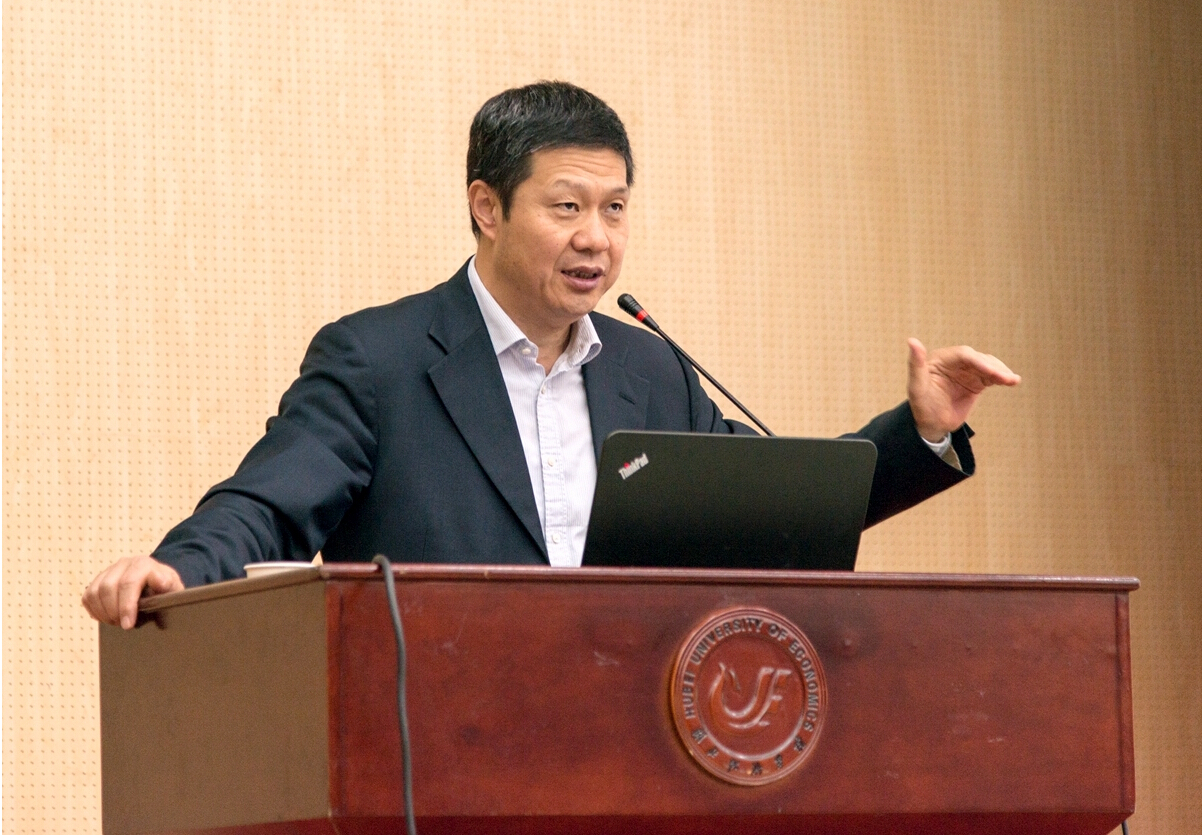 Huang Qunhui (1966- ) is a research fellow, a doctoral supervisor and the director of the Institute of Industrial Economics at the Chinese Academy of Social Sciences (CASS). He also serves as vice-chairman of the Chinese Institute of Business Administration and president of the Research Center of Small and Medium-Sized Business at CASS. Huang has written or co-authored more than 30 works, including the Report on China's Industrialization and the Research Report on Corporate Social Responsibility of China.
---
The Decision of the Central Committee of the Communist Party of China on Some Major Issues Concerning Comprehensively Deepening Reform, approved at the third Plenary Session of the 18th Central Committee of the CPC, indicates that the mixed-ownership economy is an important component of China's basic economic system, and more state-owned industries and other forms of ownership should be allowed to develop a mixed-ownership economy. This year, CCCPC and the State Council issued the Guidelines on Deepening Reforms of State-Owned Enterprises. The guidelines propose specific guidance on developing the mixed-ownership economy from four aspects: Carrying forward reform of state-owned (SOE) and mixed-ownership enterprises, introducing non-state-owned capital to SOE reform, encouraging state-owned capital using various means to take shares in non-SOEs, and exploring ways to implement employee stock ownership in mixed-ownership enterprises.

Huang Qunhui explained how to understand and promote SOE mixed-ownership reform in an interview with CSST.

CSST: What is the significance of mixed ownership with regard to SOE reform?
Huang: At a macro level, the mixed-ownership economy can entail a state or region's macroscopic plural ownership structure that features public and non-public ownership. But the public ownership economy mainly exists in key areas and important industries that are related to economic security, public standard of living and national strategy, which reflects the public-ownership economy's dominant position. At a micro level, mixed-ownership enterprises possess a plural property right structure in which state-owned capital, collectively owned capital and non-state-owned capital engage in cross-shareholding and are integrated with each other. It will be beneficial for SOEs to establish a standard corporate governance structure and rely on a plural property right framework and market-driven and privately owned operative mechanism to realize unceasing development and growth. It will also strengthen state-owned capital or publicly owned capital's impact on other forms of capital and elevate the publicly owned economy's overall competitiveness in order to improve the state-owned economy's control, influence and driving force and reassert the dominant position of the public-ownership economy.

CSST: Mixed-ownership reform must adhere to the elementary path "top-bottom combination, pilot projects in advance and coordinated progress." So how do we carry out this principle in practice?
Huang: China's reform experience indicates that a successful path to propel reform forward should first follow the principle from bottom to top, which allows the grassroots to actively explore operation steps including grassroots innovation, recognition of problems, experience accumulation, summarization and analysis. Then it can promote the principle from top to bottom, which carries on the top-guided progress, including defining orientation, choosing pilot projects, and making regulations and comprehensive progress in order to realize an active and steady overall reform. Also, both the process from bottom to top and the process from top to bottom should be repeated several times. So this kind of top-bottom combination path to propel reform not only stimulates grassroots enthusiasm for reform and innovation and protects economic vitality but also achieves orderly reform and avoids disorder, which provides us a methodology to ensure our reform meets its goals. Similarly, today we promote mixed-ownership reform and we should also insist on this kind of reform path or principle of methodology.

The working emphasis of the current mixed-ownership reform should follow the guidelines [issued by CCCPC and the State Council] to actively promote pilot projects and analyze problems, and summarize experience on the basis of pilot projects. And then we should make specific regulations and procedures and explore implementation rules for mixed-ownership reform to comprehensively further propel mixed-ownership reform in order to realize standard operation under the framework of institution and law. Based on the actual situation, we should actively classify pilot projects, seek breakthroughs, sum up experience and form operational standards for promoting mixed-ownership reform. The formation of operational standards will be processed in pilot projects, and we should constantly try to identify new problems, seek solutions and accumulate knowledge. Besides, we should build on the foundations of pilot projects, enhance exchanges of experience across the country and seek a new standard for developing mixed-ownership economy.

In terms of comprehensive advancement, the coordination of mixed-ownership reform should be emphasized. It needs to comprehensively arrange the relationships between the central and local governments, between pilot projects and standards, and between progressive development and breakthroughs. With regard to the relationship between the central and local governments, the central government mainly focuses on addressing the reform of monopolized industries' SOE mixed ownership, and local governments emphatically deal with reforms of local financing, investment channels and urban public service industry. Some influential solutions to problems can also be considered as experiments on the local level prior to be adopted nationwide. In terms of the relationship between pilot projects and standards, we should first establish a fault-tolerant mechanism, allowing pilot innovation and forming standardized policy guidance and then issue standards to set the baseline for pilot innovation. With regard to the relationship between progressive development and breakthroughs, we should not only utilize progressive development to accumulate relevant experience and stimulate the enthusiasm and initiative to develop mixed-ownership economy but also dare to face difficulties and break through the bottleneck of reform and recombination. For coordinated progress, two collaborations should be properly dealt with. One is the collaboration of industries. It means to control the tempo of developing mixed ownership. Not only should the pace of reform in competitive fields be accelerated, but also monopolized industries should overcome difficulties and realize breakthroughs in the reform. The other is the collaboration of systems, which means to cooperatively advance systems of corporate governance, property rights, asset transactions, personnel and income distribution.

CSST: Developing a mixed-ownership economy is a controversial issue. Why do you think that is?
Huang: The reason why it has been so controversial and met with such opposition is that some mismanagement issues in mixed ownership, such as the loss of state-owned assets, may appear in the process of developing mixed ownership. It means that preventing the loss of state-owned assets has become the key to developing mixed ownership. And superior enterprises, assets and services are most likely to lose state-owned assets during the process of developing mixed ownership. It may happen through the channels of potential profits, asset appraisal, horizontal competition and connected transaction.

CSST: So how can we prevent the loss of state-owned assets?
Huang: Two significant measures should be adopted to deal with the loss of state-owned assets in the process of developing mixed ownership. One is to unify policy standards and examine enterprises by classification. It means that formulating a unified policy criterion makes some important issues in the SOE mixed-ownership reform take the policy criterion as a basis. The other is to unify property rights management. It should establish a unified, open, standardized and efficient property rights exchange market, strictly carry out the equity transaction access to market system, and enhance the supervision of equity transaction and the state-owned assets supervision in mixed-ownership enterprises.
Huo Wenqi is a reporter at the Chinese Social Sciences Today.