Why legal education needs to keep up with economic development
By Zhang Ni
|
2013-08-29
|
Hits:
Chinese Social Sciences Today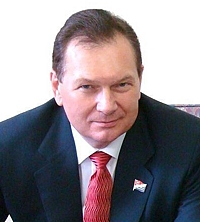 Dr. Vladimir I. Kurilov is vice president of international relations at Far Eastern Federal University (FEFU, Russia), and has served as dean of FEFU Law School since 1982. He is a member of the Steering Committee of the Association of Pacific Rim Universities (APRU) and co-chairman of the APRU "Shaping Asia-Pacific Higher Education and Research" Work Group. He is the author of 160 monographs and articles.
Economic globalization has brought rapid increase in transnational flows of goods, services and capital. As nations dramatically increase their overseas investment, they inevitably face greater risks. Dr. Vladimir shared his views with Chinese Social Sciences Today(CSST) on the role law can play in facilitating foreign investment.
CSST: What are the major barriers for overseas investment?
Kurilov: First off, the expansion of overseas investment is an unfaltering tendency of global economic development. Overseas investment includes transfers of knowledge, techniques, capital and labor—transnational flows which are the inevitable result of globalization. As ever greater capital is invested abroad, certain problems and risks become evident. One of them is how foreign investors should adjust and recalibrate to local laws and regulations. Different parties will have different understandings of the law, and even the same laws and regulations may be implemented very differently depending on the region or country. This is not to mention various differences between various national laws. Discrepancy in understanding and implementation of law is one of the largest barriers hindering international economic cooperation. Due to their inability to access or understand the pertinent regulations and information in a particular country and industry, many investors inadvertently violate local laws, bringing themselves loss and trouble that could have been prevented.
In addition, language is also a barrier. Currently, there is a shortage of people qualified to do legal translation. In both China and Russia for example, many legal documents cannot be translated precisely, potentially resulting in a significant loss for overseas investors.
CSST: What can legal education do to improve the situation?
Kurilov: Jurists should study how to coordinate and reconcile the laws of investing countries and recipient countries. This isn't just a task to be carried out at the legislator level though—universities need to prioritize legal education and innovate programs that aim to produce lawyers who can think at this level. At the same time, law schools should place more emphasis on the study of foreign law and languages. A guaranteed step in the right direction would be for universities in different countries to conduct frequent exchanges, both between students and faculty, and to establish more joint initiatives and projects. The net result will be graduates and faculty who have much more familiarity with foreign laws and regulations. FEFU has already set up cooperative partnerships with many universities in China, including China University of Political Science and Law, Shanghai Jiaotong University, and Helongjiang University.
Outside of universities though, governments need to set up more legal consultation institutions to assist overseas investors, ensuring their projects proceed smoothly.
CSST: What areas should researchers focus on in order to better facilitate overseas investment?
Kurilov: As overseas investment expands, its outreach becomes increasingly diversified. Accordingly, legal studies will have more on its plate in the future, particularly with economics. Jurists should be capable of making accurate predictions of national economic development; that is to say, they should be able to identify which areas will become pivotal to development or which areas the government should stimulate. In so doing, they will be able to coordinate legal adjustments with the forecasted economic changes.
With breakneck pace of progress in high technology, new industries are springing up overnight. However, the curricula of law schools in many countries in the world, especially developing countries, are still confined to the traditional legal sphere, and do not engage with emerging areas like intellectual property law and law pertaining to high-tech industries. A nation will have a hard time getting on its feet in the international investment arena if it doesn't have a reserve of talents in these areas. In conclusion, future law researchers and decision-makers need to broaden their perspective and absorb more knowledge and information in different areas. Only when law keeps up with the speed of economic development can it effectively play its role.
Translated by Feng Daimei
The Chinese version appeared in Chinese Social Sciences Today, May 8, 2013.
Chinese link:
http://www.csstoday.net/Item/72833.aspx