Social scientists to emphasize hard facts, realistic results in 2013
Ming Haiying and Feng Aiqin
|
2013-08-29
|
Hits:
Chinese Social Sciences Today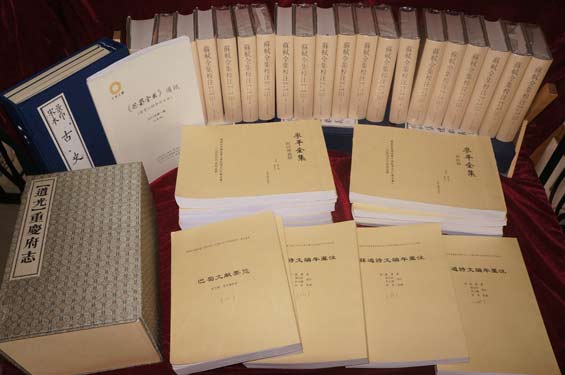 Projects of National Social Science Fund address realistic problems related to national development strategy.
The 4th batch of 2012 Annual National Social Sciences Fund recently released the major research projects for the year. Most of these projects address realistic problems related to national development strategy. For instance, Systematic Study of Social Security Pension of Chinese Urban Aging Population in the Next Decade, Study of Language Style under the Environment of Internet and Construction of the Harmony of Network Language and Study of System Design and Operation Mechanism of Sustainable Development of Urban Public Transportation in China.
Research initiatives: addressing concrete problems
At present, scholarship has reached an unprecedented focus on truth. For instance, as an expert in the "Three Rural Issues" (agriculture, farmers and rural areas), Zhong Zhangbao, dean of the School of Humanities and Social Sciences at Huazhong Agricultural University, devotes himself to studying rural land conversion and rural social security. His academic work reflects on farmers' demands, rights and interests. Similarly, in his research, Jiang Xiaoping, dean of the School of Public Administration at Sichuan University, takes the quality of management for rural public services as his embarkation point. His goal is to promote the equalization of basic public services in urban and rural areas, to resolve the social conflict arising from the growth of farmers' demand for services versus the serious shortage in supply of services, and establish mechanisms to protect farmers' right to equal access to basic public services.
The acceleration of urbanization and
rapid
pace economic development have given China's potential shortage of
resource
s
and environmental problems increasing prominence.
With a team of researchers,
Cheng Jinhua
, d
eputy
party
secretary
at
China University of Geosciences
in
Wuhan
,
successfully tendered a project for the
National Social Sciences Fund
entitled "Index of Regional Differences in Resource Deficiency, Environmental Problems and Ecological Friendliness"
.
This major project, conducted in 2011, sought to chart
differences of natural resource exploitation and environmental protection in different
locales
.
In the coming years, Cheng
and his team will build an evaluation ind
ex
of ecological
practice, which will be a reference
provi
ding useful
information for
further
solving resource and environmental problems and
safeguarding the achievements China has already made in constructing environmentally friendly society
.
China's ultimate
flourishing depends of the development of
regions inhabited predominantly by ethnic minorities.
In
the
ethnic Tibetan area of Qinghai Province, the geographic conditions and ethnic culture are both unique
, complicating the process of
modernization
.
At present,
Gelek, deputy director
of the China Tibetology Research Cente
r
directed a study
"
Strategic research on cultural preservation and modernization in Tibetan inhabited areas of China" to
explore solutions to this problem
. Ge
lek commented that
he and his team would do their best to improve the theoretical framework
for
protecting Tibetan culture
while Tibetan areas undergo steps toward modernization
.
Research methods: taking a more empirical approach
While being interviewed
, all
participating
scholars coincidently mentioned two points
as being essential to their research method: a solid foundation, and a willingness to innovate.
Fieldwork plays a significant role in social science research.
In undertaking a project entitled "Study of Chinese Traditional Ceremonial Forms and Contemporary Norms" for the
National Social Sciences Fund
,
Xiao Fang,
a
professor
at the School of Chinese Language and Literature
at Beijing Normal University
, combined fieldwork with literary analysis. In conducting research, he executed in-depth surveys to gather case studies on contemporary ceremonies. Reflecting on his project, he observed that the main difficulty is perceiving the transmission and metamorphosis of traditional ritual forms into their contemporary derivatives.
He proposed that through cooperation with communities, research can be put into practice to improve ceremonies and ritual etiquette through an ongoing process. For his end, analysis of case studies allows scholars to construe elements of naming ceremonies, weddings, funerals, ceremonies for the change of seasons and general social interactions, etc. as attempts at reconstruction and rehabilitation.
Cheng agreed that in-depth research cannot be separated from a solid
foundation in investigation and study
. He said that the comprehensive use of analytical methods such as literature
review
, case study, field
work
, expert
interviews
and empirical study is a process to guarantee the preciseness and the reliability of research results.
The Chinese version appeared in Chinese Social Sciences Today, No. 402, Jan. 9, 2013
Translated by Zhang Mengying