Weekly News Collection(2013-07-18)
|
2013-09-02
|
Hits:
Chinese Social Sciences Today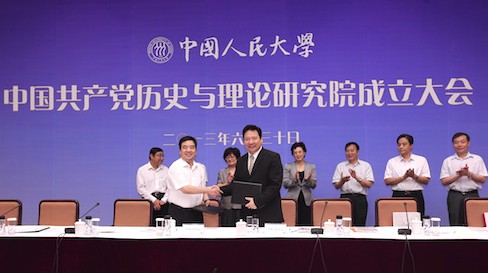 The inaugural ceremony for the Institute for History and Theory of CPC was launched.
NEW INSTITUTION
The Institute for History and Theory of CPC established
On June 30th, before the 92nd anniversary of the establishment of the Communist Party of China, Renmin University of China held the inaugural ceremony for the Institute for History and Theory of CPC and an accompanying Symposium on Establishing a History of the Construction of the CPC. Renmin University of China was chosen as the location for the institute because of its all-around advantages for studying CPC history. The institute will be an integrated research center for personnel training, academic research and policy advisory. Attendees to the symposium discussed methods for strengthening the establishment of CPC construction history as a discipline.
INFORMATICS
'Public opinion' to become discipline
On June 28th and 29th, the Symposium on Studies of Public Opinion took place in Tianjin. Attendees discussed the Internet's power of information transmission, noting that its penetration into actual society has been gradually deepened. The overlap of public opinion in virtual reality and public opinion in actual society at large presents both opportunities and challenges. Scholars at the symposium speculated that studies on public opinion will become an independent discipline in the near future. This new discipline will shoulder the responsibility of helping the government understand the social conditions and public opinions accurately.
SOCIOLOGY
Coping with an aging population
On June 22nd, Symposium on Aging Population and Construction of Social Security System in China convened in Shanghai. There are sharp contradictions between the demands posed by urbanization-driven increasing population mobility and the current fragmented social security system in China. Ren Yuan, a professor from the School of Social Development and Public Policy at Fudan University, said that the construction of China's social security system needs to be perfected in the future. Changes in the labor market, family structure and population structure pose new challenges for public policy. Moving forward, gender equality, family care and general happiness should be key areas of concern.
PSYCHOLOGY
Statistics is a turning point for psychometrics
From June 25th to 27th, a conference on Frontiers of Psychology in the Network Era was held at Central China Normal University. In his keynote speech, William H. Batchelder, professor of cognitive sciences at the School of Social Sciences at the University of California, Irvine, emphasized that mathematical statistics is a turning point for psychometrics. Applying mathematical theories and methods in psychological studies enables psychologists to improve the accuracy of their speculations substantially. Psychologists attempt to explore learning, attention, classification, decision making, memory and other behavioral psychological traits using statistical theories and assess an individual's potential cognitive traits through cognitive models that analyze differences between individuals.
ECONOMICS
2014 Leontief Prize announced
On June 24th, the 2014 Leontief Prize for Advancing the Frontiers of Economic Thought went to Angus Deaton, professor of Economics and International Affairs at Princeton University, and James K. Galbraith, professor of Government at the University of Texas at Austin. The ceremony, themed "Inequality and Well-Being in an Age of Instability", will be held at Tufts University's Medford campus in the spring of 2014. Neva Goodwin, co-director of Tufts' Global Development and Environment Institute, expressed that recent economic changes require a new approach to deal with inequality's causes and effects in economic development.
DEVELOPMENT STUDIES
Emerging countries bring opportunities to Africa
On June 21st, the London School of Economics and Political Science released the LSE Ideas report. According to the report, the African continent is closely connected with seven of the World's ten fastest growing economies, indicating that Africa plays an incredibly important role in the global supply chain. Investors like China, India, Brazil and South Korea are attracted to the African continent due to its dramatic growth and trade opportunities.
Copy Editor: Charles Horne
Editor:Zhang Mengying