Weekly News Collection(2013-06-04)
|
2013-09-02
|
Hits:
Chinese Social Sciences Today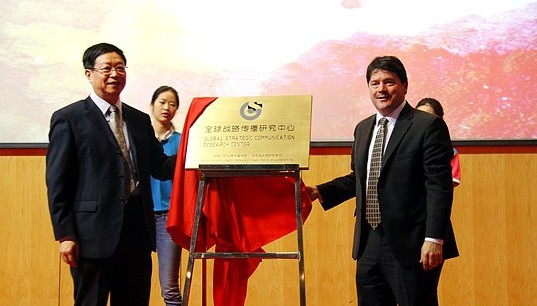 The Global Strategic Communication Research Center was unveiled on May 11th in Shanghai.
JOURNALISM&COMMUNICATIONS
ECNU holds global communication forum
East China Normal University's School of Communication and the University of Missouri's School of Journalism unveiled the Global Strategic Communication Research Center on May 11th in Shanghai. Scholars attending the unveiling and forum agreed that the present challenge for China's strategic communication is to shape an image as a great power and construct an effective communication channel. Harnessing effective strategic communication can serve as a guiding force at multiple levels within the government and within enterprises. It will help China face the challenges and competition resulting from globalization.
DEVELOPMENT STUDIES
Experts discuss Western China's security
On May 18th, Western China's Territorial Security and Collaborative Innovation Center for Development Strategy held a symposium in Sichuan University. Scholars and experts in various fields of security from across China gathered to discuss ethnicity, religion, social welfare, and cultural security in the border areas of Western China. The difficulties encountered thus far in attempting to establish an effective information and communication system in Western China demonstrate the urgent demand for strengthening cultural security. Going forward, attendees prescribed more comprehensive research to facilitate the development of border areas of Western China.
RURAL STUDIES
New database, new hope for a sustainable future
The University of Alberta has recently compiled a new database, the "Canadian Sustainability Plan Inventory (CSPI)", to help Canada's rural communities achieve a better and more sustainable future. University of Alberta professors Lars Hallstrom and Glen Hvenegaard are the lead researchers for the project. So far, it has received more than 1,000 sustainability plans from different rural communities from across Canada. These plans will assist decision-makers in formulating strategies for communities to survive and thrive in Canada's rural areas.
OBITUARY
Lu Xueyi, sociologist, dies at 80
Lu Xueyi, honorary member of the Chinese Academy of Social Sciences (CASS), former director of the Institute of Sociology at the CASS and a famous sociologist and expert in rural issues, died on May 13th in Beijing at age 80. He was born in Wuxi, Jiangsu Province, in August 1933. In 1962, he graduated from the Department of Philosophy at Peking University and was admitted to the graduate program at the Institute of Philosophy at the Philosophy and Social Sciences Academic Division of the CASS that same year. His research interests included rural issues, theories on rural development, social structures and the sociology of development.