Weekly News Collection(2013-05-21)
|
2013-09-02
|
Hits:
Chinese Social Sciences Today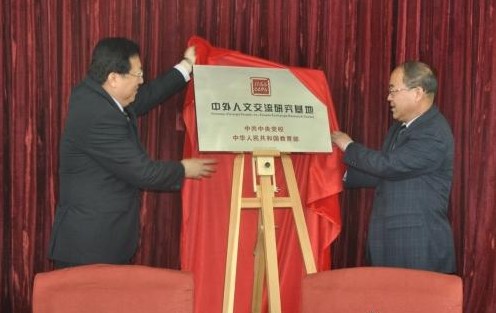 The unveiling ceremony of the Sino-Foreign Cultural Exchange Research Base was held in Beijing on May 3rd.
CPC Party School opens research base for foreign exchange
On May 3rd, the Sino-Foreign Cultural Exchange Research Base held its unveiling ceremony at the Party School of the Central Committee of the CPC (CPS). The ceremony was followed by a symposium on "cultural exchange and building relationships between emerging powers". Attendees exchanged ideas on "promoting 'new Renaissance'", "building the new power relationship", "thinking about superpower diplomacy with Chinese characteristics", and "facing challenges of the peaceful development for China". The research base was approved by the Ministry of Education and sponsored by the Institute for International Strategies at the CPS. The Institute for International Strategies aims to promote research and cooperation on Chinese and foreign cultural exchange and to enhance mutual understanding, respect and friendship between China and other societies.
Compilation of Islamic literature counts 100 volumes
Recently, the Compilation of Islamic Literature in China, sponsored by the Institute of Islamic Culture Studies at Lanzhou University, received a series of awards and distinctions. In total, the project aims to compile 500 volumes of Islamic literature, 100 of which have already been completed. This marks the largest academic collection of ethnic minority literature to date in China. It is estimated that thousands of Arabic, Persian and Xiaojing (Chinese phonetic script written with Arabic alphabet) literary texts and manuscripts have arrived in China since the 7th century. The project will contribute to the exploration, preservation, organization and digitalization of such manuscripts and literary texts pertaining to Islam.
UK's financial services losing diversity
On April 11th, Oxford University's Center for Mutual and Employee-owned Business and SOAS at University of London released a report entitled Measuring Diversity in Financial Services Markets: A Diversity Index. "The report examines both the savings and mortgage markets since 2000 and shows that a fall in the diversity of the financial services sector is potentially both damaging the resilience of the financial system and reducing effective competition for consumers," explained an Oxford press release. Since 2004, the report estimates that the diversity of the UK financial services sector has decreased 20 percent.
President of PIIE visits CASS
On April 14th, Adam Posen, president of the Peterson Institute for International Economics (PIIE), and Nicholas Borst, the Institute's China program manager, visited the Chinese Academy of Social Sciences (CASS). Li Yang, vice president and member of the Party Group of CASS, gave a warm welcome to the visitors, with whom he held discussion on future cooperation between CASS and PIIE. Li Yang indicated that a complete think tank system in China has not yet been established. Currently, CASS is undergoing integrative reforms based on the Central Government's requirements and lessons from studying the organization and experience of foreign think tanks. PIIE is regarded as the world's leading independent think tank in the area of international economics.
Princeton names Christopher Eisgruber as next president
On April 21st, Christopher Eisgruber became Princeton's 20th President, replacing Shirley Tilghman, who has been Princeton's first female president since 2001. Mr. Eisgruber earned his bachelor's degree in physics in 1983 and received a law degree from the University of Chicago. He became a member of the university faculty in 2001 and served as the institution's provost for nearly nine years.