A study on language industry and consumption
GE ZHAOYI
|
2022-12-01
|
Hits:
Chinese Social Sciences Today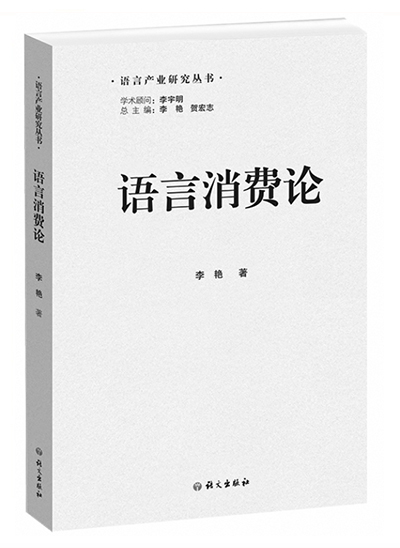 The Theory of Language Consumption
---
Language consumption refers to people's behavior of consuming language products, while language products are those with linguistic ontology, application, and processing as their core elements. Specifically, they encompass the consumption of language content products, such as linguistic publishing, translation, and creativity. They also include the consumption of technological products, such as the use of word banks, input methods, and speech synthesis technology. They also include language training, rehabilitation, and proficiency assessment services. In addition, the field covers the consumption of comprehensive language products, such as attending language exhibitions and appreciating linguistic arts. 

The Theory of Language Consumption, by Li Yan, a professor from the School of Literature at Capital Normal University, puts forward the concept of "language industry economics." The author suggested establishing a theoretical framework for the field within the scope of industrial economics. 
Individual language consumption has existed since ancient times. Zheng Banqiao, the Qing Dynasty (1644 – 1911) calligrapher and painter, presents an excellent example of "selling characters," establishing standardized fees for his works: a six-liang silver ingot for a large-size work, four liang for a medium one, two liang for a small piece, one liang for a couplet, and five qian for a fan or a doufang [liang and qian, ancient units of weight; doufang, square paper sheets with inscriptions or paintings]. 
The book is organized according to language consumption theory. It presents an industry analysis, area studies, country studies, extended research, and current trends. It examines language consumption in the context of industries, regions, countries, and globalization. The industry analysis examines two business formats, language training of broadest coverage and rehabilitation with respect to national linguistic proficiency. Area and country studies involve empirical research on the "Belt and Road" countries, the Guangdong-Hong Kong-Macao Greater Bay Area, the United States, the United Kingdom, Russia, and other regions and countries. The author also conducts extended research on language consumption in building urban language environments and national images. 
Language is not only a basic element of national culture but an important strategic resource for any country. As such, Li focuses on improving the linguistic skills of individuals and countries, cultivating national language and cultural literacy, constructing a harmonious language life, and building national cultural soft power. Subsequently, the author elaborates on "corresponding problems, trends, and supply strategies of language consumption." She gives attention to practical language consumption problems in a wide range of fields, including those facing individuals, groups, and regions. Her analysis also touches upon emerging topics such as dealing with major disasters, eradicating poverty, and constructing a new type of international relations featuring win-win cooperation. 
Ge Zhaoyi is from the School of Literature at Capital Normal University. 
Edited by YANG LANLAN