Constructing blue economic passages
WANG SHIMING
|
2022-10-13
|
Hits:
Chinese Social Sciences Today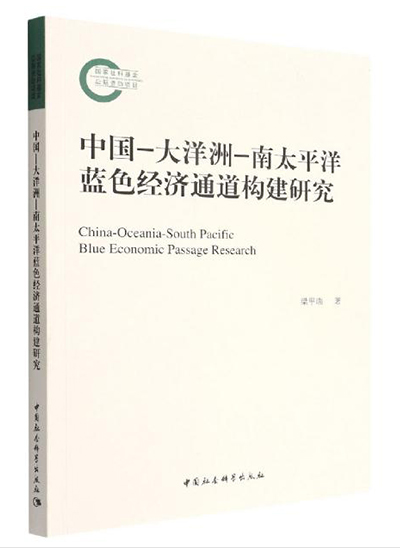 China-Oceania-South Pacific Blue Economic Passage Research
---
The Vision for Maritime Cooperation under the Belt and Road Initiative for the first time proposes the construction of three blue economic passages, one of which is "to jointly build the blue economic passage of China-Oceania-South Pacific, travelling southward from the South China Sea into the Pacific Ocean." 
China-Oceania-South Pacific Blue Economic Passage Research, written by Liang Jiarui, an associate professor from the School of History, Culture and Tourism at Liaocheng University, discusses the value, foundation, path, and obstacles of constructing the China-Oceania-South Pacific blue economic passage. 
The blue economic passage is more than a maritime route, energy transport route, or strategic island in a general sense, and it is not completely equivalent to the maritime strategic passage. Instead it is a large platform for maritime cooperation based on the concern of human destiny. It has security, political, economic, geographical, and cultural implications, and is committed to the sustainable use of marine resources and the sustainable development of mankind. It focuses on developing small island countries and the least developed countries. 
If the blue economic passage is placed into the field of country studies or area studies, many problems that cannot be solved by a single discipline can be figured out. Given this perception, blue economic passage research has a multi-disciplinary or interdisciplinary nature. A dominant feature of multidisciplinary or interdisciplinary research is its consciousness of the times and frontiers, as well as its attention to the realistic significance of the research object, which is prominently reflected in the book. 
The construction path proposed in this book is instructive for the other two blue economic passages, namely, the China-Indian Ocean-Africa-Mediterranean Sea Blue Economic Passage and the blue economic passage leading up to Europe via the Arctic Ocean. The construction of the three blue economic passages have both commonality and individuality. Comparatively speaking, the construction of the China-Oceania-South Pacific blue economic passage is more difficult. There are many countries along this blue economic passage, and most of them are Pacific island countries, which are among the least developed countries in the world. They are not only small in territory with a small population and economic aggregate, but also have a low level of modern state governance. Pacific island countries need development to change their chronic economic and social issues, while their unique geographical location and fragile ecological environment determine that the chosen development path must be sustainable and resilient. These practical problems and the desire and requirement for development make the building of the China-Oceania-South Pacific blue economic passage more consistent with the overall development strategic concept and realistic needs of this region. 
Wang Shiming is a professor from the School of Politics and International Relations at East China Normal University. 
Edited by YANG LANLAN