Let thoughts bloom with beautiful flowers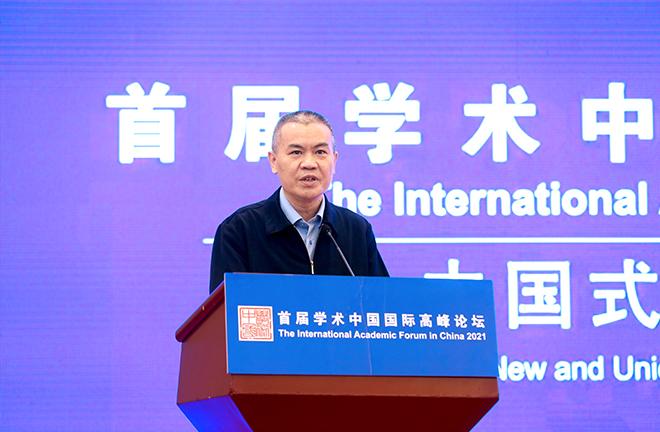 Fang Jun addresses the Closing Ceremony of The International Academic Forum in China 2021 on Oct. 15 in Beijing. Photo: Zhu Gaolei/CSST
With the joint efforts of all the participating experts and scholars, The International Academic Forum in China 2021, hosted by the Chinese Academy of Social Sciences (CASS), has successfully completed its agenda with fruitful results, and now comes to an end. On behalf of the organizer of the forum—Social Sciences in China Press (SSCP), I would like to express my sincere respect and heartfelt gratitude to all the experts and scholars for your hard work!
The forum is held against a special time background, which is the centenary of the Communist Party of China (CPC). Over the past century, under the leadership of the CPC, the Chinese people have created practical miracles that have attracted worldwide attention, but theoretical and academic miracles have yet to be created. Naturally, the creation of theoretical and academic miracles is not a day's work, and the convening of the forum is an active effort made towards this goal.
Over the past two days, more than a hundred well-known Chinese and international scholars have, under the theme of "A New and Uniquely Chinese Path to Modernization," conducted multidisciplinary, multi-dimensional, and multi-level in-depth discussions and dialogues from the perspective of Marxist theory, philosophy, literature, history, economics, sociology, law, politics, public administration, journalism and communication, and international relations. Judging from the speeches given by the five parallel panels' representatives just now, our participants have exchanged ideas while exploring scholarship. We have identified problems and experienced numerous sparks of wisdom. Through this forum, we once again tasted the endless charm of communication, dialogue, and mutual learning.
This is a grand gathering of thoughts. The participating experts expressed many original ideas, theories, and opinions around the theme of the forum, which were eye-opening and excellent. This is the biggest highlight of the International Academic Forum in China 2021, greatly boosting our confidence and strength to have consecutive success in running the forum in the future. Thoughts are the flower of human wisdom, the living soul of civilization, and the beacon for society to move forward. The new era is an era that requires thoughts and definitely spawns thoughts, and it is an era that requires theory and is bound to produce theory. Amid major changes unseen in a century in the world and the irreversible historical process of the great rejuvenation of the Chinese nation, we need original ideas and theories more than ever before, as well as the burst of ideas and the innovation of theories. The development of thoughts and theories is inseparable from communication, exchange, and collision. A Western philosopher once said that the exchange of two goods is still two, yet the exchange of two thoughts can yield a third one. This is the profound value of thoughts, and also of the exchange of thoughts. In a rich and colorful world, people's understanding of the world is not single and rigid. Intellectual history has repeatedly taught us that the so-called ultimate truth does not exist. All people who pursue the truth must attach importance to communication, through which they can learn from the strengths of others, make up for their shortcomings, eliminate fallacies, and gradually approach or reach the truth. Truth is never afraid of debate. The more debate, the clearer it becomes.
The International Academic Forum in China is aimed at building a platform for thinkers from all over the world to communicate and exchange, so as to add support to the dissemination and development of ideas and theories.
This is a dialogue of scholarship. More than a hundred well-known scholars from different disciplines at home and abroad have conducted in-depth interdisciplinary academic dialogues around common topics. This is a distinctive feature of this forum, which demonstrates both academic dignity and the value of dialogue. Thought is not equal to monologue, and academic research is not equal to amusing oneself! The Russian thinker Mikhail Bakhtin once said that thought is a vivid event performed at dialogue points where two or more consciousness meet, and that thought, by its very nature, is conversational. Bakhtin's statement points out the inner connection between dialogue and thought, and the significance of dialogue for ideological development and academic progress. As everyone knows, Buddhism was first introduced to China from India, but after it came to China, it took root and blossomed through dialogue and exchanges with Confucianism, Taoism, and other schools of thought, showing a charm different from Indian Buddhism. In today's world, the ties between countries and between thinkers from different countries are getting closer. For world peace and development, we all have a common yearning and also face common problems. Solving these common problems requires not only the cooperation of governments and people all over the world, but also the cooperation of thinkers and scholars from various countries. Dialogue is the prerequisite for cooperation, which helps people eliminate misunderstandings, enhance understanding, and share joint development. Showing respect for dialogue and being good at it are not only a sign of a nation's spiritual maturity, but also a path for academic prosperity and development.
The forum aims to build a platform for fruitful academic dialogue between Chinese scholars and their counterparts from other countries, thereby setting a stage where a hundred schools of thought contend worldwide.
This is a mutual learning of civilizations. Impacted by the COVID-19 pandemic, most scholars outside of China attended this forum via online link. Scholars from different countries and different civilizations communicated online and offline on common topics. Isn't this a journey of mutual learning among different civilizations? Its significance obviously goes beyond the forum itself. We do not believe that the clash of civilizations is the normal state or even regularity of civilizations. Throughout the history of human civilization, the dialogue, mutual learning, and integration of civilizations is more common, regular, and leading pattern of civilization's development. It usually goes with and is mutually influenced with times of peace and prosperity. It "moisturizes things silently," not as intense, shocking, and eye-catching as the clash of civilizations. Clashes give birth to events, suffering, and death, while dialogue, mutual learning, and integration spawn new civilizations and the development of civilizations on a larger scale and at a deeper level. In history, mankind suffered too many catastrophes. They lacked necessary communication and dialogue, leading to accumulative grievances and frequent conflicts. This is an important reason behind these catastrophes. Today, thinkers who are rational, visionary, and accomplished are tasked with the historical responsibility to deepen theoretical research and academic thinking on the dialogue, mutual learning, and integration of different civilizations, establishing "the theory of dialogue among civilizations," "the theory of the mutual learning of civilizations," "the theory of the fusion of civilizations," and so on.
The forum aims to establish a platform for mutual learning between Chinese civilization and civilizations of other countries, in a bid to contribute to the rejuvenation of Chinese civilization and the development of world civilization.
As the specific organizer of the forum, SSCP has an additional benefit: all participating experts' speeches will be published in our journals, newspapers, and websites. We sincerely thank the experts for your trust and support! The curtain call of the forum is not the end of a journey of thought, academic research, or civilization, but a new starting point and continuation.
Although the time we spent together is short, the spatial distance between our hearts has been greatly shortened due to our passion for theory and scholarship. The International Academic Forum in China is also called the 100 Forum. A total of 100 top scholars and famous experts from various disciplines of philosophy and social sciences will be invited to attend the forum each consecutive year around a certain theme. Experts attending this forum generally spoke highly of it, saying that being invited to the forum represents an honor. They strongly urge the forum to go on for a long time and to have a higher level and lasting influence, giving a great encouragement and spur to us. Regarding the theme of the forum next year, we will solicit from peers in academia from now on. Everyone is welcome to contribute your wisdom. We sincerely hope that experts and scholars at home and abroad will care for the forum, offer help, and actively participate in it. Let's work together to forge it into an influential academic forum brand in the world.
This article is edited and translated from the speech delivered by Fang Jun, deputy secretary general of CASS and editor-in-chief of SSCP, at The Closing Ceremony of the International Academic Forum in China 2021 on October 15.